Dunfermline may no longer be Scotland's capital but its appealing house prices, links to Edinburgh and handsome properties are enough to put it on the map.
Where is Dunfermline?
Dunfermline is a town in the county of Fife and a 40-minute drive from the Scottish capital of Edinburgh.
Its convenient commuting distance to Edinburgh and excellent schools make Dunfermline a popular location among young families and professionals.
For these reasons, average property values are fairly buoyant at £168,000. This is a little higher than the Fife average (check the latest prices) but still a significant saving when compared to Edinburgh.
Read more with our guides to Fife and Edinburgh.
Living in Dunfermline: what to expect
Dunfermline's centre is characterised by its grand ruins and large properties of grey stone-built villas. Statuesque public venues such as the Carnegie Hall also mark the town's history.
The town is Fife's premier shopping destination. As well as a large shopping centre, there are several retail parks, and a busy high street packed with national favourites and independent shops.
Dunfermline is an ideal location for families thanks to its two huge public parks and attractive schools. Respected schools include the Queen Anne High School and St Columba's Roman Catholic High School.
Top places to start your property search
For a Victorian or Edwardian home, the very centre of Dunfermline is the best place to start your search. Bruce Street has a number of elegant Victorian buildings that have been converted into flats. Take a look here for an airy loft-style apartment with spacious rooms and views over the city.
For grand detached and semi-detached stone town houses, search along Park Avenue and Viewfield Terrace. Many of these homes have double-bay windows and gothic detail.
The Bellyeoman and Headwell areas, north of Dunfermline centre both have plenty of stone Victorian properties. In Bellyeoman, roads such as Ross Street are lined with surprisingly spacious bungalows, many of which have feature fireplaces and bay windows.
Alternatively, look for larger stone-built terraces with double bay windows on Townhill Road, some of which have been converted into flats.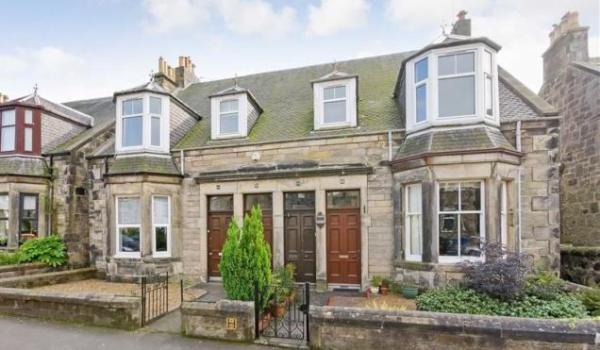 For truly grand Victorian properties, take a look at Broomfield Drive in Headwell. Tucked behind the trees are several imposing Victorian villas, some with up to six bedrooms. Huge bay windows, original floor tiling, carved staircases and extensive gardens complete their character appeal. Rose Street and Victoria Street also have a few grand period homes.
Popular areas to the south of the town include the St Leonards area. Terraced stone-built houses line roads such as Elliot Street and West Nethertown Street. These range from modest two-bedroom properties to roomier houses that reach up to three storeys. George Street has a few larger stone-built terraces that boast high ceilings and open fireplaces as well as some post-war semis.
If you'd prefer a contemporary property, check out what's available in the suburb of Duloch. Lots of modern estates are springing up here, including modern apartment blocks. Two-bedroom flats can be found on Tarmachan Road, all of which have a Juliet balcony, communal gardens and allocated parking spaces. More executive flats can be found on Manor Gardens.
For a modern family home, take a look at the three- to four-bedroom town houses on Greenshank Drive or the executive four-bedroom detached homes on Priorwood Drive.
Newer property is also on offer in the sought-after village of Crossford. Four-bedroom post-war homes can be found on quiet, green streets such as Kilburn Road and Meadow View whereas modern bungalows and family homes can be picked up on roads such as Cairn Grove.
Keep an eye on new developments too. The original Victoria Mill has now been converted into one- and two-bedroom apartments complete with character features. A collection of stylish one- to four-bedroom houses will also be built on its grounds.
All the properties will benefit from open-plan living and the most luxurious will have en suite bathrooms and dressing rooms. Parking spaces and landscaped gardens will be included.
Best ways to get around Dunfermline
By rail: Dunfermline has two stations – Dunfermline Town and Dunfermline Queen Margaret. Both run services to Cowdenbeath, Glenrothes with Thornton station, Edinburgh and Perth. A journey from Dunfermline to Edinburgh takes around 35 minutes.
Additional stations can be found in Dalgety Bay, Inverkeithing and Rosyth.
By car: The A907 is a key route. It runs east to meet the M90, which heads north to Perth and south to Edinburgh. To reach Kilcaldy, drivers can take the A92 eastwards.
Although Edinburgh can be reached by car in 40 minutes via the M90, drivers should allow a bit of extra time during peak periods to cross the Forth Bridge.
By air: Edinburgh Airport is Scotland's busiest and just a 25-minute drive from Dunfermline. It operates flights to 130 domestic and European destinations provided by 33 airlines including easyJet, Flybe and Ryanair.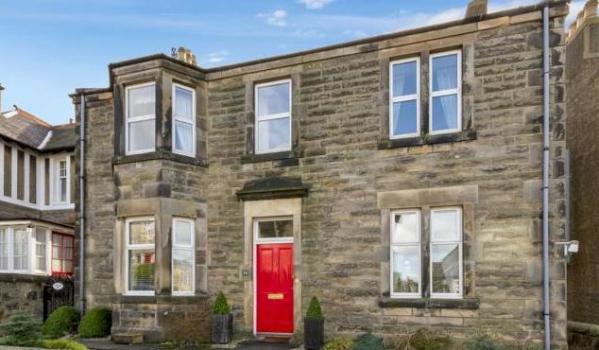 Best things to do in Dunfermline
History: Dunfermline Abbey is open from March to October. The original church was founded in the 11th century and now lies beneath the Romanesque 12th-century nave of the abbey. The site has strong historical connections to the Scottish royal family and is the final resting place of King Robert the Bruce.
Visitors can follow entrepreneur Andrew Carnegie's rags-to-riches story at the Andrew Carnegie Birthplace Museum. The museum has interactive games, weaving demos, exhibitions and children's activities to demonstrate what life was like in the 19th century.
The Light Tower on Town Pier is said to be the world's smallest working light tower. It was constructed in 1817 and was re-opened to the public in 2010. Visitors can light the lamp themselves as well as discover the unique signalling system employed by the tower keepers to send messages and warnings.
Cultural: The Alhambra Theatre was built in 1922 and has been both a performance venue and a cinema in its long life. Today it has a programme of musicals, ballet, opera, comedy and concerts put on by touring companies.
Yet more theatre and dance can be seen at the Carnegie Hall. The Art Deco hall is named in honour of Andrew Carnegie and is the partner of the Carnegie Hall in New York City.
Local festivals include the annual Bruce Festival, which is held in Pittencrieff Park in autumn. Events include falconry displays, jousting and medieval dancing.
Outdoors: Pittencrieff Park, also known as 'The Glen', attracts more than 750,000 visitors every year. It covers 76 acres and has three play areas as well as a kitchen garden and a rock and Japanese garden. Different walks around the park can be downloaded from the Pittencrieff Park website.
Also nearby is the Townhill Country Park. It surrounds Town Loch, which has a water sports centre offering waterskiing to visitors. Football pitches, cricket pitches, tennis courts and two play areas complete its attractions.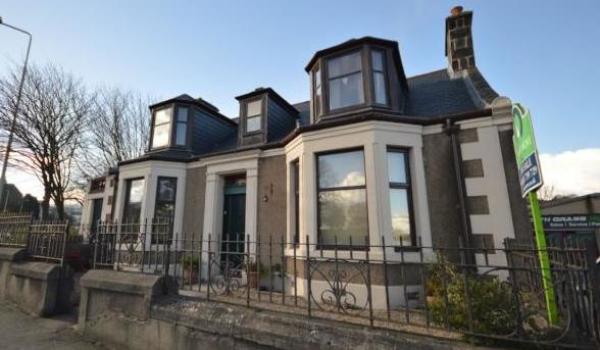 Shopping: The very heart of Dunfermline is dominated by its shops. The High Street, Guildhall Street and East Port are lined with high-street favourites as well as local businesses, banks, cafés and bars.
The centre of Dunfermline also contains the Kingsgate Shopping Centre, which is home to brands including Boots, Topshop and M&S. Yet more shops can be found at the Carnegie Drive and Halbeath Retail Parks.
A farmers' market is held in the town every month. The market opens its stalls every second Saturday of the month and sells a mixture of fruit, meat, vegetables, baking, preserves, flowers and crafts.
Food and drink: Dunfermline is not known for its brewing traditions so the efforts of De Brus are a big attraction. All of its beers and ciders are made on site, including its popular Nut Brown ale and Scottish lager. The food menu is hearty and includes crowd-pleasers such as slow-cooked steak pie and haggis-stuffed chicken breast.
Restaurants in Dunfermline include ethnic eateries such as Khushi's. It serves classic Indian cuisine and the whole cooking process can be glimpsed by diners through its open kitchen.
Fabric is a popular haunt for those wanting cocktails. Signature drinks include passion crush and, in the morning, the bar offers a decadent champagne breakfast.
Hidden Dunfermline
St Margaret's Cave marks the spot where Queen Margaret came to pray 900 years ago. After her death miracles were linked to her and she was sainted. The cave is now accessed by a tunnel with 87 steps that lead you deep underground.
5 reasons to live in Dunfermline
Dunfermline to Edinburgh in 35 minutes by train
Attractive selection of stone-built homes
Ideal location for families
Appealing property prices
Retail destination
You might also be interested in...
Do you have any tips for buying property in Dunfermline? Tell us in the comments below...