Famous for its university, sporting heritage and winding coastline, the Scottish county of Fife appeals to homebuyers ranging from city commuters to golf lovers.
Just across the Forth of Firth from Edinburgh, lies Fife on Scotland's south-east coast. The county is best-known as a centre for education and (albeit contentiously) the birthplace of golf.
St Andrews, in the north of the county, is famed for both – its historic university founded in the 15th century and its championship Links golf course and Royal and Ancient Golf Club, once an international governing authority for the sport.
Living in Fife: What to expect
Much of Fife itself is coastline. In fact, the Fife Coastal Path is 117 miles long which provides plenty of options for property with stunning scenery.
But there are more metropolitan pockets too. Fife's three major towns, Kirkcaldy, Dunfermline and Glenrothes, which are all located in the south of the county, make up around a third of the county's population.
And while not in Fife itself, Perth and Dundee are popular employment centres for those living in the county – as is Edinburgh, which is a drive away over the Forth Road Bridge.
Away from the coast, three major towns and nearby cities, Fife comprises of smaller towns and villages. And, bordered on three sides by water, nowhere in the county is far from the sea.
House values in Fife vary according to area. But, according to Zoopla data, currently average £158,000. You can get up-to-date figures by clicking here.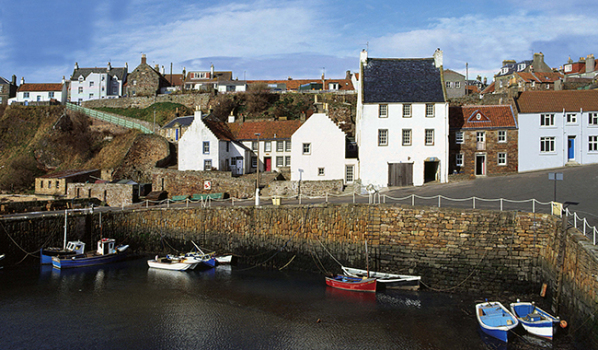 Where to start your property search
So, if you are new to Fife and looking to move there, where should you start your search?
Urban living: If you're looking for a property close to as many amenities as possible, Fife's three large towns is probably a good first bet.
Dunfermline, which is located on the M90 (direct to Perth in the north and Edinburgh in the south via the A90 and Forth Road Bridge), is a perfect location for commuters. The town itself also offers a museum, palace and abbey and large shopping centre and a range of bars and restaurants.
For a combination of urban and coastal life, Kirkcaldy sits on Fife's south-east shore and offers easy access to St Andrews, Glenrothes and Dunfermline.
In all three of these locations you'll find a real mix of architecture, from period terraces, to council housing and modern flats and bungalows, as well as new-build estates – all at very affordable prices.
The old market town of Cupar is also a popular choice, especially for those seeking a more northerly location, close to St Andrews. Situated between the coast and the Lomond Hills Regional Park, it has its own train station and plenty of amenities.
Coastal living: Fife is by no means short of attractive coastal towns and fishing villages, all of which offer a relaxed lifestyle and beautiful surroundings.
The East Neuk area, running around the eastern peninsula of Fife, is particularly well known for its picture-postcard whitewashed cottages and townhouses close to little fishing harbours, with terraces, bungalows, semis and detached houses further back from the seafront. Try Crail, Anstruther, Pittenweem and Cellardyke.
East Neuk is also located close to the much pricier St Andrews – although this university town does afford plenty of buy-to-let investment opportunities and boasts a cosmopolitan tourist centre.
Meanwhile, further south, Aberdour and Culross are particularly picturesque villages in which to reside – both within easy reach of Dunfermline, Edinburgh and the M90.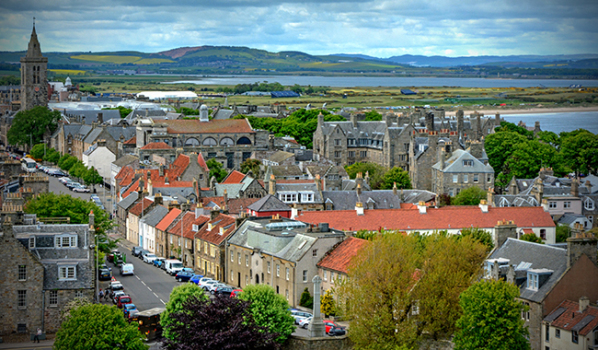 Getting around in Fife
By rail: There are 19 train stations in Fife, including Aberdour, Cupar, Dunfermline Town, Glenrothes, Kirkcaldy and Leuchars – the latter serving nearby St Andrews, which does not have its own station.
The journey time from Dunfermline to Perth is under one and a half hours, and to Edinburgh it's around 30 minutes. Travelling from Cupar to Perth takes an hour, and to Dundee around 20 minutes.
By car: Fife is primarily served by A roads, but the M90 links Dunfermline with Perth to the north and the Forth Road Bridge south, to join the A90 to Edinburgh, the M9 north to Stirling and the M8 west towards Glasgow.
By air: The closest international airport is Edinburgh – just half an hour from Dunfermline, 40 minutes from Kirkcaldy and around an hour from Cupar and St Andrews by car.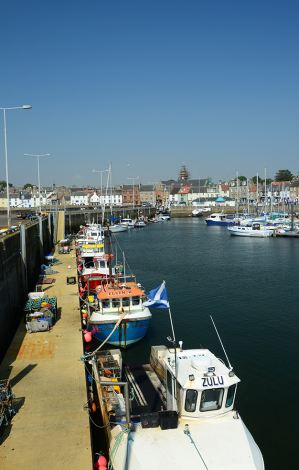 Edinburgh Airport does not have its own railway station, but connections can be made by taxi or bus from Edinburgh station. Dundee Airport is also close at hand, over the Tay Road Bridge to the north of Fife, and offers some flights to London Stansted, Amsterdam and Jersey.
Things to do in Fife
Heritage and culture: Standing testament to Fife's rich history, you'll find plenty of museums, castles and religious buildings across the county. Try Aberdour, Kellie and Ravenscraig castles; Balmerino and Culross abbeys; and Dunfermline Palace.
Visit the Scottish Fisheries Museum in Anstruther to find out more about the country's fishing industry, its boats, harbours and communities. Or the 19th-century Harbourmaster's House in Dysart, which tells the story of the Fife Coastal Path.
Meanwhile, the Museum of the University of St Andrews displays some of the treasures from the University's collection of more than 112,000 artefacts, including fine art, rocks and minerals, historic scientific instruments and textiles.
Coast and countryside: Fife's most prominent landmarks, the Lomond Hills, sit at the centre of 25 square miles of moorland, lochs and farmland, which can be explored via a network of footpaths. The area was designated as Scotland's first Regional Park in 1986 in recognition of its importance for recreation and conservation.
The region's other famous network of footpaths is the Fife Coastal Path, which stretches 117 miles from the Firth of Forth in the south, to the Firth of Tay in the north.
It offers both easy strolls and more demanding hiking routes, introducing walkers to Fife's quaint villages, award-winning beaches, watersports, rugged cliffs and wildlife reserves along its length.
Golf: No guide to Fife is complete without mention of its golfing heritage, which can be appreciated at the British Golf Museum in St Andrews, as well as firsthand with a round at one of the county's 50 courses, or by watching some of the sporting stars in action at the Open Championship, the Alfred Dunhill Links Championship and the Ricoh Women's British Open.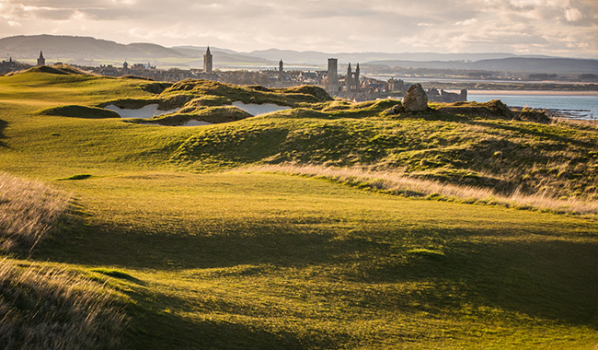 Best kept secret in Fife
The Wemyss Caves, situated on the north shore of the Firth of Forth close to the village of East Wemyss. Inside are precious carvings, the earliest of which are thought to date to the Bronze Age.
6 reasons to live in Fife
Affordable property prices

Diverse range of properties

Easy commute to large urban centres

Long, picturesque coastline

Rich heritage

Golf!
You might also be interested in...