Stylish Harrogate, in the heart of Yorkshire, couples the 'high life' with raw and open countryside.
Harrogate is the glittering jewel in Yorkshire's crown. It began as a genteel spa town, but its location near the cities of York and Leeds has transformed it into a cosmopolitan commuter base.
Quality of life associated with Harrogate has pushed prices to expensive highs for the north England. New developments and pockets of regeneration have increased the number of homes available to buy but prices remain buoyant.
As a result, a typical Harrogate home now costs £342,000, a considerable leap above the wider average of £234,000 in North Yorkshire (check the latest prices here).
Uncover North Yorkshire with our dedicated guide.
Living in Harrogate: what to expect
Harrogate shares the refined air of beloved spa towns such as Bath, Cheltenham and Leamington Spa. The Regency, Victorian and Edwardian taste for fine stone façades, wrought iron railings and balconies is reflected in the town's architecture.
Modern-day Harrogate is as popular with tourists and day-trippers as it was in the 1800s thanks to its location near the Leeds Bradford Airport and the A1/M1 road. This is ideal for businesses fed by the hand of tourism but it can be a drawback for locals trying to find a parking spot, especially in the summer months.
However, Harrogate has plenty to offer to permanent residents including good schools, history, entertainment, festivals and plenty of trendy local eateries.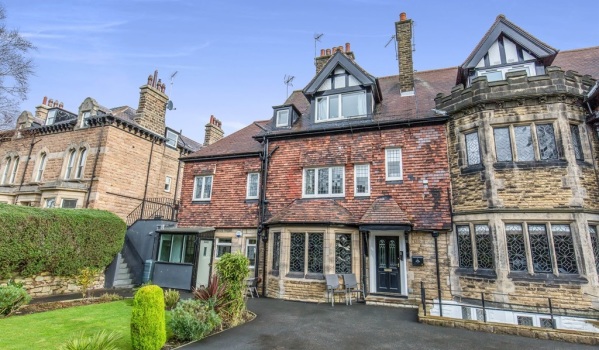 Where to start your property search
For a signature period house a stone's throw from Harrogate's centre search around Park Parade and North Park Road. Parking in these central streets can be an issue, but Harrogate is a compact town and it's easy to get around on foot or by bicycle.
Cornwall Road is another of Harrogate's sought-after locations, offering established period homes. But new-build property is available close by at developments such as Oakdale, part of The Duchy Estate.
For villas or three-storey terraced townhouse, the streets leading off Cold Bath Road are a good call. Prices are high but if you're prepared to take on a renovation, you'll find plenty of opportunity here.
For smaller, semi-detached homes, try Sovereign Park, the former site of the Royal Baths Hospital. Fawcetts Yard, for example, a small mews-style development close to Waitrose supermarket offers contemporary houses with zinc roofing, floor-to-ceiling glazing and state-of-the-art appliances.
The large stone villas and townhouse terraces of central Harrogate give way to 1930s semis and more affordable housing on the outskirts. To the south of the city, the streets off Otley Road, such as West Lea Avenue, are good spots for a range of old and new homes.
East of Harrogate, the suburb of Starbeck is gaining in popularity thanks to its railway station, amenities and parade of shops.
Check out streets such as Stonefall Avenue, off the busy A59 High Street, for period properties. If you're in search of a bungalow or chalet, consider roads around Forest Lane or watch out for new developments in the area.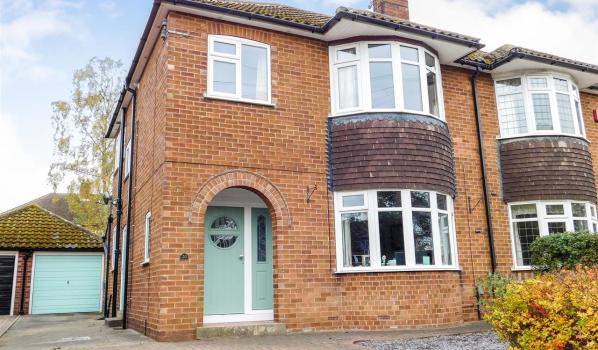 Getting around Harrogate
By rail: Harrogate has its own station in the heart of the town. It's also served by Hornbeam Park station and Pannal station to the south and Starbeck in the north east. Trains run to York and Leeds as well as to nearby Knaresborough.
Both York and Leeds are a 40-minute train journey away. Residents can then catch one of the regular services to London King's Cross or Edinburgh Waverley, which take around two hours in either direction.
By car: Harrogate is 30-minute drive north of Leeds via the A61 and 20 minutes west of the A1(M) London to Scotland road. It's around 200 miles to London by road – a four-hour trip on a good run – and about the same distance and time to Edinburgh. Harrogate is also well connected east to west by the A59.
By air: Leeds Bradford Airport lies 10 miles from central Harrogate. Services operate direct to Europe as well as to Heathrow and Glasgow.
Things to do in Harrogate
History: You'll find the Royal Pump Room Museum on the site of Harrogate's old Victorian Pump Room, a relic of Harrogate's days as a spa town. The museum showcases an extensive collection of ancient Egyptian artefacts, such as a mask and a mummy, as well some strange spa Victorian spa treatments and the oldest sulphur well in Europe.
Cultural: Harrogate has become known for its international festivals. Theakston's 'Old Peculier' Crime Writing Festival is held annually in the town. Authors and scriptwriters such as Lee Child, Val McDermid, Neil Cross, S.J. Parris and even Harry Potter author JK Rowling (appearing under her pseudonym Robert Galbraith) have taken part.
Harrogate's springs were discovered in the 16th and 17th centuries and gained popularity for their supposed health benefits.
Today the Harrogate Spa and Turkish Baths in Parliament Street offer beauty and body treatments and therapies in Moorish-inspired surroundings of tiled walls, mosaic floors and decorative murals.
There's a clutch of theatres and entertainment venues in Harrogate including The Royal Hall, Harrogate Theatre and Harrogate International Centre. Between them they host year-round plays and dance performances – amateur and professional – music and comedy.
Shopping: Harrogate is every shopper's dream. Besides well-known high-street outlets such as M&S, TK Maxx, H&M and FatFace, the town has chic clothing shops including Jigsaw, LK Bennett and Hobbs, perfume outlets Jo Malone, Molton Brown and L'Occitane and exclusive stores such as OKA.
James Street is dominated by the stucco- and glass-fronted department store Hoopers, which in turn is surrounded by chic boutiques and jewellers. If you love independents, head for the Montpellier Quarter where the shops are interspersed with café-restaurants and bars.
Outdoors: Harrogate's famed flower shows take place in spring and autumn at the Great Yorkshire Showground. The world's top growers, landscapers and garden designers gather to build show gardens, display in the Floral Pavilion and offer horticultural advice. The autumn show includes a giant vegetable competition and a chance to see top chefs prepare plot-to-pot dishes in the cookery theatre.
Plant lovers will also be attracted to Harlow Carr, which lies to the south west of Harrogate. Harrow Carr is one of only four designated Royal Horticultural Society gardens and is an inspiring and beautiful place all year round.
To the west and north west of Harrogate is Nidderdale, an area of outstanding natural beauty. It's an ideal place to go for a walk, enjoy stargazing and get active, either by taking up a new outdoor pursuit or by joining like-minded enthusiasts. Besides horse riding, fishing and cycling, the area is popular for canoeing and kayaking, climbing and caving.
Residents aren't limited to Nidderdale for natural beauty, however. The Forest of Bowland AONB, the Yorkshire Dales National Park and the Peak District National Park are all within a 90-minute drive.
Food and drink: One of Harrogate's biggest draws is Betty's Tea Rooms, which first opened nearly a century ago. The distinctive Parliament Street building, with its black and gold colonnade, is one of Harrogate's landmarks. But be prepared to queue for a table if you haven't pre-booked – afternoon tea at Bettys attracts coach-loads of tourists.
Norse offers relaxed dining Scandinavian style. Dishes are inspired by Nordic cuisine and are made using mainly local ingredients. Try dishes such as lamb with parsley root and seaweed or scallops with apple, mushroom and bergamot. Craft beers as well as a wide range of gins are also available.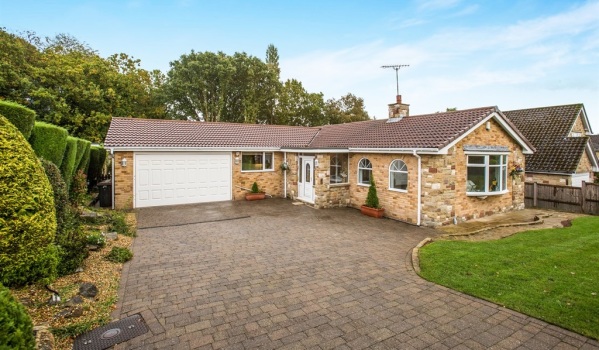 Hidden Harrogate
Crime writer Agatha Christie hid incognito in the Old Swan Hotel after disappearing from her home in Surrey in 1926. And every year, the same hotel now plays host to Theakston's 'Old Peculier' crime writing festival.
5 reasons to live in Harrogate
Easy commute to Leeds and York

Well-heeled, cosmopolitan community

Proximity to several national parks and Areas of Outstanding Natural Beauty

Unrivalled shopping

Excellent choice of restaurants
Has Harrogate made its mark on your house-hunting list? Tell us why in the comments below…