From good schools and transport links to affordable housing and year-round activities, the so-called Garden Of England, has more to offer than lawns and flowers.
Kent is a split between industrial or commercial urban centres and more rural market towns and villages. The county boasts such mercantile and tourism successes as Dover and Folkestone, as well as beautiful coastline and scenic towns of Whitstable and Sandwich.
What to expect living in Kent
Like many of the Home Counties, Kent has felt the tentacles of London edging outwards, as more workers become either priced out of the Capital, or just need more space or their own slice of idyllic England.
As such, the Kent towns nearer to London (Dartford for example) are beginning to carry more of a cosmopolitan feel, with the likes of Starbucks springing up along this part of the commuter belt.
But the deeper you venture into Kent, the more traditionally 'English' the county begins to feel. Dubbed 'the Garden of England' around a third of the county forms part of two Areas of Outstanding Natural Beauty: the North Downs and The Weald – and fruit forms a large part of the county's wealth.
Whether you're in the middle of historic Canterbury or modern Maidstone you're never far from rolling countryside, country pubs and, in some cases, even a castle.
One of the greatest draws of Kent is the miles of glorious – and varied – coastlines, stretching from Margate to the dog-walkers' paradise of the Isle of Sheppey.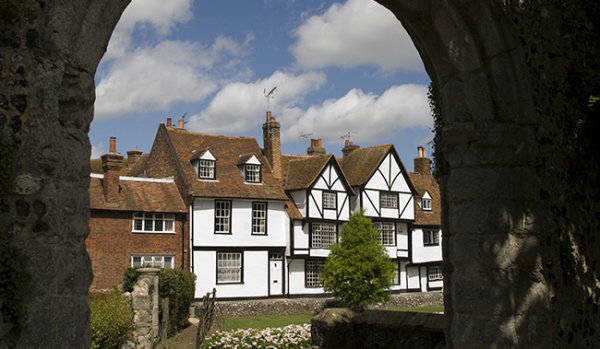 Exploring houses for sale in Kent
It's no secret that London, and many parts of its over-spill, has seen house price growth graduate from slow and steady to stratospheric in recent years. But, within Kent, there are bumps and exceptions in the upward trend.
Some of the county's areas, such as Dover, Shepway, Thanet and Swale, have remained largely affordable, providing opportunity for both first-time buyers and growing families in search of more space.
Areas of Kent requiring much larger budgets include Tonbridge, Tunbridge Wells and Sevenoaks, while Canterbury, Maidstone and Gravesham tend to fall somewhere in between.
As for the kind of property on offer, Kent has everything from ex-local authority, bungalows and purpose-built post-war flats to manor houses, rectories and country estates.
The core of the Kent market, however, is formed of two-up/two-down Victorian terraces and their inter-war, semi-detached successors – the latter always in demand for their English charm and generous size.
But period tends to come at a premium, so if you are on a budget, look out for the range of good-sized three- and four-bedroom houses built from the 1960s onwards.
For those with larger wallets, Kent also boasts some of the UK's most glorious stately homes. If you can get your hands on a cool £3 to £4m, there's plenty of choice when it comes to five-to 10-bedroom period homes with extensive grounds.
And with options dotted throughout the county (generally, the nearer to London, the higher the price) Kent also has some beautiful older character homes, from 17th century coach houses and lodges, to post-Georgian, high Victorian and neo-gothic styles which were typically built during the 1800s.
And, for something a little different, there are some beautiful one-off arts and crafts-style homes to boot.
For a new-build home, why not try Taylor Wimpey's Downs View development in the charming village of Wye.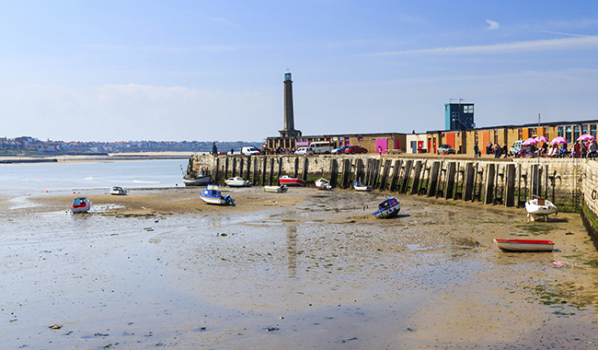 Things to do in Kent
While more central Kent is only 40 miles from London, the county itself has lots to offer, from zoos and stately homes, to music and art to sport and leisure.
Margate, on the eastern tip of the Kent coast, has two theatres – the Theatre Royal and Winter Gardens – both of which showcase up-and-coming talent from comedy and music to poetry and theatre. Also at Margate, you'll find the recently-renovated and now critically-acclaimed pleasure park, Dreamland.
Art lovers in the town will enjoy the Turner Contemporary gallery, Viking Gallery and The Crown Gallery. In the summer months you'll find various open studios where selected artists welcome the public into their creative spaces.
The Powell-Cotton Museum at Quex House and Gardens is definitely worth a visit, having been named the 'UK's most inspiring museum' by the 2014 Museums and Heritage Culture Professionals Pick.
Just down the road from Margate in Ramsgate, you'll find the Maritime Museum which is housed in the Clock House on the quayside in the town's Royal Harbour. Another indication of new life being breathed into the area, this has just has reopened under new owners, the Steam Museum Trust.
Kent nurtures its fair share of home-grown bands and caters for a wide range of tastes (from classical to dub-step) across a plethora of music venues. Ramsgate alone boasts The Queen Charlotte, Ramsgate Music Hall and underground club Shanty Town.
Every August, Kent also hosts Folk Week. And although the county doesn't have a large music venue (1,000+), London's 02 is, of course, only a drive away.
Finding jobs in Kent
Any quick search of UK job sites will return a wealth of employment positions in and around Kent. The county's economy is diverse enough to span haulage, logistics, agriculture, tourism and plenty more.
While the most major industries in north-west Kent include aggregate building materials, printing and scientific research, large parts of the county are, of course, within the capital's commuter belt. Its strong transport connections to the city make Kent a high-income county.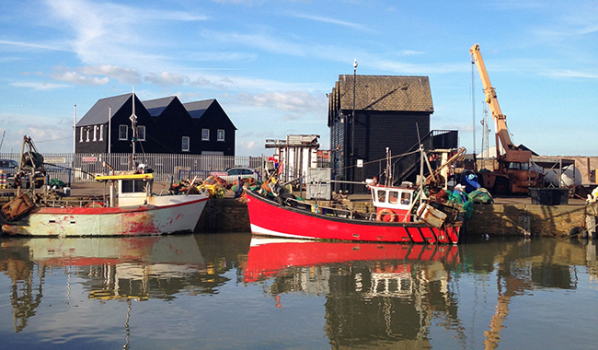 The infrastructure in Kent
Transport links to London means that Kent comes with many of the benefits of the Capital without the 'downsides'.
The M20 runs an artery from London to Folkestone, taking in Maidstone and Ashford on the way, while the M2 connects London to Canterbury. A decent network of A-roads serve traffic in and around the county.
Situated on the south-eastern edge of the UK, Kent tends to be largely free of 'through-traffic' leaving the roads relatively unclogged for locals.
Trains from Kent into London run directly into Victoria and Charing Cross. Stops along the way include Hastings, Dover, Ramsgate, Ashford International and Gravesend.
Finding the best schools in Kent
Kent boasts some of the country's best schools from Walthamstow School in Sevenoaks and Tonbridge School to the girls-only Benenden School.
Outside the private system are a number of high-performing Grammar schools, the best (based on A-Level results) of which include: Invicta Grammar School and Dartford Grammar School.
As with many of the other Home Counties, parents play a postcode lottery to get their children into the best state and grammar schools in Kent, weighing up house prices against catchment areas. Forward planning and research of course, is always advisable.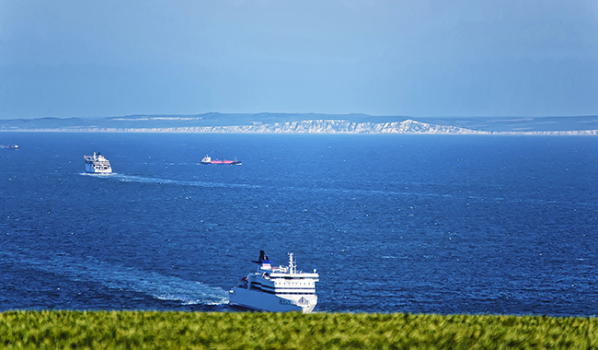 Best pubs for Sunday lunch in and around Kent
The combination of increasing prosperity and quintessential 'Englishness' means there is a plethora of great traditional and modern gastro-pubs in Kent.
Whether Victorian, Tudor, or even older, Kent's network of pubs offer exposed brick, worn wood, extensive gardens and – usually – friendly smiles from staff.
The Plough Inn in Faversham specialises in no-nonsense British classics while the more modern Three Mariners in nearby Oare offers fantastic seafood.
In Sandwich, the George & Dragon is worth a visit, adding a modern twist to old favourite dishes.
Gastro-pub grub is on the menu at the King Henry VIII Inn in Hever and, with its leather Chesterfields and an open inglenook fireplace, the Kings Arms at Boxley serves up dishes from around the world alongside its British classics.
Try also The Coastguard at St Margaret's Bay, The Swan in West Malling, The Dog at Wingham and The Mulberry Tree at the village of Boughton Monchelsea near Maidstone.
More dedicated foodies will be interested in the Broadstairs Food Festival held in October and Cliftonville Farmers' Market which convenes on the cliff top by the Oval Bandstand on the last Sunday of every month, except in December.
Best kept secrets in Kent
While secrets are notoriously difficult to keep in the internet age, there are certainly a number of unsung spots in Kent.
Lovers of the countryside should visit Berengrave Nature Reserve in Rainham for example, while Kingsdown Beach at Deal is a beautiful stretch of coastline which feels like the world has forgotten.
Kids will love The Big Cat Sanctuary in Smarden. It has six cat breeding units across the 38-acre site and is home to tigers, lions, leopards and jaguars. It's not always open to the public, but you can pay to attend photographic workshops or experience days where you can feed a big cat by hand.
On a rainy day, try Little Potters Pottery Painting Café in Sittingbourne. It's a perfect place for children to be creative – leaving parents a valuable moment of peace.