A rich history, stately homes and rolling countryside are just a few of the reasons for settling in Northamptonshire. And it's within easy reach of London.
Northamptonshire occupies a prime position in the heart of England, and is known as the 'rose of the shires'.
You can take your pick from a traditional rural lifestyle in a village filled with thatched cottages, parish churches and winding country lanes, or choose a vibrant town that boasts excellent rail and road links.
The county has no major cities, which has helped it to keep its predominately rural feel. Northampton is the largest settlement in the area, closely followed by Kettering and Corby. Its history as a place of industry is still evident in its now-converted mills and factories.
House prices give home-hunters another incentive to move here – the current average is £235,000, although prices in the most desirable villages can far exceed this. You can have a look at the latest prices here.
Discover what Northampton has to offer by reading our dedicated guide.
Living in Northamptonshire: what to expect
Northamptonshire is famed for its gentle, undulating countryside. Country parks allow you to make the most of the meadows, canals and ancient woodland.
There's plenty of history to explore too. From the birthplace of Richard III to the family home of Diana, Princess of Wales, Northamptonshire offers a plethora of historical sites and stately homes to visit.
Quiet rural villages are still filled with thatched cottages and attractive Georgian and Edwardian houses. In the towns, regular markets, shops and traditional pubs cater for those craving urban comforts.
Local authorities have made it a priority to bring their towns into the 21st century. Northampton and Corby have particularly become the focus of ambitious regeneration programmes that have seen new railway stations, theatres and an Olympic-sized swimming pool built.
If a visit to a big city is needed, you can choose between trips to London, Birmingham, Cambridge and Oxford, all of which are within an hour's drive.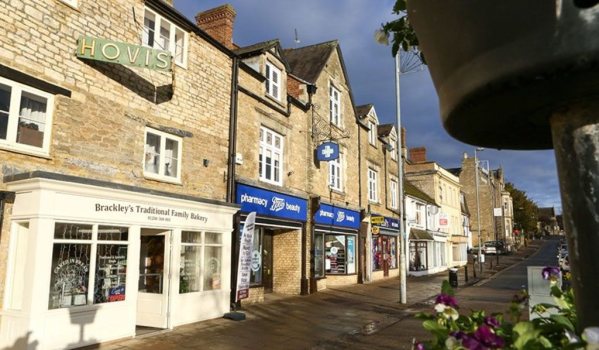 Where to start your property search
Urban living: Northampton has an attractive mix of Georgian and Victorian housing as well as more contemporary flats in factory and mill conversions. Check out East Park Parade or St Georges Avenue for very large stately Victorian properties, or hunt along Abington Park Crescent for late Edwardian semis. For a flat in an impressive converted factory, take a look at the apartments with exposed beams and brickwork on Clare Street.
On the outskirts of Kettering you can find palatial period properties. For a house with eight or nine bedrooms, take a look along Station Road, London Road and Headlands. Elegant town houses are also available on Park View and Green Lane, or you can opt for a more modest terrace on Garfield Street, King Street or Mill Road.
Towcester has a selection of Grade II-listed town houses on Watling Street West. Look here if you want a property with open beams and exposed stone work. For something smaller, look along roads such as Watling Street East, which has terraced cottages. Twentieth-century family homes are also available on Greenview Drive and Bickerstaffes Road.
For a home steeped in history, take a look at Oundle. Here you will find golden-stone houses and 17th-century cottages. Georgian town houses can be found off West Street whereas former coach houses are available on Church Street.
Rural living: Wootton village is the place to look for a new-build home. Roomy detached houses are available on Berry Lane whereas double-fronted versions on quiet cul-de-sacs are found on Bancroft Close. More modern homes with built-in garages are available on Walkers Way and Middle Greeve.
Byfield has a selection of stone farmhouses and post-war semis. Search along Banbury Lane for period properties with oak beams and extensive gardens, or look at the comfortable family homes on Becketts Close and Bell Lane.
Yardley Hastings is an attractive village divided by stone walls. Streets such as Chase Park Road have stone detached cottages with quaint gardens as well as historic 17th-century properties.
Early 19th-century detached houses built of amber-coloured stone can be found on Bugbrooke Road in Kislingbury. Look out for period features such as wrought-iron porches. Grade II-listed stone and thatch cottages are also on offer on Mill Lane.
Getting around Northamptonshire
By rail: Northamptonshire is well-supplied by rail services. The Midland Mainline passes through Wellingborough and Kettering on its route from London St Pancras to South Yorkshire.
East Midlands Trains stop in Corby, Kettering, Market Harborough and Wellingborough whereas London Midland has services to Northampton, Long Buckby and Milton Keynes. Residents can also take advantage of Virgin high-speed trains to Northampton, Rugby and Milton Keynes.
From Northampton, residents can reach London Euston in just one hour.
By car: It's easy to tap into major road networks around Northamptonshire as well. The county is intersected by the M1, A5, A14 and the M1/A1 link roads. The M45, M6, M40 and A1 are also within reach of the county's boundaries.
By air: Heathrow, London Luton, Stansted, Birmingham International and East Midlands airports are all just an hour away by car. Residents therefore have access to a huge choice of international and domestic flights.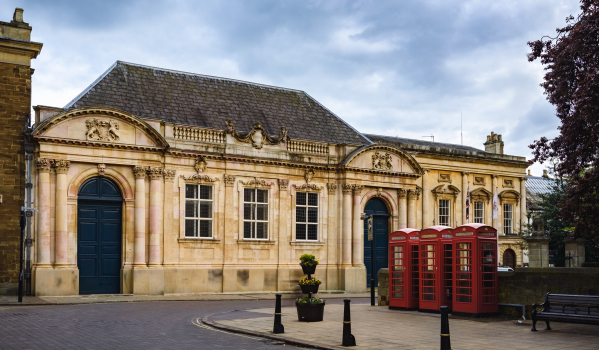 Things to do in Northamptonshire
History: The motte and earthworks are all that remain of Fotheringhay Castle, but it remains a key site for history fans. The castle was the birthplace of King Richard III and the prison and execution site of Mary, Queen of Scots.
Althorp House has been the family home of the Spencer family for almost 500 years. It's just five miles west of Northampton and the estate covers 550 acres. The house is open on select dates for guided tours, which take visitors around some of its 90 rooms. Exhibitions include one commemorating the life of Diana, Princess of Wales.
You can learn about Northampton's past life as a manufacturer of footwear at the Northampton Museum and Art Gallery. It has the world's largest collection of footwear as well as Italian paintings and British and Oriental pottery.
Cultural: The Royal & Derngate in Northampton is the main venue for arts and entertainment and it has a varied programme of drama, music, dance, comedy and film. Alternatively, residents can head to The Deco, which has an auditorium that can seat up to 900 people. A Christmas pantomime is the highlight of its events calendar.
For something a bit different, try the World Conker Championships, which has been held in Southwick every October since 1965.
Racing fans can head to the stands at Towcester Racecourse, Silverstone or Rockingham Race Circuit. Silverstone is home to Formula One racing and the MotoGP, whereas Rockingham race circuit is Europe's fastest banked oval racing circuit. At Towcester, visitors can watch both greyhound and horse racing.
Outdoors: Fifteen hectares of countryside that overlooks Pitsford Water can be explored at Brixworth Country Park. You can spot local wildlife and take a stroll around the Pitsford Water trail or sculpture trail.
Barnwell Country Park is another park that is ideal for studying wildlife. The park includes a mix of habitats, such as lakes, ponds, meadows and rivers. A nature trail and wildlife observation hides make it easier to look out for birds and animals, such as barn owls.
Shopping: Local produce and crafts can be bought in one of the county's markets. Northampton Market dates from 1235 and is one of the oldest and largest markets in England. It sets up shop from Monday to Saturday in the newly restored market place.
A country market is also held once a week in Brackley, which attracts shoppers with its artisan bread, homemade preserves and cakes. On High Street in Daventry, the market is open every Tuesday and Friday, and there's also a monthly farmers' market.
Northampton is the obvious choice for high-street shops. The Grosvenor Centre has popular shops and department stores as well as a smattering of smaller specialist shops. Also within the town are the Market Walk and Weston Favell shopping centres, which have a mix of high-street favourites and independent retailers.
Food and drink: Taste real ale in the tap room at Towcester Mill Brewery. This independent brewery is based in the building of an old mill and has six cask ales and six real ciders to choose from. During the warmer summer months you can also enjoy a pint in the beer garden.
Sit by a log fire with a hearty meal at The Falcon Inn in Oundle. Choose from a menu of dishes such as pork belly with fondant potato or herb-crusted rack of lamb.
For something with a bit more spice, try Baloo in Northampton. This restaurant serves classic Indian flavours with a modern twist. Sample the rice dumplings and specialities such as chicken 97.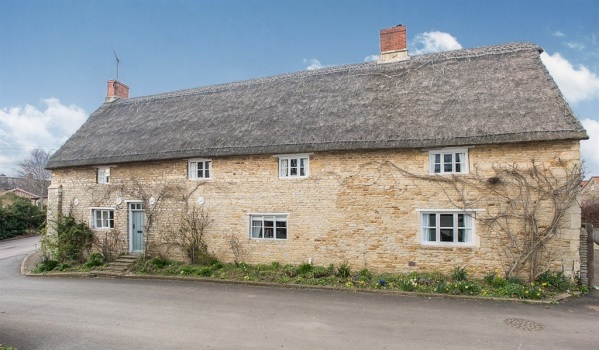 Hidden Northamptonshire
At Catanger Llamas you can take a walk in the countryside with a difference. The llama trekking company partners visitors with their own llama, which can carry equipment on guided treks in the surrounding fields and woodland.
5 reasons to live in Northamptonshire
Excellent road and rail links
Open, rolling countryside full of country parks
Historic buildings and stately homes
New-build properties, factory conversions and period cottages
Plenty of shops, markets and theatres
Have you been sold on the idea of living in Northamptonshire? Share your main reasons in the comments below.