Reading is a commuting haven but homebuyers shouldn't overlook its wealth of shopping, riverside location and investment opportunities.
Reading is a large town in Berkshire. It sits astride the River Thames and River Kennet and was once a thriving river port.
Today Reading is a commuter hotspot thanks to its excellent – and soon to improve – rail links and its reputation as an IT centre and the home of Microsoft.
Reading's travel credentials and south east location put its house prices above England's average. They currently sit at £412,000, although property in more popular pockets can command higher prices. You can check up-to-date prices on Zoopla here.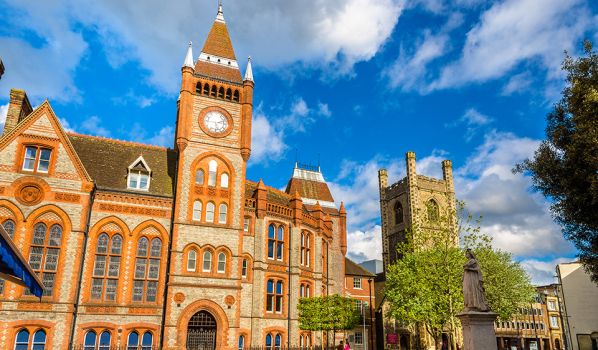 Living in Reading: what to expect
Reading's train station is the central hub of the town and has recently undergone major improvements with a new track layout and more platforms.
From December 2019 Reading's Crossrail station will open, with the Elizabeth line taking passengers directly into the heart of London.
Sitting aside two major rivers, Reading is the hub of many watersports, including canoeing and rowing. Crowds line the riverside during the summer regattas and enjoy walking along the Thames Path which runs directly through the centre of town.
Green spaces and quaint pubs can also be found dotted along the riverfront, giving residents a close-by quiet escape from the more hectic town life.
Urban comforts are provided in the form of theatres such as South Street Arts Centre and a glut of museums. The University of Reading contributes towards this tally with the Ure Museum of Greek Archaeology, Museum of English Rural Life and the Cole Museum of Zoology.
Of course, locals can jump on the train and be in London in 30 minutes, giving them access to all that the capital has to offer. Direct trains can also carry residents to other major cities such as Oxford. Find out more about this city with this Zoopla guide.
Reading has several excellent schools. Caversham Primary School and Reading School are among those that achieved 'outstanding' ratings from their last Ofsted inspection.
For all these reasons, Reading was found to be the best place to live and work in the Good Growth for Cities Index for 2015.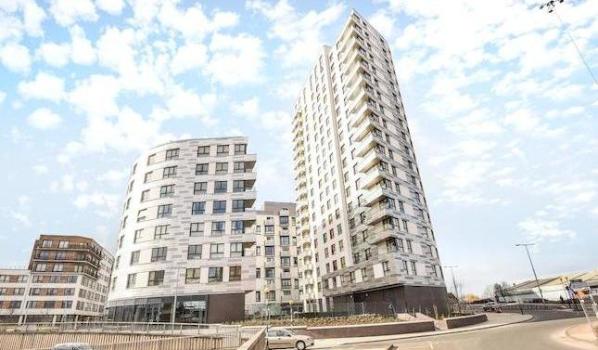 Where to start your property search
Town centre: The conservation area between King's Road and the University of Reading is popular with residents. Elden Square is especially desirable due to its regency houses built of Bath stone.
For large detached and semi-detached Victorian homes, look to streets such as Alexandra Road, which has bay-fronted houses with other period features. Victorian terraces can be seen along Prince of Wales Avenue.
If you'd prefer an apartment in a period home, look to Wilton Road. This street features Grade II-listed buildings that have been converted into modern flats.
New housing developments are also springing up. If you'd prefer a modern home, take a look at Kennet Island. It's built on a former waterworks and has one- and two-bedroom flats.
The suburbs: If you want convenient commuting but easy access to the countryside, look to Caversham Heights. Located to the north, it sits between Reading and the Oxfordshire countryside.
Find family semis on Geoffreyson Road, Edwardian houses on Albert Road and even some thatched homes on Grosvenor Road.
Property in Sonning, which lies about four miles north-west of Reading town centre, tends to take the form of larger period homes – which are unsurprisingly extremely pricey. In fact, George Clooney and his wife, Amal bought a home there back in 2014 for an estimated £10m.
But you'll also find 1750s cottages with exposed beams and open fireplaces or character terraced houses. A new estate at Sonning Eye is also offering exclusive but contemporary homes.
Any home in Sonning will reward you with immediate access to country views, river walks and some beautiful old pubs.
Less expensive Earley in the south, offers 20th-century homes. Maiden Erleigh Drive has semis, detached houses and 1930s bay-fronted properties.
Calcot has excellent links to the M4 and its own golf course. Modern semis and maisonettes can be found here, along with more unusual properties such as converted chapels.
To the west of Reading is Tilehurst. Compton Road is a particularly sought-after road as it offers easy access to the village centre as well as links to the M4. Twentieth-century homes and purpose-built flats are all available.
If you want to enjoy a village lifestyle, take a look around the houses at Pangbourne. Scenic riverside walks are a feature of this area, as are comfortable detached homes and period, bay-fronted terraces.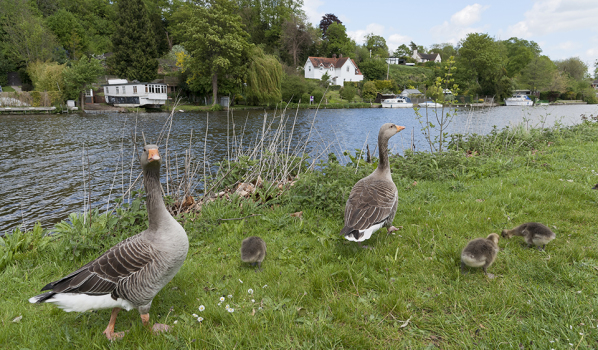 Getting in and around Reading
By train: Trains run from Reading to London Paddington at a rate of around 13 every hour, with a fast service taking around 30 minutes.
Direct trains to London Waterloo take around an hour, while trips to Gatwick Airport take one hour and 20 minutes. Residents can also take direct services to Oxford, Bath, Bristol and Wales.
Reading West, Tilehurst and Earley train stations also service the area. A station in Green Park is due to open in 2018 and Crossrail will start running from Reading (which will be at the end of the line) from the end of 2019.
By car: The M4 curves to the south of Reading and links the town to the M25. The M40 and M3 are also within easy reach.
Ever-worsening congestion in the town is eased somewhat by the ring road (Inner Distribution Road) but driving through the centre is difficult and not permitted at all during rush hour (7-11am and 4-7pm). Residents and visitors are encouraged to use park and ride services instead.
By air: The closest airport to Reading is Heathrow, which is just a 25-minute drive along the M4. Direct trains also run to Gatwick Airport, which is 90 minutes away by car. Southampton Airport can be reached in an hour.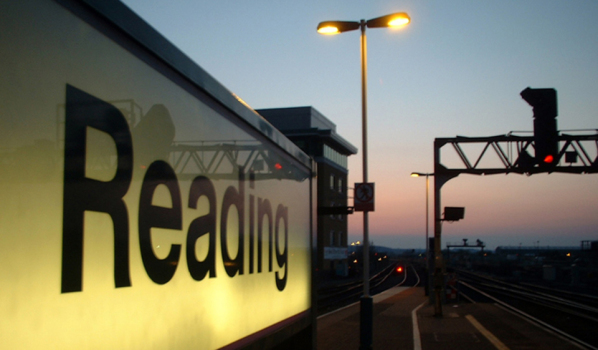 Things to do in Reading
Shopping: Reading is a major shopping centre and home to The Oracle arcade which has more than 80 stores, including high-street favourites such as Debenhams, John Lewis and House of Fraser. Tired shoppers can rest their feet in one of the arcade's many cafés, restaurants and bars.
The town also boasts three smaller arcades: the Bristol and West Arcade, the Harris Arcade and The Walk where you'll fine smaller, more specialist shops. Broad Street is another popular shopping destination.
For markets, head to the street market held in Hosier Street, or check out the famers' market that is held for two days every month in the city centre.
History and heritage: Wander around the ruins of Reading Abbey, once one of Europe's largest and wealthiest medieval centres. It was founded in 1121 and now sits in the Abbey Quarter in the centre of the town.
Reading Minster is also worth a look around. It was founded in the 7th century and is still an active place of worship. You can also visit to listen to organ and choir music.
Further your knowledge of the town at Reading Museum. It's home to Victorian art and also has a large collection of biscuit tins that reference Reading's past as one of the largest biscuit producers in the world.
For ancient history, visit the Ure Museum of Greek Archaeology. It's home to one of the largest collections of Greek ceramics in Britain.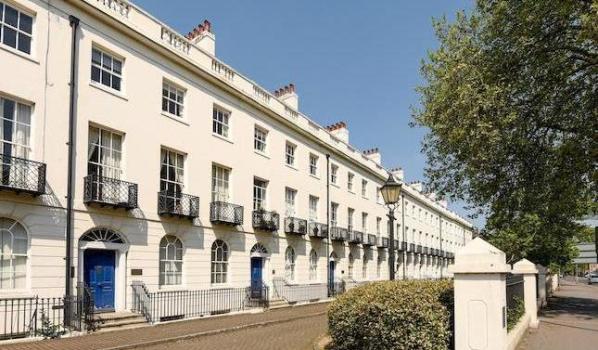 Green spaces: Admire the landscaped Forbury Gardens. It's home to the Maiwand Lion, which is dedicated to the loss of Berkshire men at the Battle of Maiwand.
Urban peace can also be found at the Caversham Court Gardens. These gardens have a Green Flag award as well as a Green Heritage Site award. The site dates back to the 12th century and was updated in 2009.
Get active by joining one of the town's many rowing or canoeing clubs. The town hosts regattas every year, so train hard if you want to compete yourself. Clubs such as Reading Rowing Club host courses that can teach you the rudiments of the sport.
Alternatively, hire a boat to cruise down the Thames and Kennet rivers. Some steamers also offer jazz cruises, so if you want to enjoy some music as well as the scenery, book a trip.
Festivals: The town is the host of the Reading Festival, one of Britain's most popular music festivals. It draws large crowds every year to hear international and up-and-coming bands.
Beer is also celebrated at the Reading Beer Festival. It's held over the May Day weekend and regularly offers more than 500 different ales to sample.
You can celebrate the town's riverside heritage at Waterfest. This annual event includes boat parades and giant waterfights.
Food & drink: Sample an award-winning pie at Sweeney & Todd or enjoy a casual meal at micro-brewery Zero Degrees. If you sit on the third floor, you can enjoy the light coming through the restaurant's skylights.
For a quirky music venue as well as a drink, head to Purple Turtle Bar. It's recently undergone a £1 million refurbishment and its retro style is a favourite of locals.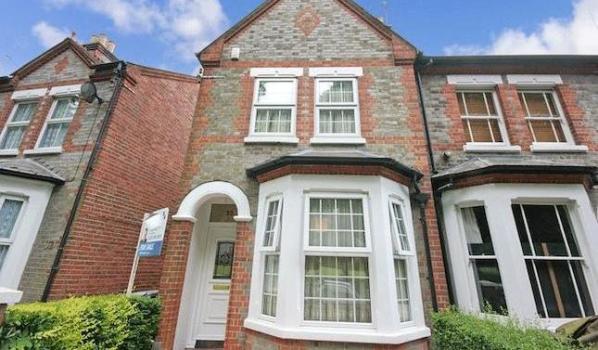 Hidden Reading
The Hexagon market sells good food and retro clothes – and is worth repeat visits. Check out the stalls by Peach's Bakery for some sweet nibbles or the vinyl homeware made by Old School UK.
5 reasons to live in Reading
Excellent train services for commuters – set to improve in 2019 with the arrival of Crossrail

30 minute journey time to London

Diverse range of homes, including new-build and riverside homes

Excellent shopping

Good schools
Why do you think Reading is a great place to live? Let us know in the comments below…