Looking at houses for sale in Newcastle? Zoopla's guide is packed full of advice and tips on buying property in the feisty northern city.
Dubbed The Toon, feisty Newcastle upon Tyne in north east England has history and culture in spades.
Once a proud industrial city, Newcastle is now teeming with top museums, galleries, shops and music venues to name a few. It also has a reputation for a storming nightlife and friendly 'Geordie' people.
Newcastle climbs the north bank of the River Tyne and is united with Gateshead, a town on the south bank of the river, by seven bridges.
Famous Newcastle residents include pop star Cheryl Fernandez-Versini, former footballer and Newcastle United player Alan Shearer and musician and lead singer of the Police rock band, Sting.
Since 2011, the city has provided the backdrop to Geordie Shore, a popular reality TV series.
Exploring Newcastle's housing market
There is plenty of choice when it comes to buying in the city. Houses for sale in Newcastle range from period properties through to new build homes. Some 185 new build homes were delivered in Newcastle between January and March 2015.
Newcastle property values currently stand at £198,792, having risen £14,853 during the past five years, according to Zoopla. However, the average asking price of a property for sale in Newcastle is slightly lower, at £180,377.
Properties in Newcastle can come with big price tags. They tend to be most expensive on Eachwick, where values are now £1,111,974. It is followed by Runnymede Road in Ponteland and Beechfield Road in Gosforth, where homes are worth £1,097,540 and £1,036,949 respectively.
Newcastle property types also vary from detached, semi-detached and terraced houses as well as flats.
A detached Newcastle property currently averages £353,300, falling to £190,136 for a semi-detached house and £170,876 for a terraced house. Flats in Newcastle are valued at an average £139,393, according to Zoopla.
But there are not just opportunities to buy Newcastle property for owner occupation. There is potential for buy-to-let investors too.
According to a forecast for Newcastle City Council, the city's overall population is set to increase from 276,700 in 2010 to 312,900 by 2030. The city's growing population is bolstered by swelling student numbers at Newcastle University and Northumbria University.
Please note that all figures quoted are likely to fluctuate following publication.
Paying council tax in Newcastle
Newcastle council tax is paid on all homes. To calculate how much the council tax bill will total on a home in Newcastle, you will need to know which of the eight valuation bands in England and Wales the property comes under, how much Newcastle City Council charges for that band, and whether you can get a discount or exemption.
Your Newcastle council tax bill could change if:
the number of residents in the property varies
the home becomes empty
part of the home is demolished and not rebuilt
you alter the property into one or more self-contained units
you convert flats into one main residence
you start or stop working from home
your income changes
there are major changes to the local neighbourhood
The Valuation Office Agency (VOA), part of the Inland Revenue, is responsible for producing the Council Tax Valuation List and Local Rating List. You can find out more about the council tax valuation band of any home on the VOA. You can challenge your Newcastle council tax band if you believe your property is in the wrong one.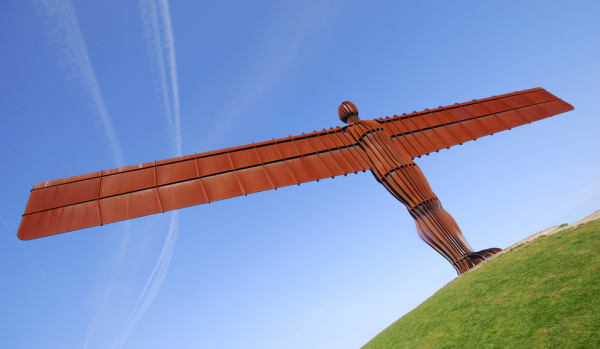 Newcastle's neighbourhoods
Newcastle's historic heart is Grainger Town, where many of the properties are Grade II or II listed. The area's neo-classical architecture includes some of the city's most iconic properties and streets, such as Grainger Market - Newcastle's first indoor market, Theatre Royal, Grey Street, Grainger Street and Clayton Street.
The Newcastle suburb of Byker, in the east of the city, was first established close to industry along the river. More recently, Byker made its name as the setting of the former BBC TV series Byker Grove, which aired from 1989 until 2006. It is home to one of Newcastle's most well-known housing developments, Ralph Erskine's Grade II-listed council estate, Byker Wall. Another notable suburban housing estate, Chapel House, was also built in the 1960s, in Denton in the west of Newcastle.
The Sandyford and Jesmond neighbourhoods, both close to the city centre, are popular with students and young professionals. Jesmond, located just one mile north of Newcastle city centre, is one of the most exclusive and fashionable areas of Newcastle. It boasts rows of terraced houses as well as shops, restaurants, cafes and bars on the Osborne Road. And on the doorstep is Jesmond Dene, a narrow wooded valley that follows the river Ouseburn between South Gosforth and Jesmond Vale.
The historic Ouseburn Valley, heavily industrialised in the past, is becoming a vibrant area of Newcastle to live and work. Its once derelict factories and warehouses in the east of the city are being regenerated for businesses and residents alike.
The affluent residential area of Gosforth is north of Newcastle city centre. Once known as Bulman Village, it is now full of shops, bars and restaurants. A considerable number of private schools are located in the suburb, making it a popular area for families.
Forest Hall, a north east suburb of Newcastle, is becoming more popular with buyers following the development of new build homes and transport links in recent years.
Many students gravitate towards Heaton, a suburb two miles east of Newcastle city centre, particularly because the cost of renting a property tends to be lower than neighbouring Jesmond. The area has good transport links and shops and bars along the main streets of Chillingham Road and Heaton Road.
Meanwhile, Parklands offers plenty of green space, including Gosforth Park Race Course, Gosforth Wood and Gosforth Lake as well as golf courses.
Further out towards the coast is the historic town of Wallsend. It is well connected thanks to the Metro and frequent buses. Wallsend is home to pubs, social clubs, restaurants, shopping and leisure, schools and colleges.
Ponteland is located on the outskirts of Newcastle. It too is served by the Metro and buses.
Nestled almost exactly between Newcastle and South Shields, you'll find Wallsend where a raft of new development is underway. Try the Mullen Road development from Bellway where smart three-bedroom homes start from an all-round affordable £185,000.
Jobs in Newcastle
Newcastle was once well-known for its coal mining, engineering and manufacturing, and its port and shipyards along the River Tyne made it one of the world's largest shipbuilding and repairing hubs. The city was at the heart of the Industrial Revolution.
However, many jobs in Newcastle are now concentrated in the office, service and retail sectors following the decline in heavy industries. It is home to business headquarters, and is known in particular for the beer brand Newcastle Brown Ale and Newcastle football.
Newcastle – along with Sunderland – also forms the core of the tech cluster in the north east, according to Tech City UK. The region is considered a centre of excellence for software development and gaming, with leading developers including Ubisoft Reflections, Epic Games and CCP Games. The Government committed to investing £23m in Next Stage Digital Economy Centres, including Newcastle, in the Budget 2015.
Newcastle was one of the top 10 cities ranking for the highest jobs growth between 2004 and 2013, according to a recent report by Centre for Cities.
Transport in Newcastle
Major roads in and around Newcastle include the A19 connecting the city with York and Doncaster; the A69 heading west to Carlisle; the A696 running through Northumberland and the Scottish Borders; the A167, cutting through to Chester-le-Street, Durham and Darlington; the A1058 to the east coast; and the A1, connecting Edinburgh in the north with London in the south.
Newcastle train station, known as Central Station and housed in a Grade I listed building in the city centre, is a major transport hub. It is a principal station on the East Coast Main Line, operated by Virgin Trains. There are regular services to London, Edinburgh, Glasgow, Leeds, Birmingham and others. The city is also the starting point of a picturesque rail line west to Carlisle, and serves a number of other rail lines to local and major regional destinations including Sunderland, Middlesbrough and Durham.
The light rail system, Metro, operates around Tyne & Wear, including Newcastle. Its 60 stations shown on the Newcastle Metro map include Newcastle Airport, Central Station, Gateshead, Sunderland and Tynemouth.
Newcastle Airport – around six miles from the city centre - provides flights to a raft of international hubs, including London, New York, Dubai, Paris, Brussels and Amsterdam. There are also flights from Newcastle to destinations across Europe, the Caribbean and north Africa. The airport is connected to the city centre by the Metro system.
And if you'd prefer to take to the high seas, there are ferries to the continent.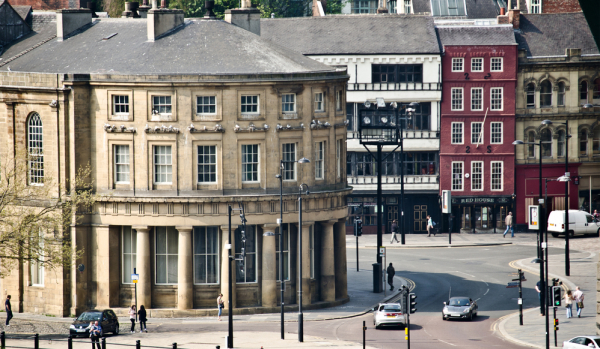 Things not to miss in Newcastle
There are plenty of things to do in Newcastle. The Quayside is a good starting point for admiring Newcastle's many iconic bridges. The newest bridge, Millennium Bridge in Gateshead, is the first and only tilting bridge in the world. The Norman Foster-designed Sage Gateshead, a live music venue with curving roof, and BALTIC Centre for Contemporary Art, a converted mill, are both easily accessible from the Quayside.
There are a wide variety of bars, restaurants and public spaces alongside the Quayside and climbing up the hill into Grainger Town in Newcastle city centre. Among the other areas with a high concentration of pubs and bars are the Bigg Market, Newcastle train station, The Gate leisure complex and Osborne Road in Jesmond.
One of the principal grand streets in Newcastle city centre is Grey Street, winner of Academy of Urbanism's Great Street Award 2010. And nearby is Newcastle Castle, which recently reopened following a major renovation project. It reveals the sometimes gory history of the castle and the city's ancient heritage as well as views of the landscape.
Also in Newcastle city centre is a number of theatres, including the largest, Theatre Royal, on Grey Street. For live music, there is the Metro Radio Arena near Life - the largest concert and exhibition venue in the north east of England.
Life, an award-winning science centre, is one of a number of museums and galleries in Newcastle. Others include the Discovery Museum, the Great North Museum, specialist picture framer and art gallery Gallagher & Turner, Laing Art Gallery and the Biscuit Factory.
There is also Newcastle shopping for those in need of some retail therapy. Eldon Square shopping centre is located in Newcastle city centre and intu Metrocentre, the largest indoor shopping and leisure centre in Europe, can be found in Gateshead. The main shopping street in Newcastle is Northumberland Street. Major department stores including Fenwick, Marks & Spencer, John Lewis and Debenhams are all located in Newcastle.
Football plays a major role in the life of the city, and it is a common sight to see fans kitted out in the traditional black and white stripes of Newcastle football. There are regular matches at Newcastle United's St James' Park and Sunderland AFC's Stadium of Light. The stadium home of Newcastle United dominates the city landscape from all angles.
The Newcastle Falcons rugby team is based at Kingston Park Stadium in Kingston Park and there is also horse racing at Gosforth Park.
Newcastle has hosted the Great North Run since it began in the city in 1981.
But there is more to Newcastle than a bustling cityscape. There is plenty of sea and sand - and sun, if you're lucky - to be enjoyed at Tynemouth or Whitley Bay on the coast nearby. And one of the most well-known icons in the area is Antony Gormley's 20 metre tall iron sculpture, the Angel of the North, in Gateshead.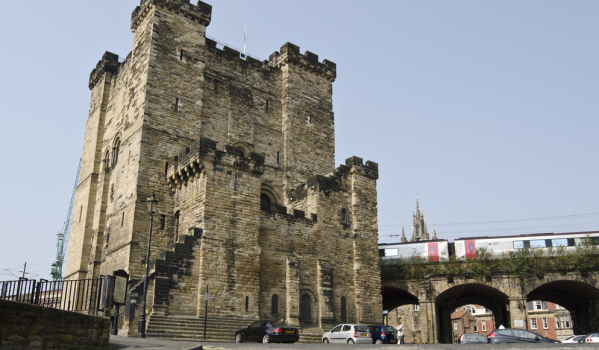 Newcastle weather
Newcastle weather tends to be cool and dry. Temperatures in Newcastle are often higher than many other locations in the UK due to the Gulf Stream. The Pennines, a rugged landscape of mountains and hills, also casts a rain shadow across Newcastle and the wider area, acting as a shelter from the westerly winds and making the city relatively dry.
The coldest waters around the country are found on the north east coast of England, helping to keep coastal areas – including Tynemouth and Whitley Bay – cool, especially in summer.
You might also be interested in...