Since 1 April 2016 you might have to fork out an extra 3% in Stamp Duty Land Tax if you're buying an additional home. Find out how the controversial tax loading works with our Q&A.
LAST UPDATED ON 23 NOVEMBER 2017
Q.

What is the 3% Stamp Duty Land Tax (SDLT) surcharge?
A. It's a 3% loading on existing Stamp Duty rates, which are set out on the table below:

Q.

Who has to pay it?
A. Anyone who is buying an additional residential property for £40,000 or more. This could mean a holiday home, buy-to-let or even a main residence you plan to live in (more detail on this later).
Even if you already own just a share in another property, it will count so long as the share is worth £40,000 or more.
Properties anywhere in the world are considered too. So, if you own a 30% share of a £300,000 ski chalet in Bulgaria and are buying your first home in the UK, you could be stung with the extra tax.
The higher rates of Stamp Duty apply to the purchase of property in England, Wales, Northern Ireland and – under a separate announcement in the Scottish Government's 2015 pre-election Budget – in Scotland too.
This Q&A refers to the rules in England, Wales and Northern Ireland which are administered by HMRC. See further down the Q&A for more on Wales.
Q.

When did it kick in?
A. The surcharge took effect from 1 April, 2016, but it was first announced in the Chancellor's 2015 Autumn Statement. To avoid paying it, you'd have had to complete (not just exchange contracts) on any second home purchase by midnight on 31 March, 2016. (Unless you'd already exchanged on or before 25 November, 2015, the date when the new tax was announced).
Q.

How is the tax charged?
A. Regular Stamp Duty is, these days, charged on a tiered basis (so you only pay the higher rates on the slice above any threshold – the same as income tax). But the 3% surcharge still effectively works as a slab tax. In other words, the 3% loading applies to the entire purchase price of the property.
Q.

How much does that translate into?
A. As an example, if you are buying a second home with a purchase price of £300,000, just the extra 3% Stamp Duty would equate to £9,000 (3% of the entire price). This is in addition to the £5,000 regular Stamp Duty bill on a home of this value, bringing the total payable an eye-watering £14,000.
To get an overall Stamp Duty figure on a second property, work out the regular cost first with our handy calculator. Then calculate 3% of the purchase price and add the two figures together
Q.

What if the home I am buying will be my main residence?
'Main residence' refers to the home you live in, not just a property you own. And which home is your main residence will be judged as a matter of 'fact' (for example, where you spend most nights, where the rest of your family lives, where you are registered to vote and where you are signed up to local doctors and dentists).
You are not able to 'elect' a main residence as you can for the purposes of Capital Gains Tax.
If the home you are buying replaces your main residence, you will not be liable for the 3% surcharge, even if you own an additional property/properties (such as a second home or a flat you rent out) at the same time. This example is straight from the Government's consultation document:
"A owns both a main residence and a second home. She sells her main residence and purchases a new one. Although she has two properties at the end of the day of the transaction, she has replaced her main residence so the higher rates will not apply."
But replacing your main residence means that a previous one (or at least a 'major interest' in it) will need to be disposed of (eg, SOLD or GIFTED). If you are moving out of rented accommodation or, say, your parents' home this will NOT count as disposing of your main residence as you are not an owner or part-owner of that property.
Q.

What if I need to buy another main residence before I can sell my previous one?
A. If you move out of your main residence (Home A) but keep it and buy another main residence (Home B), you will have to pay the 3% Stamp Duty surcharge initially.
However, so long as you sell Home A within 36 months (increased from 18 months in the 2016 Budget) of completing on the purchase, HMRC will make a full refund.
The refund applies, in fact, to the sale (or other type of disposal) of any property that has been your only or main residence at some point during the 36 months leading up to the purchase. In other words, you don't have to be moving directly out of one main residence and into a new one).
How long you have lived in a previous main residence will not be relevant.
Q.

How will the refund work?
A. As of March 2017, you can apply online. Alternatively, complete one of HMRC's repayment request forms, print it off and post it to HMRC's Birmingham Stamp Office. Refund applications will usually need to be received within three months of the sale.
HMRC says it aims to process all refunds within 15 working days of receiving the application. However, as of November 2017, refunds were taking in the region of 55 days, say experts.
If your application is successful, payments will be issued by payable order. If it is not successful, HMRC will write and explain its reasons.
Q. What if I sell my main residence but I'm not able to buy another one straight away?
A. In some cases, (for example, if you are moving back to the UK after living abroad), you may sell your main residence but move into a 'stop gap' home before you can buy a new one.
In this case, with effect for purchases made after 26 November 2018, the rules allow for a 'grace period' of 36 months (increased from the proposed 18 months by the March 2016 Budget) during which time the purchase of your next main residence will NOT be subject to the 3% surcharge.This is so long as the former residence was your main or only home at some point during the 36 months leading up to buying the new one.
To put it simply, there are TWO 36-month tests:
One says you must have lived in the sold property in the 36 months leading up to the sale
The other says you must buy the replacement property within the 36 months following that sale
HOWEVER, for purchases made on or before 26 November 2018, these two '36-month tests' do NOT apply.
In other words, if you are buying a new main residence now or any time soon, it can be possible to use...
a) the sale of a main residence made many years ago
b) a recent sale of a property that was your main residence many years ago
...to escape paying the extra 3% on the purchase.
Find out more with:
The all-important rule that could see you escape paying higher rates of Stamp Duty
26 November 2018: the 12-month countdown to escape second home stamp duty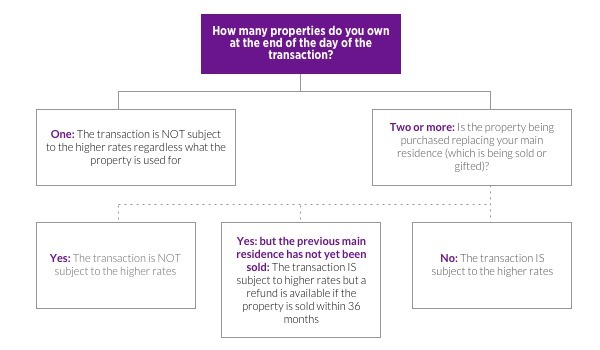 Q.

What if I already own a property, but I'm buying with someone who doesn't?
A. Unfortunately, even if just one of you already owns a home (whether you are living in it or not), when you go to buy another one together, the 3% Stamp Duty surcharge is likely to apply to the whole transaction. (For exceptions, refer back to the rules around replacement of a main residence.)
However, so long as you are NOT married or in a civil partnership, it can sometimes be possible to get around this by the person who does not already own a property, buying the new one in their sole name.
We've had confirmation from HMRC that this will NOT be regarded as tax avoidance.
But John Shallcross, real estate lawyer and SDLT expert at law firm Blake Morgan says: "It's important that the full beneficial ownership belongs to the other person. It does not work, for example, to have the property in the name of that other person, but holding on trust for the two of you."
One problem with putting a new home in just one person's name is satisfying the lender's affordability criteria. But Ray Boulger, senior technical director at mortgage broker John Charcol, said that some banks including Metro Bank and Barclays allow two names on the mortgage agreement but just one name on the property deeds.
Q.

What if I am married and one of us owns a property?
A. The strategy of having one person (the one without an existing property) buy the new home does not work if you are married or in a civil partnership. This is because the rules will treat you as if you were joint buyers anyway, even if you're not. "This is in contrast to the way married couples and civil partners are treated for other taxes," says John Shallcross, "although it's still not quite true to say they are treated as a single unit."
Q.

What happens if I've split from my partner but I still have a share of our former home?
A. If you are separated or getting divorced and want to buy a new home to live in but you still have a share (worth £40,000 or more) of your previous home (which is NOT being sold), this will constitute buying an additional property. And this means the 3% surcharge is likely to apply.
However, if you go onto sell your share of the home back to your former partner (or sell the home entirely) HMRC will provide a full refund. This will come under the same replacement of a main residence rules set out above.
But John Shallcross warns: "If the new purchase is made BEFORE the sale of the interest in your former home, there are the three-year rules to look out for. They state that you will need not only to dispose of the interest within three years of buying the new home, but also to have lived in the former home as your main or only residence within the three years leading up to the purchase."
He adds that, in these cases, it's worth checking the property-owning history to see if it throws up something that could 'save the day', such as replacement of a main or only residence rules.
IMPORTANT: married or in a civil partnership and have a property adjustment order made? Announcements made in the 2017 Budget can help. More on this to follow.
Q.

How do I work out if the value of my share is worth £40,000 or more when there is a mortgage?
A. The £40,000 test is worked out on the market value of your share in the property BEFORE the mortgage is taken off.
For example, if you own a house with your former partner that has a value of £240,000 and an outstanding mortgage of £200,000, your share will be worth £120,000. It will NOT be worth the £20,000 (£240k value minus the £200k mortgage divided by 2) that you might each expect on the sale of a house.
Bear in mind that valuations will be taken at the date of the NEW property purchase.
Q.

I'm separated but still legally married. Will I still be linked for tax purposes if I buy a property alone?
A. If you are part of a married couple but separated in circumstances that are likely to become permanent, then if one buys a property the other will NOT automatically be treated as a joint buyer for the purposes of the 3% surcharge.
In other words, if you are buying a home that would only incur the 3% surcharge on the basis of your legal spouse's situation, you won't have to pay it.
Q.

I have a second home but want to buy a further share in the one I live in. Will I be affected?
A. Purchasing additional interests in your existing home may be subject to the higher rates if you own other properties on the date of the purchase. Similarly, transferring an interest in a property to your spouse (perhaps to put them on the mortgage agreement) can result in the charge.
Again, the higher rates will only apply where additional properties are owned at the time of the transaction and the payment is £40,000 or more. John Shallcross says: "It's always worth checking the rules around replacement of a main residence to see if they can save you."
IMPORTANT: Already own at least a 25% share of a property? Changes announced in the 2017 Budget could help you when acquiring further shares. More on this to follow.
Q. I am extending the lease of my leasehold flat. Surely the 3% surcharge can't apply to that?
A. Unfortunately, it can in some situations if you are paying £40,000 or more for the extension and have interests in other residential properties.
However, the rules here are not easy to apply. HMRC's amended guidance (published in November 2016) is the first mention of this and, even then, it's brief. However, it recognises that the replacement of only or main residence exception can apply. Click here to see it (paragraph 36.A, chapter 9, example 13).
Q.

Can I avoid the surcharge by buying through a limited company?
A. No. You won't be able to escape the surcharge by setting up a limited company for the purpose of buying a home or homes. It's due on nearly all purchases by limited companies, as there are very few for below the £40,000 threshold.
Q.

What if I already have a limited company?
A. The surcharge will still apply when buying a residential property through an existing limited company. If the property is transferred into a limited company without a purchase price being paid, its market value usually applies for Stamp Duty purposes.
Properties already owned by your limited company however will not 'count against you' if you are buying a personal additional property.
Q.

What about trusts?
A. The rules around trusts, which you can find more about within HMRC's updated Guidance Notes (published November 2016), are pretty complicated.
A good starting point is with John Shallcross article, 3% Stamp Duty; HMRC's guidance debunked.
Q. What if the home I want to buy has a 'granny flat'?
A. The 3% surcharge was initially always going to be applied to any property with an annex or additional property purchased alongside a main residence if the annex/additional property had a value of £40,000 or more and could be used as an independent dwelling.
However, due to what it described as a 'technical unfairness', the Government made an amendment to the Finance Act 2016 to reverse this.
Now, so long as the annex is bought alongside the main residence, it will NOT always be subject to the higher rates of Stamp Duty. (To benefit from the amendments, an annex must be within the grounds of the main home and be worth no more than a third of the total value.)
The Treasury explained: "Under the new rules, if you buy a main residence (either your first property or a replacement for a previous main residence) worth £250,000 and an annex capable of separate sale worth £50,000 in a single transaction, Stamp Duty at the standard rates will be charged on the total value of £300,000.
Buying a home with a granny flat? Find out if the 3% Stamp Duty surcharge could affect you
Would 3% extra Stamp Duty put you off buying a second home?

— Zoopla (@Zoopla) March 16, 2016
Q.

What if I am a major property investor?
A. It was confirmed in the March 2016 Budget that major investors in residential property will not be given a special exemption from the 3% surcharge. (In its initial consultation, the Government had earmarked 'bulk buyers' of 15 or more residential homes for exclusion as they were deemed to be 'contributing towards new housing supply'.)
If you are purchasing at least 6 dwellings however, you can choose whether to pay Stamp Duty at non-residential rates or claim multiple dwellings relief. If you choose to claim multiple dwellings relief, the higher rates will apply – the minimum rate payable being 3% for purchases with an average value of up to £125,000.
Q.

What if I inherit my property?
No Stamp Duty is normally payable on properties that are inherited, so the 3% premium will not be relevant. That said, if you have inherited a property and go onto purchase an additional home without selling it, you may well be hit with the surcharge.
The March 2016 Budget did give some reprieve to inherited properties, however. The Government confirmed that a small share (50% or less) in a single property which had been inherited within three years prior to buying another home (which would otherwise attract the 3% surcharge) will NOT count against you for surcharge purposes.
Q.

What if I acquire a property by gift?
Stamp Duty is due on the 'chargeable consideration', which is usually the purchase price, so a pure gift can be Stamp Duty-free. However, if there is a mortgage attached to the property, a proportion of its value can be liable for the tax. The same analysis is employed to see if the 3% surcharge is due.
Q.

Do plots of land count?
A. The 3% loading only applies to purchases of 'dwellings'. A plot of land (even if it will subsequently be used for a home) is not counted as a dwelling, so the surcharge will never apply. On the flipside, if construction has started but not finished, it WILL count as a dwelling. (There is a limited exception for some 'off-plan' purchases where the contract provides for a dwelling to be built.)
Similarly, if you already own a bare plot of land and are buying an additional property, it will not be considered for purposes of the higher rates of tax.
Q.

What about timeshare homes?
A. A timeshare home – overseas or in the UK – will only be considered for the purposes of the higher rates of Stamp Duty if it is a dwelling AND you have a share in ownership which is equivalent to either a freehold or a lease with a term of more than seven years. However, as many timeshare deals are contractual agreements to occupy a property that is owned by another person, this will not be relevant.
Q.

What about other homes specifically designed for holiday use?
A. Holiday homes – even if they are furnished holiday lets or they come with restricted use during the year – will be treated the same way as any other additional property purchases.
Q.

Are there any exemptions?
A. The most important exemption – which is often misunderstood or even overlooked – is related to rules around the replacement of an only or main dwelling.
You can read more about this above or by heading to John Shallcross' article, The all-important rule that could see you escape the higher rates of Stamp Duty.
But there are more straightforward exceptions too.
For example you won't pay the 3% Stamp Duty surcharge on additional homes that cost less than £40,000, or on caravans, mobile homes and houseboats.
The purchase of non-residential properties (such as offices or warehouses) will not attract the higher rates of tax. Neither will owning any of these cause a purchase of a dwelling to be liable at the higher rates.
The purchase of a mixed-use property (a flat above a shop for example) will be exempt from the higher rates too. But if you already own a mixed-use property (which includes a dwelling) and want to buy an additional property, it will count against you for the higher rates.
Social landlords and charities won't be liable for the 3% loading, if the usual Stamp Duty exemption applies to them.
And, while it's not an exemption, it's worth noting that if you pay Capital Gains Tax on the sale profits of an additional home, you can offset the cost of the 3% Stamp Duty surcharge against your gain.
IMPORTANT: Announcements made in the 2017 Budget introduced some additional exemptions, such as where property is transferred between spouses and where more shares are bought in a home on top of an existing interest. More on this to follow.
Q.

Can I just omit to mention to my solicitor about the fact I already have a home?
A. Stamp Duty Land Tax is a self-assessed tax and it's your responsibility to make an honest return, having taken appropriate advice where necessary. If you do not complete the return honestly, it's tantamount to fraud – penalties for which could be a lot worse than a 3% Stamp Duty loading.
Q.

Is all this set in stone?
Yes. The final policy design was announced in the Chancellor's 2016 Budget and it kicked in as planned on 1 April 2016. Some tweaks were made around the tax in the 2017 Budget which take immediate effect for property completions, so on or after 22 November 2017.
Q.

What's changing in Wales?
A. With effect from 1 April 2018, Land Transaction Tax replaces Stamp Duty in Wales. The rules will still be largely similar to England's but, when it comes to the 3% surcharge, there will be some significant differences. These include the way the exception works around the replacement of a main or only residence. Updates coming on this next year.
Q.

What official guidance is there?
HMRC issued a Guidance Note on the day of the 2016 Budget. But it was criticised as being misleading in places and failing to deal with many common scenarios. So, HMRC issued a revised Guidance Note in November the same year.
John Shallcross, who had been consulting on the drafts, told us the changes included the following:
Amendments to granny annex rules, as explained above.
Clarification of how replacement of only or main residence rules apply with a much wider range of examples.
Clarification of how rules apply where a property is bought in someone's name but just as a nominee and with no beneficial interest.
The brief online guidance was updated on 24 March 2017, when John wrote this commentary on it.
Q. I need help working out whether the higher rates of Stamp Duty are due. What should I do?

Telephone: HMRC Stamp Duty helpline on 0300 200 3510 (lines open 8.30am to 5pm).
Write to: HM Revenue and Customs – Birmingham Stamp Office, 9th Floor, City Centre House, 30 Union Street, Birmingham, B2 4AR. (HMRC has a 20 working day lead time for replies.)
Tweet: @HMRCCustomers with your query (account is serviced between 8am and 6pm). Be sure not to disclose any personal details on social media.
Post a comment below: Your entry will not be visible immediately as comments are subject to moderation, but they'll usually be posted by the next working day. Please 'vote up' comments that you deem particularly helpful. And be aware that responses do not constitute financial or legal advice.
Do some research: This is the Government's initial consultation and this is its summary of final responses. This is Government's first guidance notes document on the tax (issued on 16 March, 2016). And here is the amended Guidance Note published on 29 November 2016.
If you really want to get into the nitty-gritty, take a look at the legislation itself (Finance Act 2016 section 128). A quick way to find what you are looking for is to press Cntrl/F on your keyboard and search for a key term.
COMMENTS DO NOT CONSTITUTE FINANCIAL OR LEGAL ADVICE AND ARE PROVIDED FOR GUIDANCE ONLY. IT IS ASSUMED THAT PROPERTIES ARE IN ENGLAND OR WALES UNLESS STATED OTHERWISE.
ADVICE SHOULD BE SOUGHT BEFORE PROCEEDING WITH ANY TRANSACTION. THE SAME APPLIES TO THE COMMENTS SECTION OF ZOOPLA'S WEBSITE.
You might also be interested in...