Ever thought about swapping bricks and mortar for life on the canal? From £130,000 to £3.7m, here are some unique options for sale on Zoopla.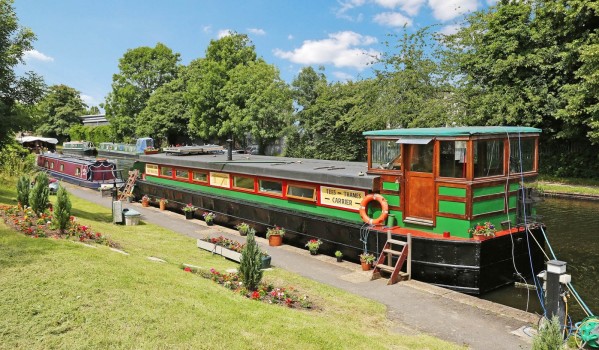 The interior shots of this traditional Thames Lighter barge could easily pass for a two-bedroom pied-à-terre. And, at £130,000 – reduced from its original £200,000 – it's affordable too. Although you'll need to factor in maintenance and mooring costs of £8,300 a year.
Available via riverhomes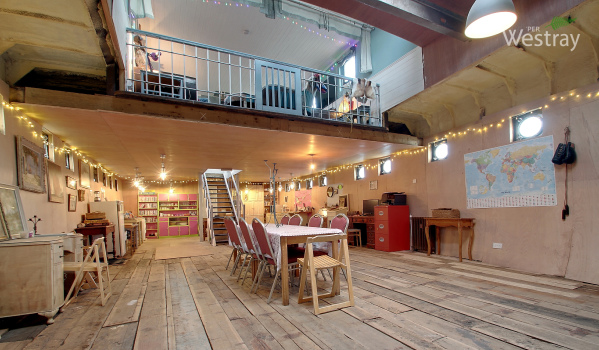 The SS Davenham has already undergone a substantial refurbishment and is 'live-aboard-ready'. But there's plenty of scope for more including the creation of extra rooms. The exterior of the ship will also need to be entirely repainted. It's currently moored on the River Medway, 30 minutes outside London.
Available via PER Westray
Described as a 'Floating Penthouse' these built-to-order water homes are designed to bridge the gap between the humble houseboat and the luxury yacht. They can be customised to include features ranging from underwater lighting to saunas, and are fully motorised and manoeuvrable.
Available via riverhomes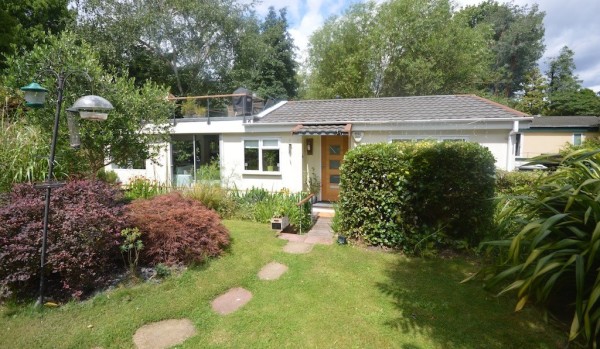 Keep one foot on dry land with this comfy houseboat on the River Thames' Taggs Island – where Pink Floyd guitarist David Gilmour also owns a boat-turned-recording studio. A charming landscaped garden and parking space is included in the price, so you can leave lagoon life behind whenever you like.
Available via Water side Residential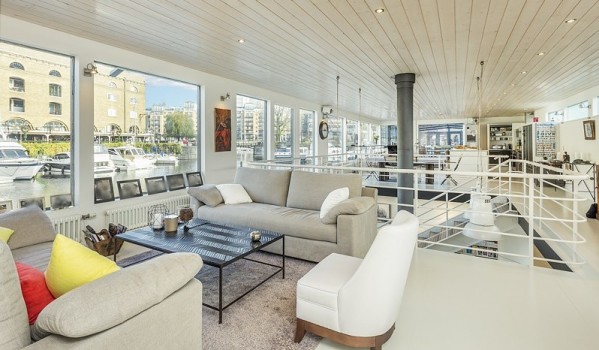 Not many houseboats come with a deck large enough for al fresco dining, a trampoline and table tennis. But this converted 1930s steel barge is the exception. The luxurious 5,000 sq ft home with sauna, bike store and winter garden, is moored in the exclusive enclave of St Katharine's Docks.
Available via riverhomes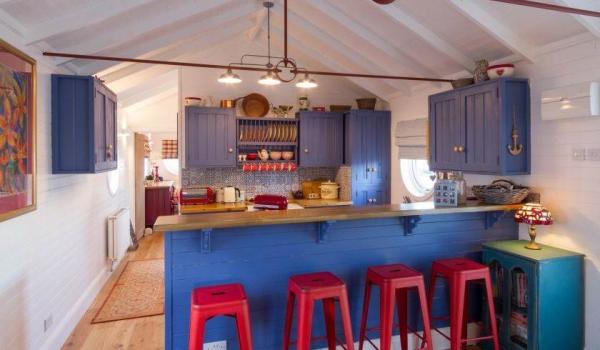 6. One-bedroom houseboat in Chichester Marina, Hampshire, for £235,000
From the inside, the porthole windows are the only giveaway this property is a houseboat, not a cottage. The one-bedroom home comes with a bespoke kitchen, oak floors and gas central heating. Mooring fees are £5,060 a year but this includes marinas facilities, such as a launderette and 24-hour security.
Available via Griffin Residential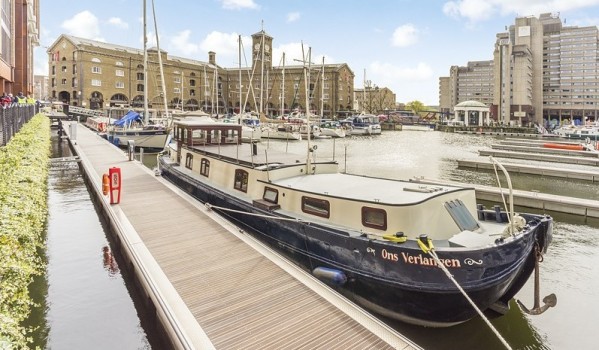 7. Two-bedroom barge St Katharine Docks, London, for £320,000
A two-bedroom flat overlooking St Katharine's Docks will set you back well over £1m, which makes the £320,000 asking price of this historic Dutch barge – first built in 1898 – look cheap. Mooring costs are £13,500 a year but, in words of the selling agent, it pays for what's arguably, "the best London mooring."
Available via riverhomes