Thinking about taking the plunge from bricks and mortar to the water? Our no-nonsense guide of costs, considerations and case studies will help you make up your mind.
Thinking about living on a houseboat? You're in good company.
Artists, young professionals and divorcees seeking out affordable accommodation are among those flocking to a lifestyle that was once largely dominated by retirees and free-spirited nomads.
More holiday home owners have joined the throng too, since the higher rate of Stamp Duty was introduced on the purchase of 'additional property' back in 2016.
Nigel Day at River Homes, a waterside property specialist, said: "We've seen demand increase by between 15% and 20% since then as, unlike bricks and mortar properties, houseboats are exempt from stamp duty."
For many, the existence – al fresco deck dining, freedom, feeding the mallards from your bedroom porthole, and a friendly community – sounds idyllic.
Yet the stark reality is that living on a boat involves a lot of hard work, and ongoing costs and maintenance.
"It is a beautiful dream but it's not straightforward," cautions Charles Foster, chairman of the Residential Boat Owners' Association, who has lived afloat for 16 years.
If you're thinking about making the switch from bricks and mortar to the water our guide below will help you make up your mind.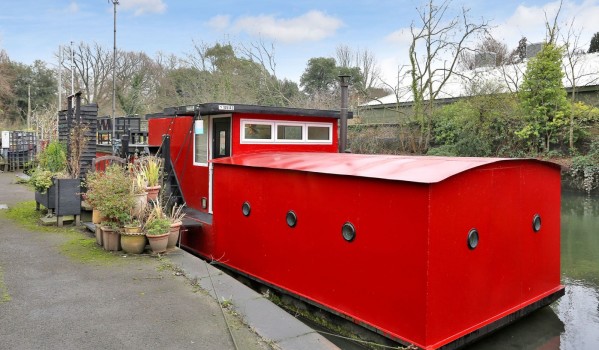 This one-bedroom houseboat has a 16ft long deck and can be found in Brentford.
Is living on a boat right for me?
First off, be clear about your reasons for moving.
Many people mistakenly believe living on a boat will be a lot cheaper than in a house. But the cost of living varies considerably depending on the vessel size, type, how often it's used and where you moor it.
Craft related costs include waterway and boat licencing, mooring fees, insurance, a boat safety certificate and ongoing maintenance expenses. You can see a breakdown of the costs further down in this guide.
And if you're tempted by the adventurous lifestyle you'll need to ensure your boat is small enough to navigate the smaller locks and canals, which will ultimately eat into your living space.
Finally, how fit are you? Fran Read, a spokesperson for the Canal & River Trust (CRT), which oversees 2,000 miles of waterways in England and Wales including 100 miles across Greater London, compares living on a boat to a physical part-time job.
"Boat living can be a fantastic way of life but it comes with its own challenges such as having to fill up with water, empty your toilets, do lots of hands-on maintenance and, if you don't have a home mooring, moving your boat every 14 days to somewhere new," she says.
"Sometimes people can get a bit of a shock, especially in winter, when they realise it's not just a floating house. So we advise that you should only move aboard if you really love the lifestyle."
How to choose a houseboat to suit your needs
The term house boat is often misleadingly used to describe all floating homes but Foster points out that true houseboats do not have engines and are immovable.
These static dwellings, which are limited in numbers in the UK, are usually chalet-like structures built on floating pontoons.
That said, any former tug, ferry, fishing vessel, lifeboat or large seagoing craft has the scope to be converted into a liveaboard provided it can be placed in the right location. Popular options include the following: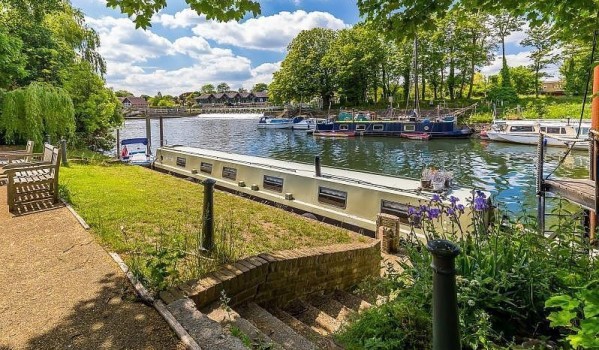 Overlooking Ash Island and Molesey Lock is this one-bedroom narrowboat that has been lovingly updated.
Narrowboats
Made of steel, narrowboats are typically 6ft 10in wide, up to 72ft long and the most popular and common type of craft found on CRT waters.
Narrowboats have limited living space but are ideal for navigating the UK's rivers and canals and a popular choice with 'continuous cruisers', who move location every 14 days.
Second-hand boats can start from as little as £20,000 but would need more than double that investment to bring them up to spec.
Michael Jones (name has been changed) bought a 69-ft ex-hire narrowboat in order to clear his £320,000 mortgage. He said: "I couldn't afford to retire and make the repayments so I sold the house and decided to live on a boat. I'd owned two in the past and used them as holiday homes.
"This one cost me £47,000 to buy and totalled £50,000 by the time I'd added solar panels and a wood-burning stove, which keeps me toasty in the winter. I also have secondary glazing. A common misconception is that narrowboats are cold. Mine isn't."
He continues: "My neighbours range from a young professional in her twenties to a mother and father who home-school their kids. I live alone but there's room to sleep four. I had to say goodbye to all of my books – space is at a premium – but I do have a 32-inch television."
Dutch Barges
Similar to narrowboats but wider, these former commercial vessels can be up to 120 feet in length and 20 feet wide. They tend to be on one level throughout making conversion straightforward.
Being flat bottomed, rocking is kept to a minimum. Such barges must be moored on rivers.
When Hilary Forrester purchased Anny, a 1924 converted Dutch barge six years ago she was seeking a "completely different existence in London."
The luxury marketing consultant and founder of www.trephina.com, had lived in various apartments in the capital for 20 years and "done the Victorian conversions" so she bought the 860 sq ft vessel with the sole intention of putting her own stamp on it.
"When I bought the boat, it was less expensive than buying a two-bedroom property locally, which meant I could go to town on it," she says.
The work included extending the hull in her bedroom so it was no longer limited to head height, widening the stairs and installing underfloor heating.
Hillary shares Anny with her two cats and loves watching the ebb and flow of the tide and thunderstorms. "When my friends visit, they say it's like coming on holiday," says. "There's a lovely community here. We have BBQs and look out for each other."
The luxury barge, which is moored at Imperial Wharf next to Chelsea Harbour for £13,000 year, has two bedrooms, a bathroom, kitchen/diner, reception room, dressing room and study.
Hillary only intended to stay on the boat for a couple of years and has finally listed Anny for sale on Zoopla. Equivalent two-bedroom flats in the area are currently on the market for more than £850,000.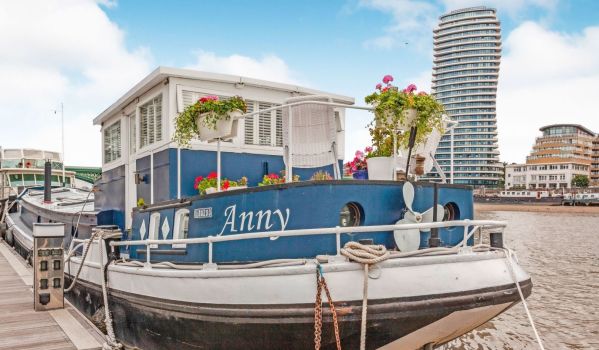 A recently renovated two-bedroom dutch barge with a river facing mooring at Imperial Wharf.
Try before you buy
Consider booking a week's holiday in both the summer and winter months to get a feel for being on a vessel, inclement weather and to familiarise yourself with daily living in a much smaller space.
Hoseasons, the UK self-catering accommodation specialists, has 50 canal boat bases in the UK from the River Thames and Scotland Lochs and Canals to Cambridgeshire Waterways and the Monmouthshire and Brecon Canal. Training on steering, how to use a lock and how to pump a toilet is also provided.
Short on time? The RBOA recommends taking the RYA's two-day Inland Waterways Helmsmans Course for both narrowboat or cruiser first-timers.
River Homes says it receives calls from would-be renters on an almost daily basis but as most houseboats are owner-occupied, rental opportunities are rare. "When we do have a houseboat come up to let, we often find a tenant immediately from a long waiting list," Day says.
If you're looking to rent a floating home privately, exercise caution.
"Any boat rented on our waters needs a business licence that ensures that all the proper requirements have been met," the CRT says.
"This includes organising a non-private boatsafety certificate, gas safety checks, commercial insurance and a comprehensive handover procedure including what to do in an emergency. We ask anyone thinking of renting a boat to do their research; if a boat offered for rent doesn't include a valid business licence then it may not be safe and should definitely be avoided."
How to buy a houseboat
Traditional mortgage providers won't lend on floating homes because they can't be registered with the Land Registry and the owner could just sail off into the sunset with their investment.
Specialist 'marine mortgages' are available but typically require at least a 25% deposit and come with considerably higher interest rates and a shorter repayment term.
Specialist waterways finance companies do exist. Check out ProMarine Finance and Shawbrook Bank.
River Homes says a lot of its buyers pay cash.
When it comes to boat buying, there's a huge variation in price so shop around. Check out brokerage websites Apollo Duck or Whilton Marina.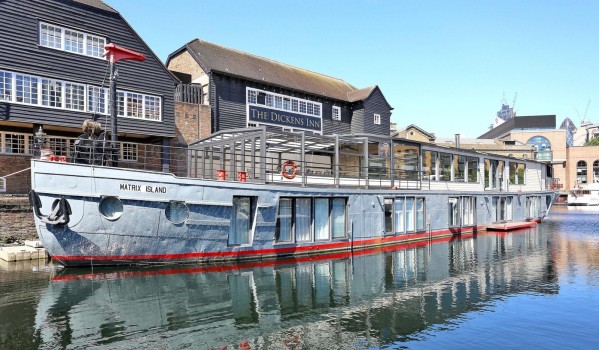 Moored in St Katharine Docks, this 1930s steel barge offers the wow factor with an almost 50 ft long deck.
Residential mooring
Never buy a houseboat until you've secured a mooring though, as these can be hard to come by. So how does it work?
To live on a boat, you'll need to be either 'continuously cruising' or have a 'residential mooring'. A 'home' mooring is where you can leave your vessel when you're not out boating.
The mooring can be either residential which allows you to live on your boat long term, or leisure, which limits the time you can live on your boat to a few days a week.
Residential moorings can be expensive and vacant spots hard to come by, especially in cities and the south-east.
The Environment Agency operates some and there are privately owned residential moorings on some boatyards and fully serviced births at marinas.
The Canal & River Trust and also leases a selection on an annual basis with costs ranging between £2,000 and £18,000 per year dependent on boat size, location and the range of facilities available.
The best moorings are fully serviced with water, fuel, a sewerage facility and shore power. It is imperative that you find a mooring before buying a boat or ensure the craft you are purchasing comes with the transfer of the mooring it is currently on.
Canal Junction suggests walking the towpath of the area you'd like to moor in and talking to the boat-owners to see if they're aware of any that might be up for grabs, as well as visiting boatyards to check availability. It has a list on its site here.
Continuous cruising
This is the cheapest option. You simply licence your boat – which can cost between £500 and £1,000 per year depending on the length of your craft.
The CRT's requirement is that you move your boat from one mooring to the next every 14 days and cover at least 20 miles a year, which might be logistically troublesome if you have land-based work commitments.
This way of life allows for freedom but is demanding and requires meticulous planning – and of course you'll use more fuel.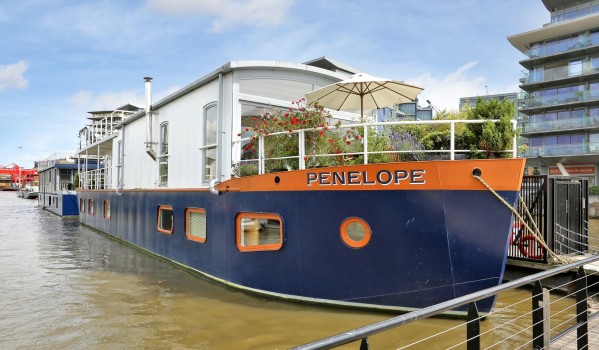 This beautifully maintained 29m long boat can be found at Riverside Quarter Moorings in Wandsworth.
Houseboat-related costs
If your primary reason for choosing life on the water is to save money, you might be in for a surprise. Ensure you factor in the following:
BOAT SURVEY
£350-£400 plus potential repairs
It's essential to check the condition of a second-hand boat, just as you would a house, to avoid any unpleasant surprises.
Be prepared to negotiate or pay for specialist repairs. Canal Junction has a list of approximately 100 marine surveyors who cover the whole of the UK and specialise in particular types of craft.
BOAT SAFETY CERTIFICATE
£150 plus potential repairs
Just like a car, on most of the UK's inland waterways, a boat needs to be licensed, insured and have a valid Boat Safety Scheme (BSS) certificate, the boat-equivalent of a MOT - before it can cruise.
Check with your navigation authority if this applies to your waterway.
BOAT LICENCE
£510-£1,100 a year
The Canal & River Trust runs 96 canals and navigable rivers in England and Wales and requires every boat that uses the waterways to have a licence.
There are three, six and 12-month options ranging from £510 to £1,100 in price depending on the length of your boat. You can only buy a licence if you have a boat safety certificate and insurance.
Boaters will require a separate licence for other waterways. The Environment Agency runs the River Thames, the River Medway and rivers in East Anglia and The Broads Authority looks after the Norfolk and Suffolk Broads.
For Scottish waterways visit the Scottish canals website and the Inland Waterways Association's waterway pages for any other navigation authorities
INSURANCE
£200 plus a year
Expect to pay this as a minimum for basic third-party insurance required for a licence. This does not include contents insurance, which if possible to secure, is likely to be more expensive compared than a land-based property. Collidge and Partners are a specialist marine insurance company.
MOORING FEES:
£2,000 to £18,000 plus depending on mooring type and location
HULL BLACKING AND PAINTING
£850 plus (depending on the size of your boat)
This is advised every three-five years to protect your boat from corrosion. It can cost £350 to take your boat out of the water and £500 to complete the work, which can take a week so factor in alternative accommodation.
TOILET PUMP-OUT COSTS
£20 a month
OTHER ONGOING EXPENSES
Costs will vary depending on the type of boat you own, it's size, condition and how many people live on it. A single person living on a refurbished narrowboat can expect to pay approximately £55 a quarter for utilities and £10 a week on coal or wood in the winter for log burning stoves.
If you're not a continuous cruiser and have a residential mooring, you will have to pay Band A council tax (the lowest band). Single occupants can also benefit from a 25% reduction.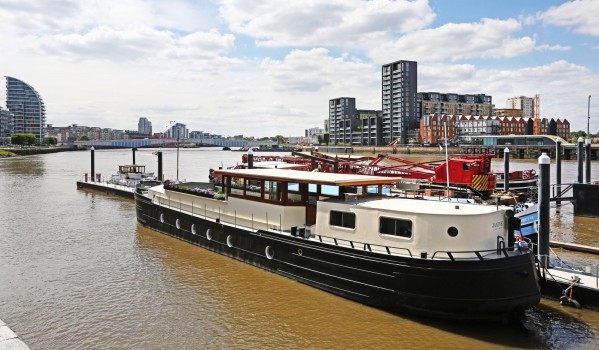 This three-bedroom houseboat in Plantation Wharf Mooring has been give a high-end makeover.
Pros and cons of living on a houseboat
Pros
The freedom to explore Britain's waterways at a moment's notice
Fresh air, an outdoorsy lifestyle and the chance to bond with nature
A strong community spirit
Unrivalled waterside views
No stamp duty
No council tax for continuous cruisers
An opportunity to live in city centres or exclusive postcodes at a fraction of local bricks and mortar prices
Cons
Limited storage space – you'll have to be ruthless with your belongings and food.
Ongoing maintenance from engine servicing to treating rust spots and blacking the hull.
The summer months can be unbearably hot while rainfall at night can keep you awake – especially if your boat has a steel roof.
Vessels are often regarded as a depreciating asset
Continuous cruisers may find work commitments logistically difficult
Be prepared to empty your toilet and fill your water tank
Arguments – if you're in a couple you'll be living on top of one another
Childhood Memories
Emma Kowalski, an events coordinator for www.xtremeevents.co.uk lived on the River Thames between the ages of seven and 13.
"I have great memories of that time," she recalls. "I remember my friends finding it funny or unusual but it just felt like the norm for me. [Life] always felt a bit more adventurous and not having all the home entertainment meant we were really close as a family.
"We would play board games when I got back from school in the evenings and read a lot…I hate fishing but if you're a fan you can dangle a rod over the side, plus you feel like you have pet ducks. I'd feed them daily."
You might also be interested in...
Could you live on a houseboat? Share your thoughts below...