We talk to a freelance single mum, who recently moved to Essex, about the house she bought on a £40k salary and is gradually doing up, while trying to homeschool her kids.
Welcome to Home Truths, the tell-all series where homeowners and renters spill the beans on what really goes on behind the scenes when buying, moving or renting a property.
Moving story at a glance:
Age: 44
Job: Makeup artist
Salary: £40,000
House cost: £345,000
Flying solo or buying with someone: Solo
Deposit paid: £200,000
Mortgage payments: £900 a month
Mortgage rate: 3.7%
What's your home like?
It's a really ugly three-bedroom, semi-detached house built in the 1980s. It's got brown bricks and these horrible tiles on the front, but the rooms are great sizes and there's loads of light.
It's a massive project as basically everything needs replacing and all the carpets are brown. The kitchen is tiny and the skirting boards are different shades of brown, too.
The garden is huge and it's going to be great, but at the moment it's a bit of a wilderness and there's an old shopping trolley tangled up in a hedge at the very bottom.
Basically, you need a fair bit of imagination to see what it will be like one day.
Why did you buy it?
I needed a house big enough for my two young children to come and visit at weekends or stay with me in the week sometimes. I couldn't afford a house that was big enough and in a decent state, so I decided to buy a home in need of total renovation that I could do up gradually.
I split up with my husband a little over a year ago. At first I moved out (my job involves very demanding hours, so we agreed the children should stay with him in our marital home), but I couldn't really afford to rent nearby.
It was an amicable split, so after a few months I moved back into the family home as I was there a lot anyway. But then the first lockdown happened and my ex-husband and I found ourselves together twenty-four-seven, which was pretty stressful.
We made it work and the kids loved it, obviously. I'd been trying to buy somewhere, but I was waiting for a considerable sum of money that my great aunt had left me to come through, and the probate on her will took several months.
So we all lived together, without being together exactly, until late last year when the money finally came through. At that point things had gone really sour between me and my ex and it was better for everyone that I move out.
When did you move in?
I completed the purchase of the house in October 2020 but I didn't move in until December. The house isn't totally habitable, so I'm sort of camping out in two of the downstairs rooms at the moment while I slowly do it up.
My makeup work has almost totally dried up because television filming and weddings have been mostly on hold during the pandemic, so I have plenty of time to strip textured wallpaper off walls and pull up disgusting carpets.
Or rather I did, until I had to start homeschooling my kids again. The work on the house is pretty much on hold until they go back, but I'm hoping to get the bulk of the renovation I can do myself done before the summer.
Why Chingford?
Because it's close to where my children go to school and a bit cheaper than where their father lives. It's not totally my scene but it's been great during lockdown as it's right next to Epping Forest and we can go on epic muddy walks whenever things get too much.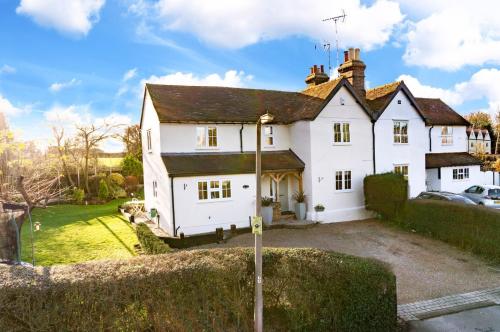 How did you make your new home work financially?
I couldn't have bought it if it hadn't been for a great aunt who I loved dearly and who died and left me half her house about 18 months ago.
I'm freelance and my income is erratic most of the time but especially this year when both industries I work in have been massively impacted.
Once my aunt's house had been sold and all the probate stuff had taken months to complete, I had enough cash to put down a considerable deposit on a house.
I am slightly panicking about how I'm going to pay for the renovations that need doing, because a new kitchen and bathroom and carpets will cost a lot, and I'd ideally like to knock through the downstairs rooms at some point. But I'm happy to do all these things slowly over the long term.
My kids are seven and five so they'll be at school in the area for a good while yet. Maybe by the time they go to university the house will be finished!
How easy was it to get a mortgage?
It was okay because I had a £200,000 deposit and I wasn't borrowing a huge amount in the scheme of things. Essentially, because I own more than 50% of the equity in the house, I was able to get a loan.
It was touch and go for a few weeks as I had to go through a broker and they really scrutinised my freelance income, which can go up and down for different reasons, and I haven't been freelance for that long. It was pretty stressful and actually my ex was quite helpful as he's an accountant. We got there in the end. I was unhappy with the interest rate, but my monthly repayments are still cheaper than renting.
Any regrets?
I have no regrets about buying the house, even though I sometimes get heart palpitations about how much work needs to be done on it. I do wish I hadn't had to be in lockdown with my ex for so long, as I suspect our relationship would have been better now if we'd had a clean break.
He spent quite a lot of lockdown trying to get me back, and it was only when I got a new boyfriend that he signed the divorce papers. It was almost as messy as my new house. But we recently got our decree nisi and I'm hoping 2021 will be an opportunity to tidy everything up. Most importantly, I will have a nice safe house for my kids to come and stay in soon.
You may also be interested in...
Zooplomas are our free guides to buying or renting a house, giving you expert advice and information straight to your inbox.

The information and data in this article was correct at the time of publishing and every attempt is made to ensure its accuracy. However, it may now be out of date or superseded. Zoopla Ltd and its group companies make no representation or warranty of any kind regarding the content of this article and accept no responsibility or liability for any decisions made by the reader based on the information and/or data shown here.