27-year-old Jon Elson did not expect to be a homeowner this time last year. But an unexpected redundancy and drive-by encounter changed his fortunes.
Friday, 15 November 2019 was a special day for 27-year-old Jon Elson. It was the day he completed on the purchase of his first ever home, collected the keys and moved in with his partner, 25-year-old Aimee Fogg.
Jon, an engineer for a manufacturing company, started the search for his first home on Zoopla back in February 2019, focusing on areas around his hometown of Huddersfield, West Yorkshire.
"But as well as searching online, I would also take myself off and drive around looking for For Sale signs," said Jon.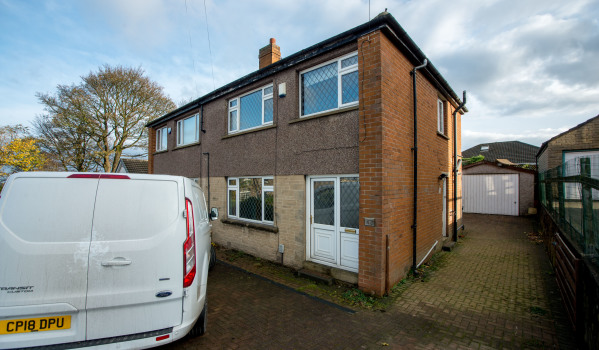 The moving van arrives at Jon Elson's new three-bedroom semi-detached in Lindley, Huddersfield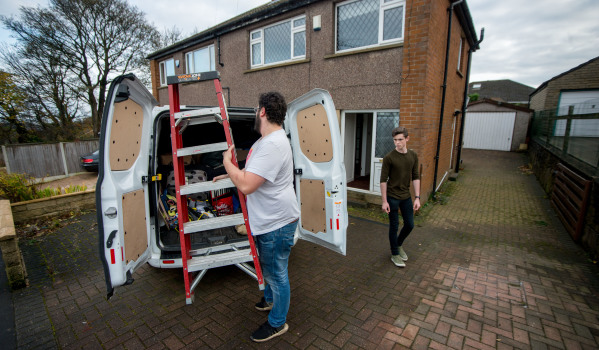 Jon and nephew, Harrison Gaffney, get to work unloading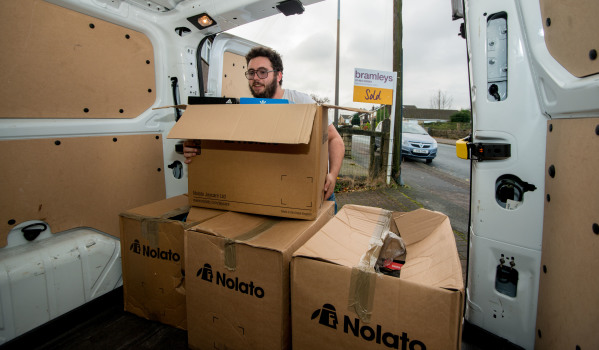 Heavy lifting: Jon unloads boxes from the moving van
Right place, right time
And that's exactly how, in March, he found the three-bedroom semi-detached house in the Huddersfield suburb of Lindley, that he and Aimee – his partner of five years – now call home.
"I was with Aimee and my brother-in-law – and it was his idea to pull over and knock on the door. It transpired the For Sale sign had been put up literally 30 minutes before and the home wasn't yet listed on any of the property portals.
"The homeowner said we could view the house when he got back from walking his dog. We did, I put in an offer, and he accepted."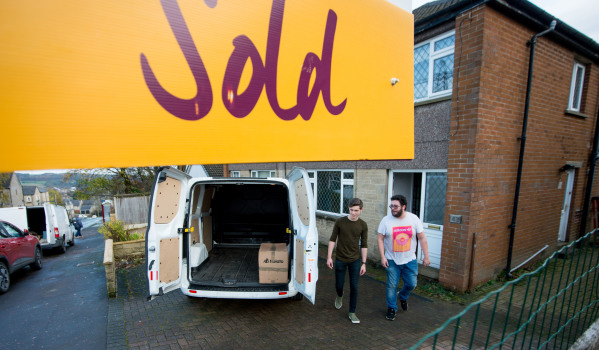 One last box...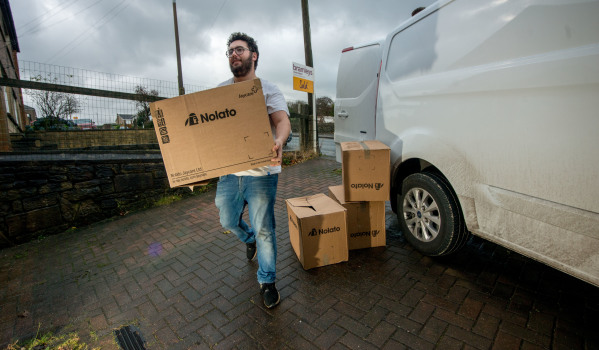 Jon and Harrison pause for a well-deserved rest from unloading
If something's worth having…
While it might sound straightforward, like many first-time buyers, Jon encountered his fair share of complications.
The seller was part-exchanging his house for a new-build with Taylor Wimpey – meaning Jon was actually buying direct from the developer.
The downside of this arrangement was a long delay while the seller waited for his new-build home to be finished. "I was due to complete in April but this ended up being November. Thankfully I was living rent-free with my Dad, but it could have been a problem otherwise."
The considerable upside, however, was that to get the home sold Taylor Wimpey set the asking price at a very conservative £147,000.
"Some local estate agents had valued it at around the £180,000 mark – the seller even showed me evidence. I knew I was already in a good place, so I offered just £1,000 below the asking price which was accepted."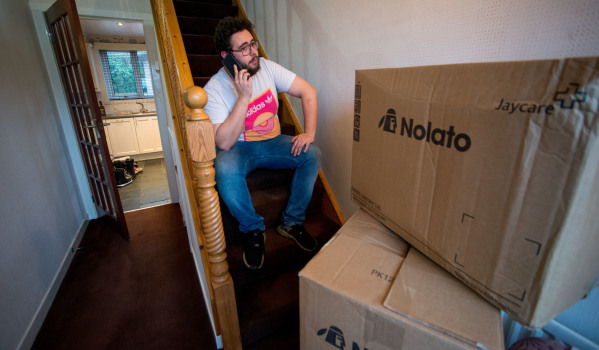 Jon takes a break from unpacking to make a phone call
At last, Jon has all the space he needs for his trainer collection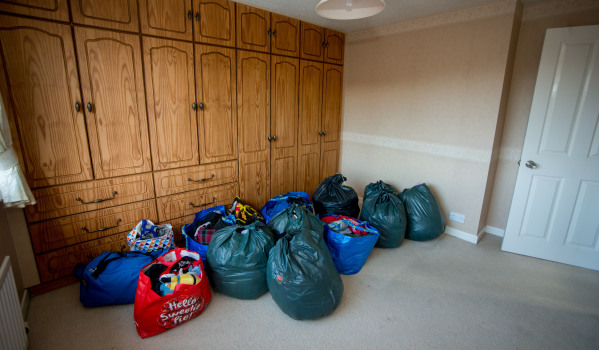 The master bedroom's in-built cupboards will soon be filled
Getting the money together
The way he found the property wasn't the only part of the homebuying process that was seemingly written in the stars for Jon.
All of the 5% deposit he put down, which amounted to £7,300, was from being made redundant last Christmas from the chemical factory he'd worked at for 10 years.
"It was a big shock at the time and pretty messy with the trade union having to get involved. But ultimately, I got a chunk of cash for a deposit. I was also offered a job the next day, which meant I could show an income to get a mortgage. So, there was certainly a silver lining."
As soon as his offer had been accepted, Jon opened a Help to Buy ISA (applications for which are now closed). "I've been saving into it like a trooper since March for things like homebuying fees and furniture."
He went to Yorkshire Building Society for his mortgage and opted for a two-year fix, so he knows his monthly mortgage payments won't change until December 2021.
"At 3.1% it was a great rate for a high loan-to-value mortgage," he said. "YBS also gave me a free valuation and a discount on the survey – a Home Buyer's Report – which only cost me £150."
The home was built in the 1960s and the survey did find some asbestos in the garage roof but Jon plans to follow advice and leave it untouched. The survey also noted an absence of electrical and gas safety certificates but they've since been produced by the seller.
As he only had a 5% deposit, Jon looked at the government's Help to Buy which provides an equity loan of up to a further 20% of the property value for a new-build home. But he found new-builds that the scheme could be used for to be, 'small and expensive'.
"The extra budget Help to Buy could have given me just seemed to be added onto the cost of the house," he said. "I couldn't see the value in it."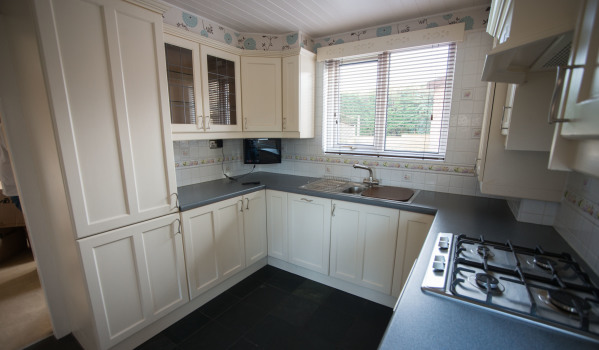 Feeling peckish? A well-kept kitchen awaits Jon and his partner, Aimee
No sofa yet... Jon and Aimee will need to get used to sitting on the floor
The recently-fitted bathroom scrubs up well
Looking forward to life
So, would Jon do anything differently if he went through the process again? "Not really – with three bedrooms, a front and back garden, family close by and within walking distance of all the shops and restaurants in Lindley, we won't be moving any time soon."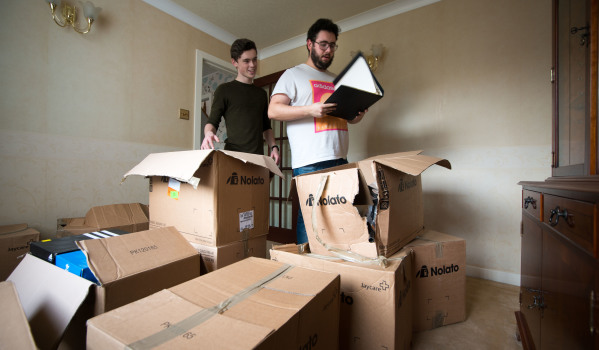 Jon makes plans for where to keep his belongings in his new home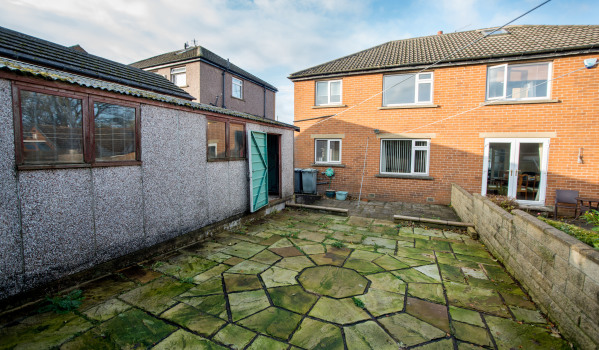 Jon and Aimee's sizeable garden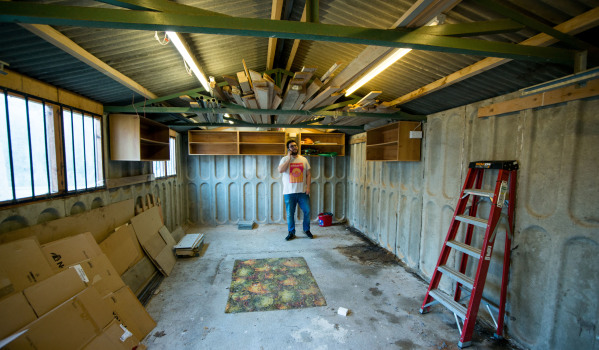 A huge garage with masses of potential
Continue your property journey...