Want to make your mark on your first home but almost out of cash? Here's how to get cutting-edge looks on a budget.
If you have just bought your first home, chances are you are keen to put your own personal stamp on it.
But – having just made it through the most expensive time of your life – your interiors ideas and aspirations may be in much greater supply than cash.
Here's a look at some of the key design trends predicted for 2020 and – and how you can recreate the look for less.
Colourful kitchens
Homeowners are increasingly looking to add blasts of colour to their kitchen, according to home renovation platform Houzz.
The group said its data showed a surge in homeowners opting for cabinets in 'cheerful' shades of blues, greens and heathery purples, with 'yellow kitchen' also rising in popularity as a search term.
While a brand-new kitchen may set you back £10,000 or more, the good news is that with a bit of DIY you can easily get the heart of your home on trend without blowing your budget.
If you have inherited wooden cabinets, these are easy to repaint in brighter shades, just take the time to sand them down and apply a coat of primer first.
Laminate cabinets are a bit trickier and will require a special type of primer to ensure the paint sticks. You will also need to ensure there are no cracks in the surface.
Tired-looking tiles can also be repainted to give an extra splash of colour. There are special paints for tiles, or you can use oil-based gloss paint as long as you prime the surface first.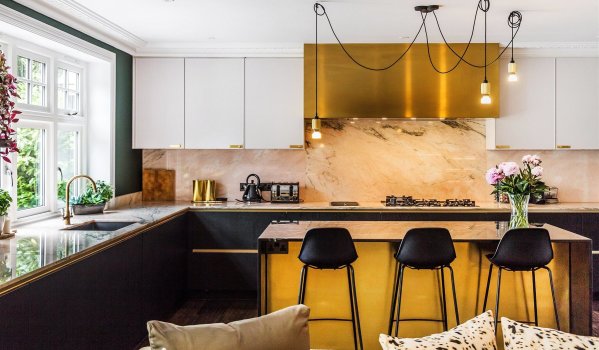 Focus on sustainability
Unsurprisingly, given concerns over climate change, sustainability is set to be the buzz word in interior design in the year ahead. Think eco-friendly materials, recycled items and a strong focus on the lifecycle of a product.
The good news is that this is one of the easiest trends to replicate on a budget.
Forget expensive new furniture sets and matching furnishings, and instead opt for an eclectic mix of second-hand, upcycled and repurposed items.
In practical terms this means scouring websites for people offloading furniture and accessories, repainting cabinets, chests of drawers and tables to give them a new lease of life and creating your own bookcases and coffee tables out of old crates or anything else you can get hold of.
Accessorise your home with plenty of plants to complete the look.
Bamboo
In line with the emphasis on sustainability, bamboo is currently enjoying a surge in popularity as decorating material, according to Houzz.
Bamboo is a fast-growing renewable material that is strong enough to be used for everything from flooring to furniture, and it can even be woven as a fabric.
The good news for the budget conscious is that because it grows quickly and is in plentiful supply, bamboo tends to be relatively cheap, while giving the same look as natural wood products.
So, you can forget about expensive slate floor tiles if you want to be on trend and opt for cheaper bamboo flooring instead.
Bamboo also makes economical window blinds, and attractive accessories, including wastepaper bins, soap dishes, vases, bowls and picture frames, all of which are typically friendly on the wallet, as well as the environment.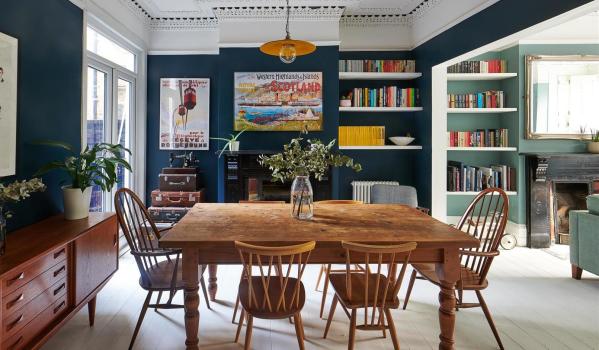 Bold colours
Grey walls are so last year. In line with the trend for bright kitchens, 2020 is expected to see a resurgence of bold colours.
You can easily achieve this look on a budget by giving your new home a fresh coat of paint in your chosen palette.
Alternatively, experiment with bright fabrics, lampshades and accessories to add a pop of colour to your rooms. Geometric patterns on cushions and rugs are particularly in style.
Colours that are trending include navy blue, particularly for bedrooms, deep greens, golden yellows, burnt orange and even black.
Do not feel constrained to having all walls in a room painted the same colour either, as contrasting colour schemes are back.
Statement bathrooms
While homeowners may once have been content to leave their bathroom as a rather sterile space, 2020 is expected to kick off a trend for statement bathrooms.
Those with deep pockets are set to be installing coloured sanitaryware, eye-catching tiles and luxury accessories.
These changes are likely to be beyond the budgets of most first-time buyers, but there are still steps you can take to breathe new life into a tired looking bathroom.
As replacing tiles is expensive, try experimenting with waterproof tile stickers, which offer an inexpensive way to make a style statement.
Alternatively, consider repainting the walls in a bold colour. Painting the ceiling anything other than white can also have a big impact and creates a modern feel.
Instead of upgrading the sanitaryware, focus new fixtures and fittings, such as lights, mirrors, doorknobs and even taps as an inexpensive way to update the room.
Continue your property journey...