What 'fully-furnished', 'unfurnished' and 'part-furnished' really mean, so you can decide which choice suits your rental needs best.
Fully-furnished, unfurnished, or part-furnished? When you're searching for a rental property, this will be one of your main considerations alongside price, size and location.
Here, we look at what these terms mean, and the positives and negatives of each - so you can make the right choice when choosing your next home.
Fully-furnished
A fully-furnished property will include white goods - a cooker, washing machine, and fridge freezer. It should also include basic furniture, such as a sofa, table, chairs, beds, and wardrobes.
But there's no formal definition, and you may find other items included, such as kitchen appliances, cutlery, a TV, iron, and vacuum cleaner.
Laura Stronghill, senior sales & lettings manager at Hamptons International, says: "You can always ask for some items to be removed as part of your offer.
"A landlord may consider this request, depending on various factors, such as the cost for storage of furniture, or disposal. Likewise, if a property doesn't have some items that a tenant would like, they can ask for them to be added as part of an offer."
The positives of a fully-furnished home
You move into a ready-made home


You won't have to fork out for furniture


You won't need to spend time shopping and staying home for furniture deliveries


Your landlord is responsible for insuring furniture, but you'll still need to insure your own items


Your landlord must ensure furniture meets legal standards on fire resistance, and that electrical goods are safe and work well.
Jessica Monk, 37, who works in marketing for a food retailer and rents in Leeds, says:
"My job and personal choice means that I don't know how long I am going to be in the same place – moving is expensive, and furnished apartments take the stress out of the process. You might get a run down sofa – but just chuck a throw over it."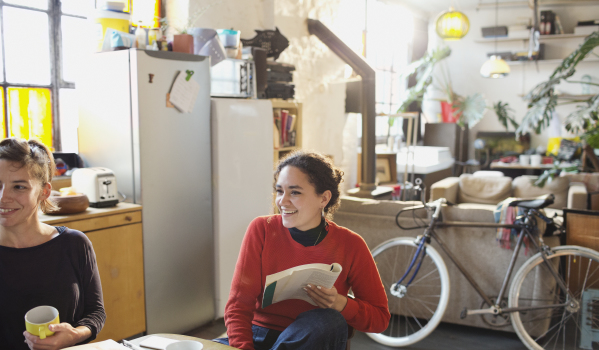 Some potential drawbacks of a fully-furnished rental home
You may have to live with furniture that isn't to your taste or of your ideal quality


It may take time to feel like home without your own furniture


You'll need to take particular care that you don't damage items that aren't your own – or risk a deposit deduction when you move out


You may pay higher rent for a furnished rental, but this isn't always the case

-----------------------------------------
Unfurnished
You'd expect to find an unfurnished flat or house largely empty. But again, this varies depending on the type of home and location.
"In London, white goods such as a fridge and washing machine are usually included in an unfurnished property, but this can vary in outer London and beyond," says Stronghill.
You may find the odd furniture item, such as a table, and those that form part of the rental – for example, fitted wardrobes. But generally, you'll need to furnish it yourself.
Whether a property is unfurnished or not often depends on the type of tenant it attracts during a property search, adds Sarah Warmington, regional lettings director at Marsh & Parsons.
She says: "A professional couple or young family may want either part-furnished or unfurnished as they want to make the place feel like a home with their own personal belongings."
The positives of an unfurnished rental home
You can stamp your identity on the property with your own furniture


You don't have to worry about losing your deposit because of damage to your landlord's furniture


You can invest in furniture you'll keep in the future


You may be happier to stay longer-term, saving on future moving costs
Vicki Smith, 35, a client manager for an asset manager, who rents in Wandsworth, south west London, says:
"I had my own furniture from a place I own and now rent out, so it made sense to use this.
"Plus I like having my own stuff as it feels nicer, and makes it more like my own home. There's also the element of choice and control over quality of furnishings."
Some potential drawbacks of an unfurnished property
You may have to fork out hefty sum to furnish the place


You may have to spend time choosing furniture, waiting for deliveries and for the place to feel homely


You'll pay more initially to move large items into and out of the property


You'll need to take care not to damage the property when moving furniture in and out
-----------------------------------------
Part-furnished
Just to confuse things, you may also find a property described as part-furnished – although there's some ambiguity about what this means. It may, for example, describe rental properties that include white goods and some furniture, such as a sofa and table, but no beds.
Again, you can ask for furniture to be removed prior to moving if it's not needed. Ask the agent before and during the viewing what's definitely included.
Your rights and responsibilities
Once you've signed the contract, you should take care of a rental property and its contents. This includes reporting any damage or maintenance required at the outset, and during the tenancy.
At the end of the tenancy, it's your responsibility as a tenant to return the property in the same condition as you found it at the outset.
An inventory should have been drawn up before the tenancy starts. This should detail everything that's in the property, and its condition. If there are any disputes over damage to any items, this may be used to clarify things.
Wear and tear
The cost of repairing or replacing any furniture or items damaged during your time as a tenant can be deducted from your deposit.
But landlords cannot charge you the cost of replacing items that have suffered 'fair' wear and tear, such as slightly worn carpets or faded furniture. Yet with no legal definition of what's considered 'fair', this can be the cause of deposit disputes.
Deposit protection schemes
If your contract is an Assured Shorthold Tenancy Agreement (the most common rental contract), your deposit must be held in a Government-backed Tenancy Deposit Scheme. Authorised schemes in England and Wales are the Deposit Protection Service, My Deposits, and Tenancy Deposit Scheme.
You should get your full deposit returned to you within 10 days of the tenancy ending, provided you've met the terms of the tenancy agreement.
If you disagree with the amount taken fro your deposit, you can use a free dispute resolution service through the Tenancy Deposit Scheme. Cases are judged by independent adjudicators.

You may also be interested in...