By

property news team

March 14, 2018
The idea of underfloor heating might leave you with that cosy feeling, but is it an expensive luxury you can do without? Here we look at the pros and cons.
What is underfloor heating exactly?
Underfloor heating is a heating system that is installed under the floor of a property. It acts a differently to a radiator because the heat warms the entire area evenly, rather than being dispersed from one isolated spot.
It can be installed throughout a property to act as the main central heating system, but some homes will have underfloor heating in just a few rooms – a popular choice being the bathroom.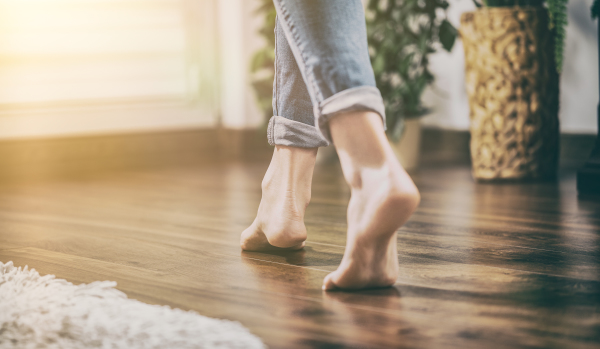 Underfloor heating could be a big plus when it comes to those first steps out of bed
What are the different types of underfloor heating?
There are two main types of underfloor heating:
Electric underfloor heating (also known as a dry system)
Water underfloor heating (also known as a wet system)
It is versatile. Both underfloor heating systems can be installed under most types of flooring, such as wood, tile, stone and carpet.
How does electric underfloor heating work?
Electric underfloor heating, known as a dry system, uses wires, cables or electric heating sheets installed under or within the flooring. The heat rises and evenly warms the entire area.
The heating sheets are the simpler option if you plan to do the installation yourself, but if you're not fond of DIY you might want to hire a professional, and will probably still need an electrician for the final wiring.
We've partnered with Plentific to help you find trusted local tradespeople. Try it now to get a custom quote from electricians and heating engineers.
How does water underfloor heating work?
Water underfloor heating, known as a wet system, involves a series of pipes connected to the boiler and installed under the floor. The pipes circulate warm water to heat the space above.
Water underfloor heating is a more complex system to install and will likely be a bigger investment than electric underfloor heating.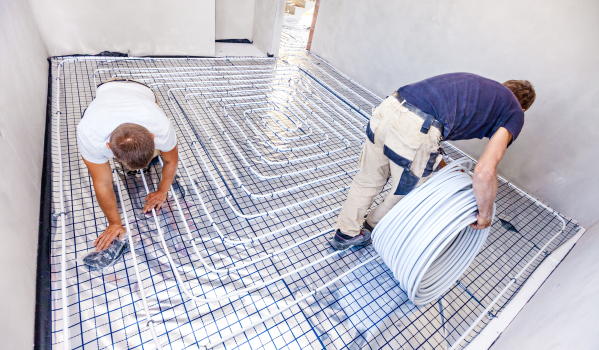 Make sure you account for labour costs when planning underfloor heating
How much does it cost to install underfloor heating?
Costs are somewhere around £25-£60 per square metre for underfloor heating systems. Then you need to add the cost of installation.
Electric underfloor heating is generally easier to install yourself than the water underfloor heating system but given the outlay is still significant, you may want to hire a professional to make sure it is implemented properly and doesn't invalidate your warranty.
Also, customers who invest in water underfloor are often advised to do it for the whole home as it's not cost-effective to install in just one or two rooms.
How much is it to install underfloor heating in my bathroom?
Taking the example of a 12 square metre bathroom, approximate costs break down as follows:
Water underfloor heating (wet system)
£300-£720 for the parts
£400-£600 for the labour
Electric underfloor heating (dry system)
£300-£720 for the parts
£300-£500 for the labour, potentially £100-£200 if you install it yourself and hire an electrician for the wiring
Note that this is only an approximate guide and that prices will vary depending on the type of flooring and whether your property is a new build or you're retrofitting to an old home.
For comparison, if you wanted to simply replace one radiator in your bathroom to a more efficient model then you would likely pay £200-£300 for the installation and the parts.
How much does underfloor heating add to my energy bill?
Working out whether installing underfloor heating will save on running costs in your home is not straightforward as you are not comparing like-for-like systems.
Radiators disperse heat upwards, whereas underfloor heating covers a larger surface area and warm the rooms more evenly, so you could argue underfloor heating gives a better experience.
A 2016 survey by consumer group Which? found that 10% of homebuyers said their heating bills had dropped, 28% said they'd risen, and 36% saw no change (the remainder were unsure), so it's likely that savings are minimal at best.
See our guide, '11 cost-free ways to cut your energy bills'.
If you do wish to save on your energy bills, then switching your supplier is likely to be the simplest and cheapest method.
We've partnered with uSwitch to help you compare the best energy deals and switch your supplier.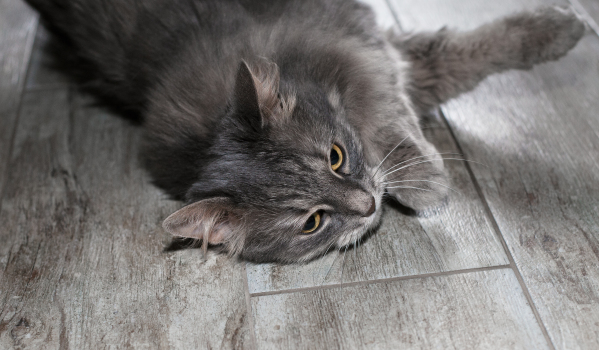 Underfloor heating can keep every corner of the room cosy... for every member of the family
Should I turn it off and on, or keep it running continuously?
Setting your underfloor heating to run on a timer is probably the most efficient way of using it.
The main drawback to any underfloor heating system is that it takes time to warm up, so if you do turn it off, it will take a while to make your home warm again.
Using a timer can keep the system turned off and save energy when you're not home, and get it started before you return.
Should I remove my underfloor heating if it's already in place?
Underfloor heating is not intrusive and shouldn't get in the way if you don't want to use it. You can install another heating method, such as wall radiators and keep the underfloor heating switched off.
If you're adamant you want it removed, then uninstalling a water underfloor heating system will be more difficult and costly than an electric one.
Could you cut home insurance costs? Find a better deal here.
Does underfloor heating add value to my property?
Underfloor is a desirable feature for some homebuyers, so will potentially make your home a more attractive proposition.
But if you do not already have underfloor heating then it is doubtful that the added value will outweigh the cost of installation.
What are the benefits of underfloor heating?
Installing underfloor heating can benefit your home in a number of ways:
More space. A major benefit is that you do not have to install bulky radiators or other heaters. It can make the space look uncluttered.
Warms the home throughout. Other heaters tend to warm areas in isolation, whereas underfloor heating slowly warms the entire room evenly. It can make getting out of bed a little easier if you know your feet are going to land on a warm floor.
Warms rooms independently. Individual thermostats provide an option to warm rooms independently of one another.
It could increase your property's value. Underfloor heating is a desirable feature for homebuyers and could help add to your property's value. Not everyone will be sold on it, but it is a handy add-on.
What are the downsides to underfloor heating?
There are some drawbacks to underfloor heating that are worth bearing in mind before investing in a new system:
Slow to heat the home. Underfloor heating can take a long time to reach the desired temperature compared with radiators or other methods
Expensive to install. Installing either an electric or water underfloor heating system can be expensive and complicated and isn't a simple DIY task
Unlikely to save on energy bills. At best, you may save a few pounds, but it's not the main reason you would give for installing underfloor heating
Retrofitting will lead to upheaval. Installing a new underfloor heating system in an old bathroom is going to mean extensive remedial work