By

property news team

October 19, 2018
Moving house this autumn? Then it's worth getting the boiler in your new home serviced sooner rather than later. Here we explain why.
Boilers are an essential part of the home, particularly when it comes to winter. When things go wrong, it can be not only a stressful experience, but also a costly one.
When moving into a new house or flat, you are likely to have a long list of jobs that need doing, but if you're moving in the next few weeks, one task which you ought to prioritise is getting the boiler serviced.
While most of us don't give much thought to our boiler until the weather takes a turn for the worst, this can mean we then need to deal with any boiler problems at the coldest time of year when engineers are at their busiest.
With this in mind, it pays to be prepared. Here are six reasons why it makes sense to get someone out to service your boiler now, before the winter weather really sets in.
1. Heating engineers are easier to get hold of
Getting your boiler serviced in the run-up to the colder months makes good sense, as it should be easier to find someone who has a bit of space in their diary. Leave it until later in the year and you could find it almost impossible to find an engineer who is free.
Martyn Bridges from boiler firm, Worcester Bosch, says: "This is because much of the country tends to switch their heating on at the same time when the cold weather hits.
"This is usually when problems start to show, but unfortunately this is also the time you will be fighting with everyone else who urgently needs their boiler fixed."
When choosing an engineer, make sure they are Gas Safe registered.
2. Costs may be lower when plumbers are less in demand
As a rough guide, you should expect to pay between £80-£110 for a one-off service.
But you may find both the cost of servicing – and repairs – are a little cheaper when plumbers are less in demand.
Wait until the depths of winter when everyone is trying to call out a plumber, and you could find prices are quite a bit more inflated.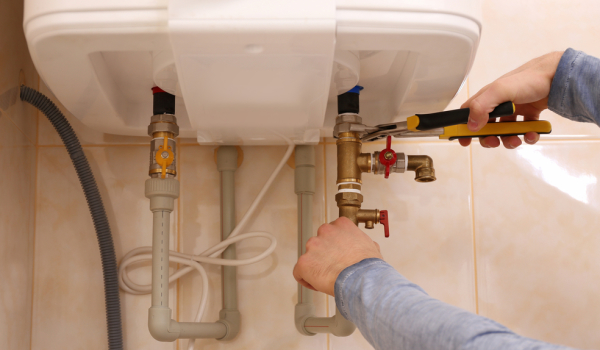 3. Issues can be spotted – and corrected – early
Even if the boiler in your new home was installed relatively recently, you still need to get it checked every year to monitor Co2 emissions and that flues are clear so it runs efficiently.
A service should include a thorough inspection of the boiler and parts, the operating pressure and heat input, the ventilation, the seals, and the effectiveness of the flue.
The engineer should also ensure the boiler is safe by checking the safety devices, and should see whether the boiler needs cleaning to ensure it works efficiently.
Bridges says: "A good boiler service will pick up repairs or issues that can be rectified while the weather is still favourable, so you won't be left freezing as you wait for it to be fixed, or for a part to arrive."
4. You can reduce the risk of a costly breakdown
Boiler repair costs can range from £150 to £300, depending on the fault or damage.
On top of that, you'll often have to fork out for a call-out charge too – and this can be more expensive at the weekends and in the winter.
By acting now and booking in a boiler service, you can spot any problems early, and get them repaired before they become a bigger issue, and before you risk being left without heating just when you need it most.
Michelle Hodgson, engineer from boiler installation service, Hometree, says: "Quite often, problems with boilers occur from small and persistent issues, so resolving these quickly will be beneficial to you in the long term."
Search trusted local tradespeople and compare reviews
5. You can avoid the pain of frozen pipes
If you've been unlucky enough to experience frozen pipes and the havoc this can cause, you will be keen to take steps to prevent this from happening again.
By getting an engineer to give your boiler the once-over now, before temperatures drop, you can explore options such as re-routing pipework, or a frost-protection device, to limit the risk of the water in pipes freezing.
In addition, there's a few simple steps you can take yourself to warm up your home and prevent pipes freezing and bursting, such as lagging any pipes and water tanks in exposed areas, such as lofts and garages.
6. If you do need a new boiler, you can take time to research
While paying between £150 and £300 to get your boiler repaired might look good in the short term, there's a risk you could be faced with repeating faults and multiple bills. If this is the case, it may be more cost-effective to replace your existing boiler.
Hodgson says: "I am often asked, how long does a boiler last? The answer varies depending on what type of boiler you have, but generally, there's a greater risk of your unit needing to be replaced when it is over 10 years old."
Equally, if your boiler breaks down completely, you will have no option but to get a new one.
But buying a new boiler is a big investment – and not a decision to take lightly. It could set you back the best part of £2,000 – so it's important to research carefully to find the right type, make and model.
Gas combi boilers – which provide both heating and hot water – are the most common type in UK households and also the most efficient.
If you only find out your boiler needs replacing once temperatures have plummeted, you may find yourself rushed into making a snap decision about your choice of new boiler – as you can't go a day without heating and hot water.
By contrast, by being prepared and getting organised now, you can take more time to do your research and come to an informed decision.
Giving yourself this extra time means you can look at efficiency, reliability and service to help you decide which brand to choose.
Read more at: How do I know if my home needs a new boiler?
7. Boilers are not cheap, but you will recoup the money in lower energy bills
While you may baulk at the idea of handing over £2,000 for a new boiler, it's important to note that you will recoup the money in lower energy bills over time.
According to the Energy Saving Trust, if you replace an inefficient old G-rated boiler with a modern condensing A-rated mode, you could save more than £300 a year on your energy bills.
8. Should I pay for boiler insurance?
For peace of mind, you may wonder whether it's worth paying for boiler insurance – or broader 'home emergency cover.'
Before making any decision, you need to read the Ts and Cs carefully, as policies can have many exclusions.
For some, a better option may be to self-insure. This involves you putting aside a monthly sum and ring-fencing it in an easy-access account, to be used as and when a problem arises.
You might also be interested in...