By

property news team

April 18, 2018
Home insurance is mandatory for most homeowners, but it doesn't have to cost the earth. Here's how to trim premiums without leaving yourself exposed.
Cutting corners on home cover for your new home may be tempting, but it's a false economy. Instead, there are many ways you can cut the cost of this all-important insurance.
With payments going out left, right and centre in the run-up to Move day, it's hard to avoid your bank balance taking a massive hit.
But while home insurance might feel like just another bill you have to pay at this time, it doesn't have to cost the earth.
We've compiled some handy tips to help you keep a lid on the cost of this cover.
What is buildings cover?
Buildings insurance covers the bricks, mortar and windows of your property, as well as any permanent fixtures and fittings.
It will offer a lifeline if you need to make a claim for damage to your home caused by fire, flood, storms, subsidence, flooding, a break-in or vandalism.
If you are buying your new home – and taking out a mortgage – buildings cover is compulsory. The lender will insist on this being in place as a condition of the mortgage.
If you own a flat, the freeholder usually includes buildings insurance in the ground rent, but you might want to investigate further for peace of mind.
If you are a renter, you do not need this type of cover. It is the responsibility of the landlord to organise this insurance.

If you're borrowing to buy a property, building insurance will be a condition of the mortgage
What is contents cover?
Contents insurance covers anything that is not fixed in your home. In other words, it covers everything that would fall out if you picked up your property and turned it upside down.
This type of insurance is not compulsory for either buyers or renters, but is highly advisable for both, due to the peace of mind it offers for all the valued possessions you're going to have inside your new home.
Claims on contents cover are usually made after a burglary or fire, but you should also be able to claim if your possessions become damaged or lost as a result of a leak, or if your home is vandalised.
Read more about why buildings and contents cover is so important at Home insurance: what it is and do you need it?
How to keep costs down
To avoid buildings and contents cover taking a big chunk out of your budget at this already costly time, we've come up with 11 simple ways to help you save money.
1. Shop around
Compare deals across the market to find the best-priced cover for your needs. You can compare quotes at Zoopla's partner, Money. But don't automatically go for the cheapest policy, as this could leave your with inferior cover, or leave you uninsured. Make sure you have the right level of cover in place.
2. Don't buy buildings cover from your lender
While your mortgage provider may offer to sell you buildings insurance, this is not a requirement of you getting the home loan. Shop around and do your own research as your lender may not offer the best deal.
3. Buy online
You may be able to shave 10% off the cost of your annual home insurance premium by buying it online.
4. Buy the two products together
You could net yourself a discount of between 10% and 20% a year by purchasing your buildings and contents cover from the same provider. As well as saving you money, a joint policy could make life easier if you end up needing to make a claim for one incident which affects both the building and its contents, as there will be no issues as to who is paying for what.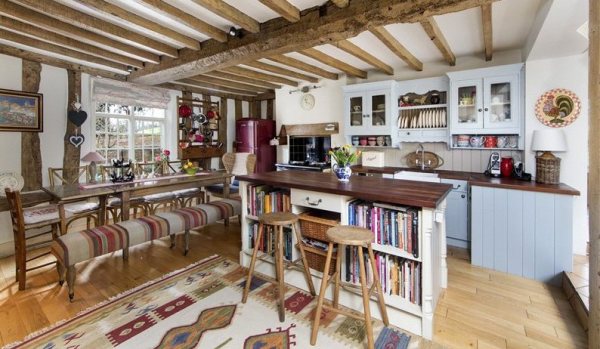 Go through your home room by room to work out what contents you'd like to insure and the cost of replacing it
5. Don't spread the cost
While paying your premium in monthly instalments over 12 months may make life easier in terms of budgeting, you could end up paying more than 10% more. Make savings by paying your premium in one lump sum upfront.
6. Improve security
As your insurer will base premiums on how secure your property is, you can lower costs by taking steps to bolster security, such as installing a five-lever mortise lock on the front door, or fitting a burglar alarm or security lighting. You could also reduce costs by getting a safe for your valuables, or even planting prickly hedges outside. You may even be able to lower premiums by joining your Neighbourhood Watch scheme.
7. Build up your no-claims discount
If you go five years without making a claim, this could mean an annual saving of 40% on your home insurance premium.
8. Opt for a higher excess
The excess is the amount you must pay if you make a claim. If you agree to pay a higher excess – such as £500 rather than £200 – this will translate into a lower premium. But make sure you can still afford to pay the excess you have opted for if you do need to claim.
9. Think twice about adding 'extras'
While you may be tempted to add lots of 'extras' to your basic package – such as home emergency cover, accidental damage cover and legal expenses cover – each of these will bump up the total amount you have to fork out. Ask yourself which of these 'extras' you really need, and strip out those you don't.
10. Don't over insure
While it's important to get high enough cover limits for your buildings and contents, there's no point getting too much and paying more than you need. With buildings cover, the key is to get enough cover based on the cost of rebuilding your house from scratch, not its market value. You can get a rough idea of this by visiting the Building Cost Information Service (BCIS) of the Royal Institution of Chartered Surveyors (RICS). The key to getting the right amount of contents insurance is to go round your home room by room, adding up the value of all your belongings.
11. Don't fall into the auto-renewal trap
Once you've bought buildings and contents cover for your new home, you can't just forget about it. If you do, you risk your insurer 'automatically renewing' your policy – and this is likely to mean the cost will go up. Be proactive at renewal time about shopping around and finding a new deal which offers the best cover at the best price for your needs.
You might also be interested in...