By

property news team

October 5, 2017
Checking out the condition and quality of the boiler in your new home should be firmly on your task list. Get it wrong, and you could be facing a hefty bill as soon as you move in.
1. Its whereabouts
This may sound obvious, but not knowing how to locate the boiler (as well as the water tank and stop cock) in your new home could be a major oversight should anything go wrong.
2. The kind of boiler it is
There are a number of different types of boiler – including combi, system and condensing – so know what type you're inheriting.
Gas combi boilers – which provide both heating and hot water – are the most common type in UK households, and also the most efficient.
Electric boilers or immersion heaters can cost a lot more than gas ones to heat water.
Compare insurance** quotes for your new home
3. The make and model
Ask the seller about the make and model – or take a look yourself. You will need this information should choose to buy boiler insurance.
4. The condition
Inspect the boiler for signs of rust, leaks, damp or dirt. This will also give you an indication of how well it's been looked after.
5. How old it is
A very old model should set the alarm bells ringing as it's likely to be inefficient, and could even pose a risk of giving off carbon monoxide fumes.
If this is the case, it may need replacing in the very near future. And, given a new boiler could set you back around £2,000, this could make a major dent in your finances.
Once you're in your new home, make it a priority to get carbon monoxide alarms fitted.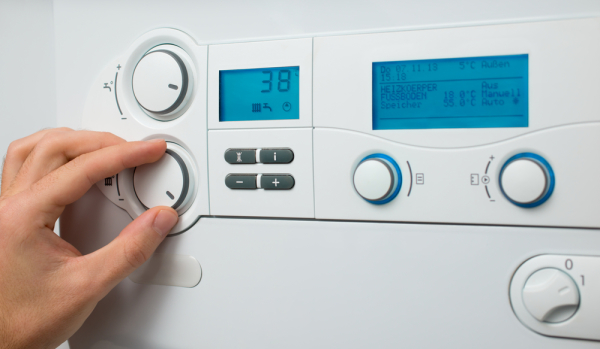 6. How energy-efficient it is
All modern boilers will be rated for efficiency under the new European label introduced in 2015. Nearly all modern gas condensing boilers in the UK get an A-rating on this label.
If the boiler in your new home is not energy-efficient, think about investing in a new A-rated model. While it might be a hefty initial outlay, you will recoup the money in lower energy bills over time.
7. When it was last serviced
Ask the seller when the boiler was last serviced by a Gas Safe registered engineer. They should be able to produce a Gas Certificate that details the inspection history. This may be in the back of the instruction manual, or there may be information on a sticker on the boiler itself.
If the boiler in your new home has been checked in the last 12 months, there is no need to take immediate action. If it hasn't, make this a priority once you get into your new home.
Budget for around £100 for a service and always use a Gas Safe registered engineer. You can find one at Gassaferegister.co.uk.
A well-maintained boiler costs less to run – so you will recoup at least some of the servicing costs in your future lower energy bills.
8. Whether it's covered by a warranty
Find out if the boiler is covered by any type of guarantee or warranty – these can last between two and five years and in some cases, longer. If it is covered, make you get the details – you don't want to be paying for repairs when the cost is already covered.
If it's not under warranty, think about whether you want to get your own boiler insurance.
Options include specialist home emergency cover, as well as policies from the energy companies direct. Varying levels of cover are available and the newer the boiler, the cheaper the premium tends to be.
It's worth checking your home insurance too, as your policy may include some form of home emergency cover as standard.
One further option is to 'self-insure', where you simply put aside some cash each month to cover the cost of a breakdown.
You may also be interested in…