By

property news team

April 27, 2017
If you're moving house, here's how to check you're insured at every step – from your old front door to your new one.
Home insurance is the collective term for two separate types of cover – buildings and contents.
Buildings insurance covers the structure of a property, along with its fixtures and fittings. Contents insurance covers everything that would fall out of the home if you could pick it up and turn it upside-down.
Sound simple? As insurance policies go, it is. But if you are moving and either buying new insurance or taking yours with you, here are some tips to look for when insuring your home.
Compare insurance** quotes for your new home
1. You need buildings insurance from the point of exchange
You become responsible for your new property as soon as you exchange contracts on it. That means your buildings insurance should commence at 00:01 from that day – or better still, the day before.
Buildings insurance will protect your new home in the event it's damaged or destroyed (by fire, floods or storms, for example) before you move in.
2. You can buy buildings insurance from wherever you like
If you need a mortgage to buy your property, the lender will make buildings insurance a condition of the loan. Many offer their own product, but you're not obliged to take it. Shop around and you're likely to bag a better deal.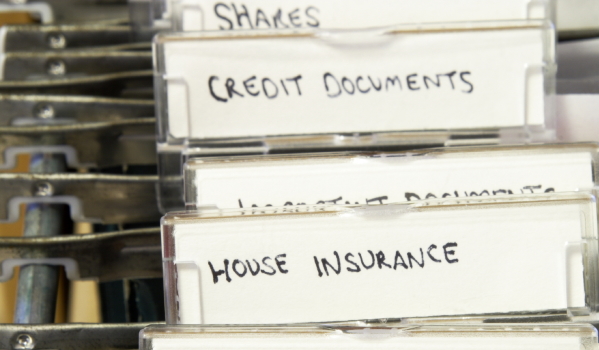 3. Your current home insurance policy might not cover Move Day
You may already have contents insurance in place on your current home. But when it comes to moving your belongings to your next pad, you'll need to check your policy covers 'items in transit'. If it doesn't, consider switching to a different one which will cover you. You might even find it's cheaper.
Alternatively, ensure your chosen removal company offers its own contents cover for your Move – and whether or not the cost is included in your quote.
4. Pricey items could be excluded
According to the Association of British Insurers (ABI), the average value of the contents of a three-bedroom family home is £55,000. But insurers impose a maximum claim or each item (known as 'single item limit'), which is typically around £1,500.
If any of your belongings exceed the single item limit stated on your policy, you'll need to call your insurer and arrange extended cover.
Bear in mind that single item limits may be lower when applied to items in transit. Check your policy well before Move Day.
5. Empty homes can invalidate insurance
It's unlikely, but if the home you are moving to or from will be unoccupied for a long spell, bear in mind that many home insurers invalidate cover after between 30 and 60 days.
6. There are ways to pay less for home insurance
Moving to a different home is a key trigger for buying or switching home insurance. So, now is also a good time to find out how to get the best value for money. Here are some simple tricks:
Shop around: Jump onto a comparison website to compare deals. You might find you could pay less for the same, or even better, cover. Terms on home insurance policies usually last for 12 months so if you cancel during this time, you'll probably incur a fee. Remember to weigh this up against what you'll save.
Buy buildings and contents cover from the same provider: This could land you a discount of between 10% and 20% a year.
Pay premiums upfront: If you pay your quoted premium as a lump sum, it will cost 10% to 30% less than spreading the payment over 12 months.
Build up your No Claims Discount: Five consecutive years of not making a claim could translate into annual savings of up to 40%. You don't have to stick with the insurer you accrued them with to benefit either, you can transfer them to a new one.
Reduce your excess: The excess is the amount you need to contribute towards the cost of any claim. The more you agree to pay, the lower your premium will be. Just don't take it so high that it risks becoming a false economy.
Compare insurance** quotes for your new home
You might also be interested in...