By

property news team

September 24, 2019
Moving home is a costly business, so it's important to make savings where you can. Here's our bumper list on ways to creatively keep costs down.
There's no avoiding it, with so many payments going out in the run-up to Move Day, your bank account is going to take a bit of a battering.
Saving money at this time may seem like an impossibility, but moving to a new pad doesn't have to break the bank.
Here we show you how you can save cash so you'll have more money to spend on your new home when you eventually get there.
Save money on packing
1. Ask your local supermarket for cardboard boxes or see if a friend or family member who has recently moved home has some you can use. Also check out forums and Facebook groups, as someone locally will have moved recently, and will have a load of boxes they want to get rid of.
2. Don't just rely on packing boxes. Laundry baskets, rubbish bins and suitcases can all serve equally well as carriage containers.
3. Get your hands on some laundry bags. These are super-cheap to buy, and are great for clothes, coats, shoes and bedding. You should be able to pick some up at market stalls and pound shops. But don't over-fill bags so they can't be lifted.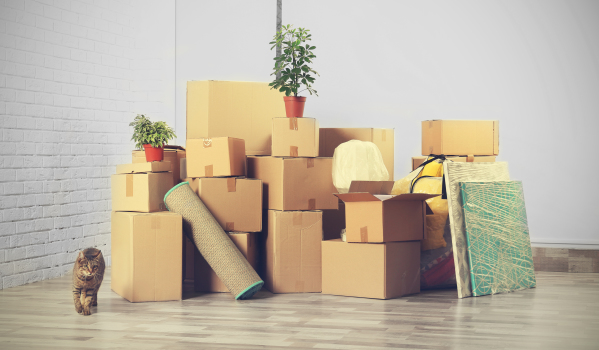 Find someone who has recently moved - and kindly relieve them of their packing boxes
4. Don't pay money for tonnes of bubble wrap. Save up newspapers to wrap crockery and other fragile items - or gather free ones from trains and buses. Also make use of plastic grocery bags, tea towels and old T-shirts.
5. Keep towels and bedding to hand, as these items also make for good packing material for fragile items. You can also use towels and bedding to protect kitchen counters and bannisters when moving in to your new home and unpacking all your stuff. Remember, the less you break in transit, the less you'll have to fork out to replace.
6. Think carefully when shopping in the run-up to the move to minimise the amount of stuff you need to pack and transport. Rather than buy 'family packs' of food and washing powder, try purchasing smaller items. This will avoid the need to pack and transport half-used packs of washing powder and open boxes of cereal, where the risk of spillage will soar.
7. Start running down fridge and freezer stocks in the run-up to Move Day. This will avoid you having to clear out white goods full of food.
Save money by opting for a DIY removal
8. Rather than hire a pricey removals company, rally the troops and go for a DIY removal instead. Persuade friends and family to give you a helping hand – and make a commitment to return the favour. Or offer a free pizza dinner afterwards – plus wine or beer – to those who agree to help out.
9. If you're doing a DIY-move and don't have your own transport, shop around to find a good deal on van hire. Alternatively, see if you can get a friend with a van to help you for the day – meaning you can cut out van hire costs altogether.
10. Drive down petrol costs by shopping around for the cheapest prices locally at Petrolprices.com.
11. Typically, supermarkets offer some of the lowest prices, while motorway services are the most expensive.
12. Before filling up, look out for discount vouchers and try and pair these with a card that offers cashback or rewards on your spending.
13. If you've got a washing machine that needs disconnecting, save money on plumber costs by asking a local handyman recommended by a friend or family member. This could save you a significant sum.
Get your free removals quote
Start with the AnyVan online tool which provides an estimated cost based on factors such as move date, distance and the size of your current property.
Save money on moving if you opt to hire a removals firm
14. If you are set on paying for professionals to help you move, compare quotes for a few different removals firms so you can find the one offering the best value. Zoopla partner AnyVan has a calculator where you can type in details – such as the date you want to Move, the distance you are moving, and the size of your current home. You'll then get an estimated cost based on these factors.
15. Do the packing yourself, so you are only paying the removals team to do the actual moving. Paying a removals team for a 'bells-and-whistles' service where they have to pack as well could mean up to double the cost of a basic service. If you feel like you can do all – or at least most – of the packing yourself, then you will certainly save a bob or two.
16. Do all the dismantling and re-assembling of items of furniture yourself, as removals companies will usually charge for any flat packs items that need to be dismantled or re-assembled.
17. Try booking your removals firm early and you may be able to secure a discount. This also gives you more time to plan – and stay on top of things – reducing the risk of you running into last-minute, unexpected costs.
18. Book your Move Day for mid-week, rather than the weekend (if this is an option), as mid-week slots are likely to be cheaper. Note that removals firms may also charge higher rates on a Friday – as well as over the weekend – if they deem it 'peak time.'
19. Bear in mind that removal firm costs tend to rise during major holidays – and especially at Christmas. Try and avoid these key dates if you can.
20. Remember that if you've got a tight budget, being a little flexible with your Move date could secure a better price.
Save money by drawing up a moving checklist
21. Staying organised in the run-up to Move Day will ensure that everything is packed and ready to go. This will eliminate the risk of you having to pay premium prices to get tasks completed last-minute. It will also reduce the risk of delays which could also cost you money.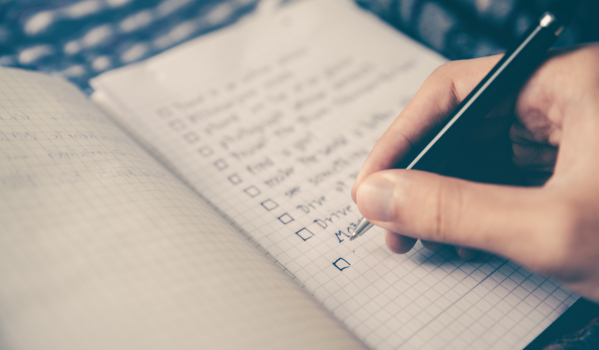 Having a checklist can save you from late - and expensive - dramas
Save money on storage
22. If there's a gap between you leaving your existing home and moving into your new home, save money on storage costs by asking friends and family if anyone has space in a loft or basement where you can store stuff for a while.
23. If you have no choice but to pay for storage, shop around to compare prices. Try and work out the length of time you are going to need to store your belongings, as quotes will depend on this.
24. Reduce the amount of stuff you have to store – and the amount of storage you have to pay for – by having a mass clear-out before moving out of your old home. Most of us have items gathering dust in the back of drawers and clothes we never wear hanging in our wardrobes – so seize this opportunity to rid yourself of possessions that take up space unnecessarily. Try the six-month rule – if you haven't used an item in the past six months, get rid of it.
25. Make extra cash by flogging unwanted goods at a car boot sale – or by selling items on Ebay. Equally, for items that won't sell, it's worth listing them on a site such as Freecycle or Freegle, so they can go to a good home. After all, one man's trash is another man's treasure.
Save money on parking fines
26. Avoid getting landed with any parking fines by ensuring that you've organised relevant parking permits – or parking bay suspensions – in advance. Bear in mind you may need to give several days' notice to the authorities. Make sure you've planned ahead so you've got enough coins to feed hungry parking meters too.
27. Remember that the further away your removals firm has to park, the longer your move will take. As lots of firms charge by the hour, it's in your interests to ensure they've got adequate access to your property.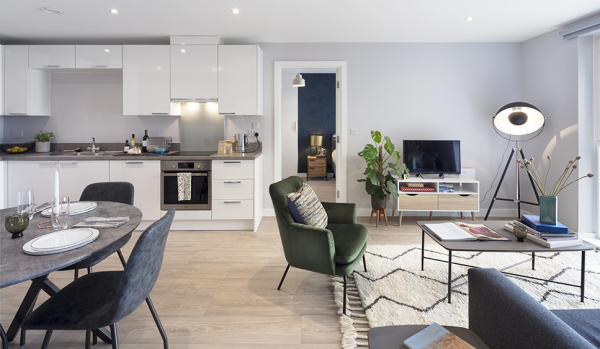 Don't be shy in asking friends or family to help. You can always return the favour later.
Save money on insurance
28. Don't splash out on removal insurance unnecessarily. Many home insurance policies will cover your move if you are using a professional removals firm. It's worth checking ahead of Move Day. Also note that if you're hiring a van yourself and doing the move independently, it's up to you to make sure you are properly insured. Compare quotes to get decent cover at a low price.
29. Save money on buildings and contents cover for your new home by shopping around for a good-value deal on your home insurance. You can do this quickly and easily at Zoopla's partners, uSwitch.
30. Say 'No' if your lender offers to sell you buildings cover with your mortgage. You are not obliged to buy this, and should be able to get a better deal by comparing prices elsewhere.
31. Buy a combined buildings and contents policy from the same insurer, which can lead to discounts of between 10% and 20% a year.
If you promised your buyers a professional deep clean before they move in, check out prices and get the service booked in now.
Save money on cleaning
32. Cut out the need to pay a commercial cleaning firm by pulling on the rubber gloves and getting your hands dirty.
33. Ask friends (again!) to give you a helping hand. Try cranking up the tunes and turn cleaning into a semi-fun – or less painful – activity.
34. Pick up cleaning products for a fraction of the price at a pound shop or discount supermarket. Buy supermarket own brands as these will be significantly cheaper.
35. Use up – or throw out – opened bottles of cleaning materials before Move Day. The risk of them leaking and damaging your other possessions will outweigh the cost of buying afresh once you reach your new home.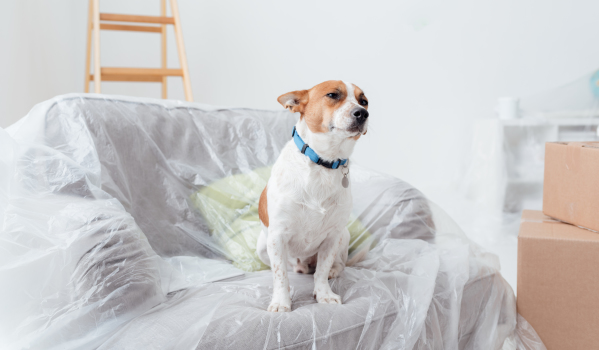 Your beloved pet is unlikely to be fan of the moving home experience.
Save money on childcare
36. Save money on the cost of childcare on Move Day by asking a friend or family member to mind little ones for you. If you're lucky, they may even look after pets too.
Save money on thank you gifts
37. Save money on expensive bouquets of flowers and bottles of wine by hand-making thank you gifts – such as cupcakes or hampers – or inviting helpers round for dinner once you're settled into your new home. Remember, a handwritten Thank You note will also go a long way.
Save money on your energy bill
38. Don't stick with the previous owner's energy supplier – or feel loyalty to your old energy supplier from your old home – as you may be able to save hundreds of pounds a year by switching. To compare tariffs, visit uSwitch.com.
39. Be sure to take meter readings when you move in to ensure you're not being billed for the previous owner's usage. Also, take a final meter reading as you leave your old home for the last time.
Save money on postal redirection
40. Rather than pay £66.99 for a year of postal redirection via Royal Mail, dedicate some time to updating your contacts with your new address. Simply pick up the phone or send to all the organisations you need to contact. This includes your car insurer, the electoral role, the local authority, insurance providers, banks and financial firms, energy suppliers, your water company, TV Licensing, your employer, doctor and dentist. For a more detailed list, visit How to streamline your change of address.
Save money on stuff you need for your new home
41. Don't think twice about accepting a few hand-me-downs when you have just moved into your new home. If friends, family members or colleagues are offering furniture, curtains or crockery for free, then say yes – and save all the money you can. Also check out local Facebook groups – as well as sites such as Freecycle or Freegle. You can always list items on these sites again once you no longer need them.
You might also be interested in: