By

property news team

May 23, 2018
Informing companies you deal with, as well as friends and family, of your new address can easily slip down your 'to-do list'. Use our handy guide to ensure everything is covered.
With so many things on your mind in the run-up to Move day, letting friends, family and organisations know your change of address may not seem like a priority.
But if you fail to redirect your mail in good time, there's a chance important items could go astray, leaving you at the mercy of identity fraud.
There's also a risk you could lose track of pensions, savings, premium bonds and other vital documents, such as your will.
How long does it take to notify everyone?
You may be putting off contacting companies you deal with, as well as friends and family, of your new address. After all, it can be pretty time-consuming. But it's best to get cracking.
To help speed up the process, check out free websites such as Iammoving.com, which will notify a host of organisations for you.
There's also the Royal Mail redirection service (see below). However, this is only a temporary fix and you will still need to update your address.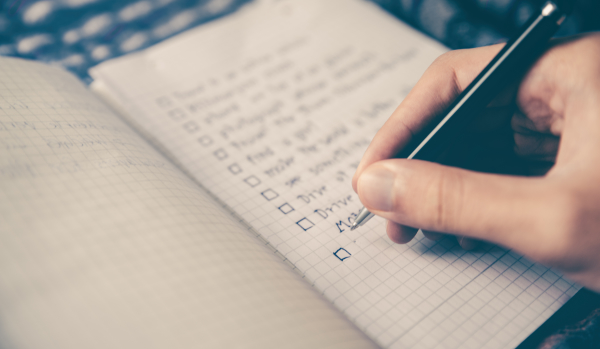 When should you do it?
While you don't want to inform people about a change of address too early – just in case something goes wrong – you should be safe to give out your new address once you've got your Move day booked.
You are likely to be busy in the run-up to moving home so start with 'priority organisations', such as HMRC and DVLA. But don't procrastinate over the rest. This is a task that needs doing sooner rather than later.
There isn't a 'deadline' by which you must complete your change of address, but if you delay you could face penalties or risk damage to your credit record.
It's easy to miss certain people and organisations when changing address, so here are the top things to remember:
1. The electoral roll
Register on the electoral roll to enable you to vote. Even if you're already registered, you must do it again when you change address. It's worth noting that failure to do so could damage your credit score.
2. HMRC
Notify HMRC of your new address if you pay income tax through PAYE. This will also amend your address for national insurance, state pension, tax credits and child benefit.
You can do this online. To sign in for the first time, you'll need a Government Gateway account.
3. Your car insurer
Inform your car insurer right away. If not, your cover could be invalidated. You also need to update your vehicle log book (VC5 book). You can do this online.
4. Insurance providers
Update your address with your other insurers, such as health, life, travel and pet.
5. Local council
Register with your local authority to start paying council tax at your new home, among other things.
6. TV licence
Your TV licence won't automatically move with you. Change your address online up to three months before Move day. This should be a priority, as if you are found to have been watching programmes illegally, you could face a fine of up to £1,000.
7. DVLA
You can be fined up to £1,000 if you don't tell DVLA when your address changes. It doesn't cost anything to update your address with DVLA. You can do this online.
8. Banks
Contact your current account provider - and any other banks that you have accounts with. After all, you don't want to lose track of your hard-earned cash.
9. Other financial providers
Notify credit card companies, loan providers, and any firms that hold your pensions or investments.
10. NS&I
If you have premium bonds, contact NS&I to tell them you are on the move. Failing to tell NS&I about a change of address is a common reason why people lose track of premium bonds. But the good news is, it's easy to trace lost premium bonds.
Compare insurance** quotes for your new home
11. Loyalty card providers
Tell loyalty card schemes that you belong to, such as Tesco Clubcard, Nectar and Boots Advantage, that you are moving home.
12. Energy suppliers
Tell your existing energy provider that you are moving - and contact the firm which supplies your new flat or house.
Remember there is no obligation to stay with the supplier. Moving home is a great opportunity to shop around for a new deal and make significant savings on your bills.
13. Water supplier
Unlike energy, you cannot switch water supplier when you move. However, you do need to find out which company supplies your new home. You can do this at Ofwat. There are also several steps you can take to reduce the cost of your water bills.
14. Landline provider
Notify your current landline provider that you are moving. Then find out which firm provides it in your new home.
15. Broadband provider
Tell your existing provider about your impending move - and decide whether to take your broadband with you to your new home.
How fast can you go?
Find your new home's broadband speed
16. TV provider
If you are signed up to a TV package with a company such as Sky or Virgin, update them with your new address.
17. Mobile phone provider
While your mobile phone bills are likely to be online, ensure that any paper bills and other paperwork are sent to the right address.
18. Student Loans Company
If you're repaying a student loan, don't forget to tell the Student Loans Company that you are moving.
19. Will
If you have drawn up a will and stored it with a solicitor – or the Probate Service – inform them of your change of address. You should also tell your executors – the people appointed to carry out the terms of your will.
20. Schools and colleges
Alert any schools, colleges or universities that you or your family attend that you have a new address.
21. Your employer
It's important to check that the finance department at your workplace has your new address. Also find out if your employer will notify your workplace pension provider – or whether you need to do this.
22. Doctor and dentist
Call up your doctor, dentist and any other health providers, such as your optician, to let them know your new address.
23. Vet
If you have pets, log your new address with the vet. If your cat or dog has a microchip, don't forget to update the contact details.
24. Charities
Make sure that any charities you are a member of have your change of address so they continue to send you newsletters and other updates.
25. Magazine subscriptions
Ensure that any newspapers or magazines you subscribe to have your new address. Why not use your move as an opportunity to cancel any subscriptions you longer need?
26. Gyms and sports clubs
Notify any gyms or sports clubs that you belong to that you are moving home. Cancel any memberships you no longer use.
27. Friends and family
And finally, don't forget to tell your friends and family your new address. Post 'new home' cards or simply send out a group email.
What about the redirection service?
One of the simplest ways to ensure all items of post go to your new address is by signing up to Royal Mail's redirection service.
Costs start at £33.99 for three months and £66.99 for 12 months. As costs are 'per surname', couples may need to pay twice.
You might also be interested in...