By

property news team

January 15, 2018
Removal costs can take a sizeable chunk out of your moving budget. But how much cash should you set aside?
Asking how much removals cost is a bit like asking, 'how long is a piece of string?'. After all, costs will vary from one removals firm to another – and from one job to the next.
Costs of removal hire
A good starting point, however, is to look at the number of factors that will affect the price you are quoted. Try out these for size:
The size of your current home. The average removal cost from a 1/2 bed property will be less than from a 3/4 bed house.
Amount you need to shift. The more stuff you have, the greater the cost of the removal van hire – and the more you can expect to pay.
Bear in mind that the entire move will happen a lot quicker if takes just one trip between your old home and your new one, so double check you're getting the right-size vehicle.
Number of bodies. If two or more removal men are required, you are going to have to pay for that extra manpower.
Distance to your new home. Long distance removal costs – from Cornwall to Scotland, for example – will be much higher than if you're just moving to the next street or town.
Your Move date: Weekend rates are usually higher than weekdays, although Fridays can also come at a premium, being a popular day to Move. Costs also tend to rise during major holidays, especially Christmas.
A 'bells-and-whistles' service. If you want the removals team to pack your belongings – as well as move them – you could end up paying up to twice as much as you would for a basic removals service.
Get your free removals quote
Start with the AnyVan online tool which provides an estimated cost based on factors such as move date, distance and the size of your current property.
Get quotes online
The good news is, you no longer need to ring round and compare quotes from different removals firms, as it's all super-easy to do online.
Zoopla partner AnyVan for example, has a cost of house removals calculator in which you can simply input your details such as the date you want to Move, the distance you are moving, and the size of your current home. You'll then get an estimated cost back based on these factors.
Other reputable removals companies offer similar tools.
Get at least three written quotes before deciding who to go with – and make use of personal recommendations.
Beware of false economies
It's understandable that you may be keen to save money at a time when payments are coming out of your bank account left, right and centre. But blindly heading for just the cheapest quote could prove to a mistake.
Do this, and you could end up with a sub-standard service – and your belongings getting damaged or even lost in transit.
While many people see removals as an unskilled job, this couldn't be further from the truth. There is also a considerable amount of risk involved.
Chances are, you'll be better off paying more for a better service from a company which has the proper equipment and expertise. A professional firm will take full control of the transportation, materials, packing, loading and unloading for you – offering you complete peace of mind and keeping stress on Move Day to a minimum.
A good tip is to look for members of trade associations, such as the British Association of Removers (BAR).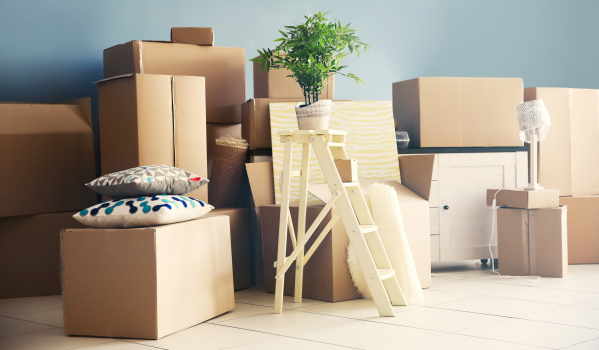 Check how fees are charged
When choosing a removals firm, be sure to check how fees are charged, as some companies may charge an hourly fee, while others will charge a fixed fee for the entire job.
If there's a risk the job could over-run, a fixed fee may be a better option, as that price will stay the same, no matter how long the job takes.
Check out reviews
Before choosing a removals firm, it's also worth doing your homework, and checking social media feeds and other feedback sites, to see if there are any bad reviews.
Carrying out a quick search with the name of the removals company and the word 'complaint' on Google is also worth doing – you might be surprised at what comes up.
Remember a quote is just a quote
When it comes to removals costs, it's important to remember that the price you are given upfront is just an estimate. You could end up paying a lot more when the time comes to pay up.
Here are some things to consider to make sure you don't get caught short:
VAT – you may be charged VAT on top of the bill you are presented with. This is charged at 20%. Ask about this at the outset.
Extra hours – you may be charged more than the original quote if the job over-runs.
Dismantling furniture – you could end up paying more if your removals team has to dismantle furniture, such as a big wardrobe or table, to get it out of the door.
Valuable items – you could also end up more to move a precious – yet unwieldy – item such as an old piano or big stone statue.
Insurance – be sure to check whether the quote you've been given includes cover for 'items in transit.' If not, you may need to budget a little extra for this.
Parking permits – if there are parking restrictions on your street – or on the street you are moving to – find out who is responsible for organising and paying for permits. Generally speaking, this is likely to fall to you. Be sure to plan ahead, as if your removals team is using a lorry or large removals van, you might need two spaces.
Don't forget to factor in storage
If there is a time delay between leaving your current home and moving to your new one, you may have to pay for temporary storage for your stuff.
A reputable company will offer safe and secure storage units – but it won't come cheap, so be sure to factor the cost into your budget.
You might also be interested in…