By

property news team

April 12, 2019
You may be wondering whether it's worth hiring a professional removals firm. Here are the pros and cons.
Pro 1: Your life will be easier and more convenient
If you've paid for a bells-and-whistles service, you'll get to watch someone else pack – and unpack – all your belongings, without so much as breaking a sweat. This may be particularly appealing if you're making a major move with plenty to shift.
Con 1: You'll need to pay for it
The quote from your removals firm hinges on the date you want to move, the distance, and the size of your current home. But whatever the cost, it could take a sizeable chunk out of your budget at a time when funds are already tight.
Get your free removals quote
Start with the AnyVan online tool which provides an estimated cost based on factors such as move date, distance and the size of your current property.
Pro 2: There's less to worry about
A professional firm will take full control of the transportation, materials, packing, loading and unloading for you – taking a huge weight off your mind when you need it most.
Con 2: It's a potential budget-buster
If you do decide to call in the professionals, you'll need to watch out for unforeseen extra costs. For example, if your removals firm discovers they can't get a wardrobe out of the door, they may charge an additional fee to dismantle it.
Pro 3: You'll have more free time
The Move will happen a lot quicker with the help of a big strong removals team taking the lead – leaving you more time for the wealth of other jobs that need doing around Move Day.
Con 3: You'll need to research insurance
When appointing a removals firm, you'll need to find what insurance it offers. A reputable moving company will have its own cover for your belongings during transit – but make sure you clarify whether it's included in the price you've been quoted.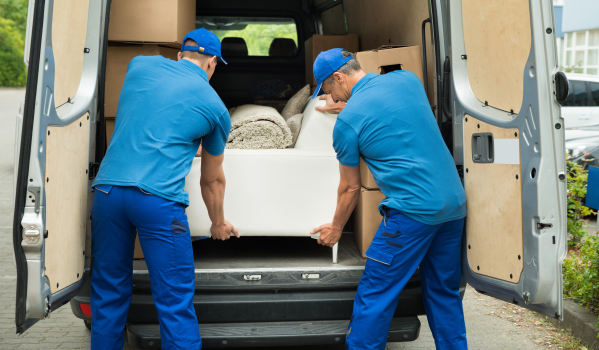 Pro 4: Your valuables will probably be safer
If you have antiques, valuables or lots of breakable items, a professional removals firm will have the proper equipment – and expertise – to move all your belongings safely. So, there's considerably less risk of damage in transit.
Con 4: More upfront time carrying out checks
When hiring a firm, you will need to carry out certain checks such whether it's part of a trade body and what happens if you need to cancel or change the slot you have booked. While it's important, these checks are another job to add to your list.
Pro 5: Gets your stuff from A to B if you don't drive
If you don't drive – or just don't feel confident about being behind the wheel of a lorry or big van – then getting a removals firm makes particularly good sense.
Con 5: Relying on a third party
With all the checks in the world, there's always the potential for bumps in the road when relying on a third party – such as them not turning up on time or failing to do the job to your level of satisfaction.
You may also be interested in…