By

property news team

March 23, 2017
If you're renting your next home unfurnished, a new sofa might be in the pipeline. Avoid the most common pitfalls with these 5 questions.
British households replace their sofa every 10 years on average, and moving house is a key trigger. Here's some points to get straight before you part with any cash.
1. "Can I get it into my new home?"
Sounds obvious, but getting a sofa wedged in a doorframe, hallway or stairwell on Move Day is not an uncommon experience.
To avoid the situation, ask the lettings agent (or current tenants) if you can measure up in advance. That means door lengths and widths, not forgetting doorframes, as well as any turns in hallways and stairwells.
If you'll be using a lift, don't forget to measure the height, width and depth of that too.
Check if and how the sofa can be dismantled. Even if just the legs are removable, it will help.
And if you're planning to get a sofa through a sash window, bear in mind delivery services are likely to refuse, as they won't be covered by insurance. The landlord of the property is also likely to object.
2. "Is it the right size for the room?"
Make sure your new sofa matches the proportions of the room. Depth is usually the most underestimated dimension, so get a feel for how it will look by mapping out the sofa's dimensions on the floor first, with masking tape or newspaper.
If you can't get access to the property, take the measurements from the floor plan and draw it to scale on paper.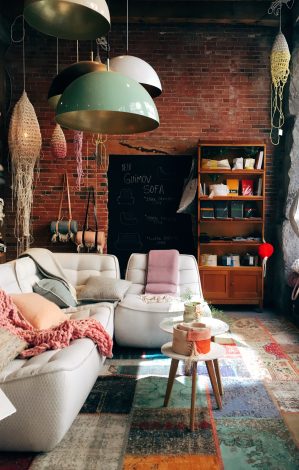 3. "Will it serve its purpose?"
Think about fabric and colour. If you're looking for a sofa that will be a showpiece, velvet and linen are ideal, as are lighter colours – cream, white or beige, for example.
If your sofa is likely to get heavy use, consider a fabric that's more durable. Distressed leather is attractive and copes well with spills, and general wear and tear.
If you're looking for something equivalent but easier on the wallet, check out the new generation of synthetic fabrics, such as Teflon-coated, that wipe clean.
Top tip! Fix feet-pads or casters to sofa legs to protect wooden floors or thick carpets from damage. Rugs can always be secured under the front legs of the sofa.
4. "Where should I put it?"
There's a tendency to push sofas against a wall, but there's no reason why you shouldn't place it in the centre of the room as a divider – especially if it has a curved or decorative back, such as a Chesterton sofa.
5. "Should I buy it outright or on credit?"
Many sofa companies offer interest-free credit without the requirement to put down an initial deposit. It's usually available on a minimum amount – £250 at Harveys and £500 at Sofa Workshop, for example – and with monthly repayment terms of between six months and three years.
Splitting the cost of a big-ticket item like this on an interest-free basis can offer welcome breathing space in your budget.
However, bear in mind it will trigger a search on your credit report. As your lettings agent will be carrying out its own search, and consecutive searches can negatively affect your score, check your own credit report first yourself to make sure it's up-to-scratch.
You might also be interested in...