By

property news team

August 28, 2019
If Move Day is clearly circled on your calendar, packing will also be on your radar. But before you take another step, you'll need to declutter.
Get your free removals quote
Start with the AnyVan online tool which provides an estimated cost based on factors such as move date, distance and the size of your current property.
Getting rid of unnecessary items – essentially, dead weight – before you move home comes with several benefits.
Firstly, you'll have less stuff to transport. That means a smaller van and potentially cheaper removals.
Secondly, you can make money by selling your unwanted stuff.
And finally, decluttering can have a positive effect on your well-being. Just like going to the gym; you might not be motivated at first, but once you get there, you're bound to feel better.
So how do you go about decluttering? Here are seven golden rules.
1. Start early and relax
Quite simply, give yourself time. The earlier you start, the less stressed out you will be. And why not chuck in a bit of classical music to create the right vibe?
2. Don't attempt to do it all in one go
Concentrate on one room at a time. Start with parts of your home you use the least, such as the garage, loft and spare bedrooms. Then, as Move Day, approaches, you can tackle more 'key' rooms such as the main bedrooms, living room and kitchen.
Do the clear-out drawer-by-drawer and cupboard-by-cupboard, gradually chipping away at your possessions.
And consider enlisting the help of a friend or family member who will keep you on track.
3. Employ the four-box rule
Label four appropriately-sized boxes with the following titles:
Once you've decided an item's fate, place it into the correct box. Then don't give it second's thought. Changing your mind will only undo all your good work.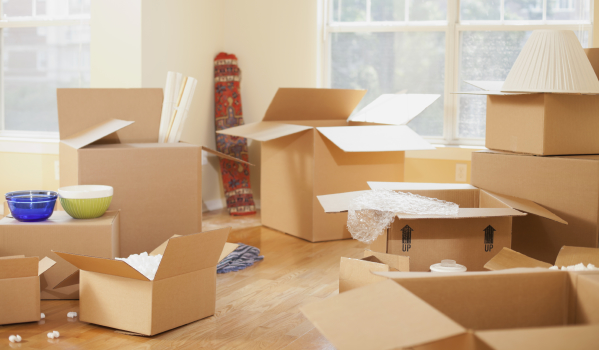 4. Be ruthless
If you're something of a hoarder, you'll need to set out some ground rules when sorting into boxes. Try asking yourself, "why am I keeping this?" each time you pick up an item. And consider the following:
The one-year rule – if you've not worn an of clothing in the past 12 months, that's all the seasons gone by. So now's the time find a new home for it. Apply the same rule – or at least a 'three-year rule' – to other household items, such as plates, books and empty boxes.
Broken beyond repair – if something is broken and can't be fixed, it's time to ditch it.
Outdated – if you've got an old charger-less mobile languishing at the back of a drawer, now is the time to get rid of it. Same goes for random sets of keys that fit a long-forgotten door, window or box.
What if...? – don't hold on to items in the belief they might come in useful one day. Everyone knows that day rarely comes.
Be sentimental – but selective – choose a beautiful box in which to keep cherished items, such as baby clothes. Give the rest to someone who will use them.
5. Now sort your boxes
While you might feel pleased with yourself once you've got everything into the right boxes, don't congratulate yourself too quickly as your work is only half done. Now you'll need to get the boxes you don't want out of the house as soon as possible.
6. Get rid of the stuff you don't want
Sell – when you'll moving home, cash is a lot more useful than junk, so see if you can make money by flogging items on eBay, Preloved, Amazon or local Facebook selling groups.
Websites such as Musicmagpie allow you to earn cash by selling old gadget. And don't forget the trusty local car boot sale – you can find details of nearby events, at Carbootjunction.com.
Head to the charity shop – give to the local charity shop. Some specialise in furniture, and will come and collect bigger items from your home.
Freecycle it – got stuff you think is not worthy of selling? Don't be too quick to bin it. Remember that one man's trash is another man's treasure.
Recycle – take items such as tatty clothes and broken glassware to the local recycling centre.
Do a tip run – for anything else, do a tip run. Before you leave, check opening hours and that the centre has a container for household waste which accepts all kinds of large rubbish.
7. Organise the items you are keeping
Once you've decided which belongings you are holding on to, put them back in wardrobes, cupboards or on shelves in an organised fashion. But if your Move is imminent, put them in packing boxes directly, so you are on the starting line and ready to go.
You may also be interested in…