By

property news team

March 23, 2017
Even the most planned and organised house Moves don't go without any hitches at all. So, here are some real-life challenges and how to overcome them.
A is for ARGUMENTS: Moving home is stressful. If you're heading for an argument, keep schtum, step outside and count to 10.
B is for BINS: Find out the day of the weekly refuse collection. Your new bins are bound to become full and you don't want to miss a valuable slot.
C is for CHEAP PACKING SUPPLIES: Some things you can economise on when moving, but boxes and tape are not among them. Pay a little more and make your life a whole lot easier.
D is for DATA ALLOWANCE: Even if you've ordered it, don't assume your broadband will be ready when you arrive at your new home. Ensure you have enough data allowance on your phone.
E is for ENVELOPES: Use them to create your own temporary filing system for paperwork and keys. Mark what's in each clearly on the front.
F is for FREEZER FOOD: Get it eaten in plenty of time before the move, else it will be forgotten or ruined in transit.
G is for GARAGE: Still not sure what to keep or throw? If you have a garage at your new place dedicate it to 'Stuff in purgatory' and decide later.
H is for HANGRY: Avoid this potentially-devastating affliction by pre-packing lunch along with plenty of snacks. If your plan is to buy something, it will be 4pm before you know it.
I is for INSTRUCTION MANUALS: Ask the landlord to leave them for any white goods or other equipment. A Krypton Factor challenge is the last thing you'll need when you're tired.
J is for JUNE AND JULY: Moving during hot summer months is hard work. Suncream up and pack a cool-box full of water and cold drinks to transfer to the fridge.
K is for KETTLE: Plug it in as soon as you arrive. As well as teas and coffees, hot water is all you need for welcome snacks such as packet noodles, porridge and soup.
L is for LIFT: So long as there's more than one, make full use of it by loading up as much as you can, and sending it up to a friend to unload.
M is for MARTYR: Watching someone else unpacking your kitchen can be tough. But don't try to do it all yourself. You'll have plenty of time to rearrange things once you're in.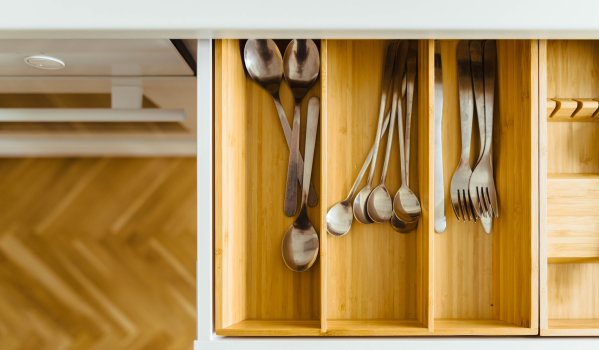 N is for NUTS and BOLTS: The chance of them getting lost on Move Day is around 80%. Use good quality tape and attach them firmly to their respective furniture.
O is for OCTOPUS BUNGEE: Genius devices, which come with eight stretchy cords attached to a central ring at one end and hooks at the other. Use them to secure awkward-shaped items onto roof racks or trailers.
P is for PILLOWS: Come with many uses ranging from padding for fragile items, to comfort in the front of the van. The cases are handy too for carrying socks and underwear.
Q is for QUEASY: If car sickness is likely to affect you, your kids or even the cat or dog, take the necessary precautions.
R is for REMOTE CONTROLS: You probably own at least 10. To avoid losing any, attach each one to its respective device using strong tape.
S is for SUNDAYS: If this is the day of your Move, check the lettings agent will be open for you to collect the keys. Or make alternative arrangements.
T is for TIMEKEEPING: When's the latest you can return the van? How many hours' work are you paying the removal people for? Failing to keep track of time on Move Day can be expensive.
U is for UPSIDE-DOWN: If your boxes aren't already printed with 'This way up', mark it on yourself – for obvious reasons.
V is for VOLUME: Planning a 'quick' DIY Move? Tot up the amount of stuff you think you have, then double it. This should give you an idea closer to reality.
W is for WORK: If it's a major Move, take at least one day's holiday either side and tell colleagues you won't be responding to emails or phone calls.
X (MARKS THE SPOT): Moving to a street with parking restrictions? You might need to apply for a parking bay suspension to be sure of getting a space right outside your new home.
Y is for YEARS: On average, people only move once every seven. So, take a few action shots of Move Day with your phone. It's an important moment in time.
Z is for ZPG: Did you know comparison website uSwitch.com is part of the Zoopla family? Now you're in your new home, get switching to the cheapest energy, home insurance and broadband deals.
How fast can you go?
Find your new home's broadband speed
You might also be interested in...