With historic towns, chocolate box villages and Liverpool and Manchester on its doorstep, Cheshire has plenty of options for all kinds of buyers.
Rural and bursting at the seams with history and heritage, the county of Cheshire is home to a whole raft of unspoilt towns and villages.
But with the energetic city of Chester sitting at the heart of the county too, homehunters are bound to find a pace of life that suits.
Living in Cheshire: what to expect
Cheshire, in the north west of the country near the Welsh border, is one of Britain's most affluent counties. Its towns and villages often make it into the 'most desirable' lists published by the likes of the Telegraph Online and the Daily Mail.
Cheshire was once at the heart of the salt, chemical and railway industries. While these sectors have declined over time, service and financial industries have sprung up to bolster the local economy creating jobs in retail, financial services, internet companies and call centres.
But with the cities of Manchester and Liverpool within easy commuting distance, Cheshire residents have employment options outside the county too.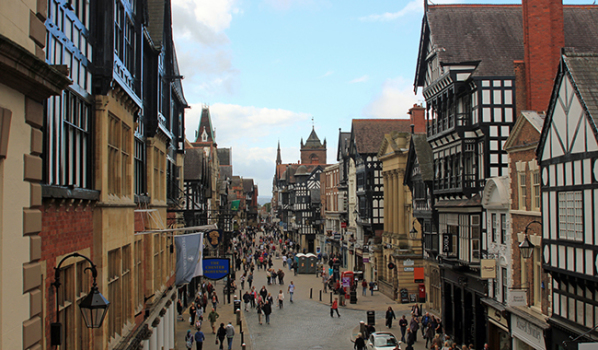 Where to start your property search
With all this in mind, demand for housing in Cheshire is high. Prices are also steeper than many other areas of north-west England.
According to Zoopla data, the current average value of a home in the county sits just over £221,000 but some pockets are infinitely more expensive than others. So where do you start? We've picked out a few key areas.
Cheshire East
If you're keen to get in with the Cheshire set and have bags of money, look for a home in the sought-after Golden Triangle. The three points are predominantly marked out by Wilmslow, Prestbury and Alderley Edge although Knutsford is often thrown in too.
As any local will tell you, there's a hefty price tag attached to property in these areas. Notably, Prestbury is home to Withinlee Road, formerly the most expensive street in northern England. The address has a string of properties all worth more than £1.5 million.
Known for being home to renowned football stars, including Rio Ferdinand and Dwight York, Alderley Edge is the priciest pocket of Cheshire. Even average values sit at £587,000 according to Zoopla data. Its leafy streets and many private roads are made up mock-Tudor and -Georgian gated mansions, Victorian villas and Arts and Crafts homes. The local social life centres on its high street, filled with cafés, restaurants and designer shops.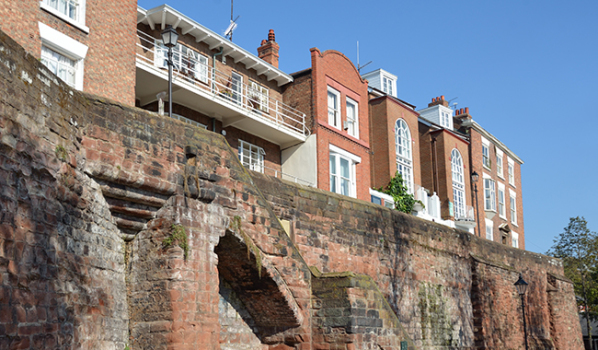 Cheshire West
Property on the other side of the county, Cheshire West – which includes Chester itself – is much more realistically priced. You'll find spacious family homes here at less than a third of the cost in Cheshire East.
Ellesmere Port is particularly reasonable with average values of little more than £150,000. Many homes here are spacious 1930s-built properties, ideal for families, while the large village Tarporley has plenty of modestly priced homes as well as several new developments.
Chester
This walled Roman city sits on the River Dee and is home to buildings from the medieval period onwards. With Tudor shops, Victorian pubs and a medieval cathedral, the City has become a conservation area in an effort to protect its rich heritage.
Chester houses various neighbourhoods within the city. Many developed in the 1950s and 1960s on the farmland around the city to counter a housing shortage after the Second World War.
Chester is still developing, alongside the so-called £1.3 billion 'Chester Renaissance' project aiming to make the city a world-class tourist destination. The proposed £300 million Northgate Development Project promises to revitalise the area. Both will see new homes built as well as new shops and transport links.
Around eight miles to the east of Chester, you'll find the village of Kelsall. It's an ideal spot for commuting into city, but also offers the charms of rural life. You can find new-build homes in the village at the Applewood Green development.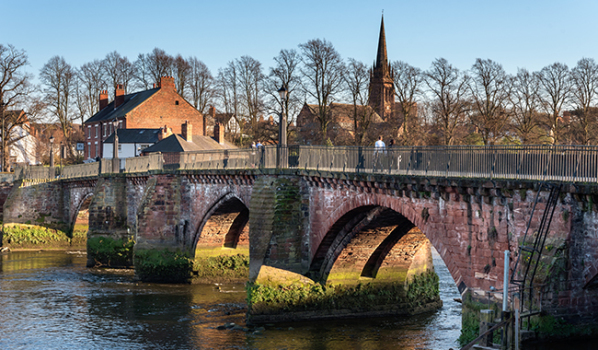 Warrington
Located right on the Mersey in the north of Cheshire, you'll find the town of Warrington – a former industrial hub.
If you are looking for a new-build, this is a good spot to start your search. Regeneration is abound here including several redevelopments such as the Omega Development Site, a £1 billion overhaul of a former American airfield.
There are further plans to develop the area beside the M62 motorway, adding hundreds of homes and leisure facilities.
Alternatively, the Warrington countryside is dotted with chocolate-box villages including Lymm and Stockton Heath. Both are full of character properties on pretty waterways.
Halton
The area of Halton was also industrial and played a big part in the emerging chemical industry in the 19th century. You can expect to find a large number of Victorian properties here, built to house workers in towns like Runcorn and Widnes. As the area diversifies, new properties are being built, attracting a broad range of new residents to the area.
Getting around and about Cheshire
Although Cheshire is rural, it is well connected to the rest of the country with excellent transport networks.
Train: Many train lines run through key towns in Cheshire. Crewe is famously well connected, with access to London Euston, Scotland, Wales, the Midlands and more. Services from Warrington Station run to Manchester, London and beyond.
Chester train station also connects with Liverpool, Manchester, Warrington, Wrexham, Birmingham and the West Midlands. You can be in London in around two hours from Chester, while you can get to Manchester in 50 minutes and Liverpool in 45.
Car: A quick glance at a map of Cheshire shows that it's lined with major motorways and A-roads. The most noteworthy are the M6 from Birmingham to Scotland, M56 from Ellesmere Port to Manchester, M53 from Chester to Liverpool and M62 from Manchester to Liverpool.
Chester itself can become congested and there isn't much parking. So public transport and park-and-ride services are a good alternative to driving.
Air: You can see the world from Cheshire thanks to Manchester Airport and Liverpool John Lennon Airport – both of which are within a 40-minute drive.
From either of these airports, you can head to destinations as far-flung as Orlando and Beijing. Budget airlines Ryanair and easyJet leave from both airports for cheap sunshine breaks.
Water: There are numerous navigable waterways to explore around Cheshire, such as the Manchester Ship Canal and Shropshire Union Canal. If you want to take a holiday close to home, hire a narrowboat and discover the Cheshire Ring. It passes through Macclesfield, Manchester and Ashton-under-Lyne.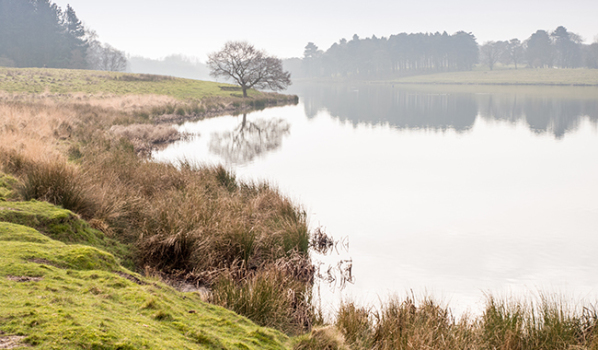 Things to do in Cheshire
For shoppers: Head for the Chester Rows, a bank of Tudor shops split over two floors which houses a raft of independent traders and well-known brands such as Penhaligons. You can unwind there too in the cafés, bars and restaurants, such as Marmalade and tuck into a hearty lunch.
For foodies: Crumbly, rich and flavoursome, Cheshire cheese is widely available all over the county. If you want to explore local delicacies in more depth, head to Nantwich Food Festival. This annual event will have you sampling everything from cheese to chutneys and ales.
For families: Ranked by TripAdvisor as the best thing to do in Cheshire, Chester Zoo has more than 20,000 animals, ranging from chimpanzees to clown fish.
There's so much history to absorb too. Country houses like Tatton Park or Weaver Hall Museum and Workhouse are great for discovering how people lived in Cheshire through the ages. And you can always wander around the Roman walls and Garden, amphitheatre and the Dewa Roman Experience attraction.
Hidden Cheshire
Whatever your age, you're bound to have fun at Blakemere Village. Filled with quirky boutiques, antique shops and artisanal eateries there's lots of shopping. Plus, there's also a Segway course, falconry displays, a craft workshop and more all on site. There are special events held throughout the year too – don't miss the Christmas Woodland for an enchanting day out.
4 reasons to live in Cheshire
Combination of city and picturesque country
Fantastic nightlife of Chester: From cocktail bars such as The Suburbs to pubs such as the Egerton Arms and clubs like Cruise
Creative inspiration: Tim Curry, Daniel Craig and writers Lewis Carroll and Elizabeth Gaskell are all from the county
Convenience: If you fancy a change of scene you can be in Liverpool or Manchester in under an hour – or London in less than two.