Chesterfield's ambitious regeneration plans, accessible house prices and proximity to the Peak District means the town is well-positioned to offer a little bit of everything.
Chesterfield sits in the rugged county of Derbyshire, which you can learn more about by reading our dedicated guide. The market town lies on the edge of the Pennines – the gateway to the Peak District National Park – which, in itself, a major draw for many house hunters.
But house prices in Chesterfield also work in its favour. The current average is £165,000, which is below that of Derbyshire in general. You can keep up-to-date with Chesterfield house prices here.
But occupying the cheaper end of the property market doesn't mean compromising on the type of property you can buy there. Many are old, solid and beautiful with no shortage of outside space.
Living in Chesterfield: what to expect
Surrounded by picturesque landscapes, wildlife reserves and reservoirs, Chesterfield is an ideal location for those who love the Great Outdoors.
And many clubs and organisations in and around the town are designed to take full advantage of it – the Chesterfield & NE Derbyshire Ramblers for example, the annual Walking Festival, as well as various cycling and climbing groups.
Local, healthy produce is easy to come by thanks to Chesterfield market. It's one of the largest open-air markets in the country and sells everything from cutlery to carpets.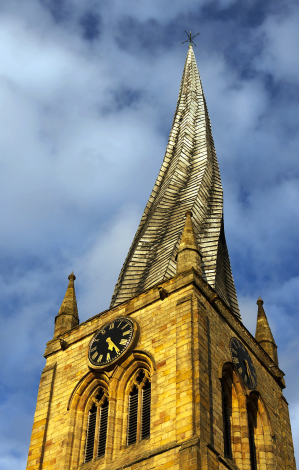 The town is also famous for its ale. There are three breweries in the area which you can get a pint of at most of the local pubs. The annual CAMRA beer festival is also held in Chesterfield at The Winding Wheel, a Grade II-listed building.
But while hanging onto its traditions, Chesterfield is looking to the future too. A £300 million scheme is in place to develop Chesterfield Waterside, which will extend into the town centre.
And 1,500 modern homes and apartments are also planned for the area. A new public square will also see the opening of more shops, cafés and bars.
Where to start your property search
City centre: The most sought-after properties in Chesterfield tend to be located to the west of the town, in the direction of the Peak District National Park.
If your budget is considerable, take a look at Chatsworth Road in particular where you will find large, detached homes, some of which are in the Regency style. Ashgate Road is also home to pricier family homes.
Smaller traditional terraced properties can be found on streets such as Grove Road and Sunny Springs; head to Enfield Road for a selection of modern terraces and to William Brown Square for contemporary townhouses.
The suburbs: For stunning country views, look to the village of Holymoorside. Detached homes with panoramic views and extensive gardens can be found on streets including Harewood Road and Chander Hill. More modest 1960s properties can be found in areas around Brook Close.
Search the village of Wingerworth for large family homes. Properties with five or six bedrooms can be found along roads including Longedge Lane, while substantial semis are available on Deerpark Crescent.
Stone character cottages are on the market on Devonshire Street in Brimington. This village lies to the north-east of Chesterfield and boasts a Grade II-listed hall.
If you favour period property, listed farmhouses occasionally com up for sale. For more modest homes, search for semis on John Street and Wayside Court.
Hunt around Cutthorpe for more stone-built cottages. This sleepy village includes the Linacre Reservoirs and all its walking trails. For more contemporary living, try 'The Square'. This new estate has modern four-bedroom townhouses.
To the south of Chesterfield is Hasland. Look along Windsor Walk for spacious detached homes, or opt for a more modest semi on Snowberry Close. Search The Green for grand stone-built properties.
Twentieth-century semi-detached are in good supply in Grassmoor village. Look along North Wingfield Road or search Henry Street for terraced properties. Homes with views over the countryside are also on offer – take a look at streets like Chesterfield Road.
Tibshelf, just south of Chesterfield and within easy access of the M1, is another village alternative. Developments such as Keepmoat's Mill Farm are currently offering a range of smart new homes, with prices of two-bedroom properties starting at less than £125,000, which is safely clear of the first stamp duty threshold.
Shirebrook is another popular spot outside of Chesterfield. You can pick up a handsome three-bedroom Victorian semi-detached home in the town (which is actually officially in Nottinghamshire) in the region of £100,000.
But there is a growing number of new-build opportunities too, such as Keepmoat's Meadow View development of 2, 3 and 4-bedroom homes, all with a similar kind of price tag.
Getting around Chesterfield
By rail: The town is well-connected by rail. Chesterfield train station has regular services to Aberdeen, Glasgow, London St Pancras International, Leeds, Liverpool Lime Street, Norwich, Nottingham, Penzance, Plymouth and Sheffield.
Journey times from Chesterfield to London St Pancras International take two hours, while Sheffield can be reached in just 15 minutes.
By car: Chesterfield is located on the A61, six miles from the M1. To the east is the A632, which runs to Matlock, and to the west is the A619, which heads towards Worksop.
By air: East Midlands, Leeds Bradford, Doncaster Sheffield Robin Hood and Manchester Airports are all within a two-hour drive.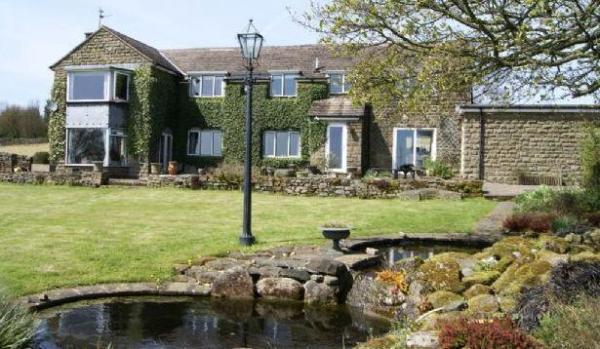 Things to do in Chesterfield
History: The Shambles is a collection of medieval streets which form the heart of the town. As well as independent retailers, cafés and restaurants, you'll also find the Royal Oak here, one of Britain's oldest pubs.
Chesterfield Museum exhibits how the town grew from a Roman fort into a thriving urban base is it today.
The twisted spire of the Church of Saint Mary and All Saints is an iconic historical feature of Chesterfield. Climb to the top for 360 degree views of the town.
At nearby Whittington you'll find the historic Revolution House, where three noblemen sheltered while they were plotting to overthrow King James II. There's a free museum there too.
Outdoors: Just six miles from Chesterfield lies Poolsbrook Country Park. You can follow its trails through 180 acres on bicycle, horse or on foot. The lakes are home to mute swans and pink-footed geese.
Wildlife is also found in the Peter Fidler Nature Reserve. Its valuable habitats are strewn with pathways and viewpoints overlooking Bolsover and the Doe Lea Valley.
The bluebells in the woods at Linacre Reservoirs are stunning at the right time of year. There are three reservoirs, all of which are surrounded by fields and woods. Follow a trail to see the best sights.
The Peak District National Park is also on Chesterfield's doorstep. Jump in the car and then roam the moors or climb the crags of this rugged landscape.
Shopping: For major shopping chains, head to Vicar Lane. This pedestrianised open-air shopping centre has many popular high-street stores, including H&M and Argos. For an indoor alternative, go to the Pavements Shopping Centre.
For food, drink, arts and crafts, pop along to Chesterfield's famous market. It has stalls open for business every Monday, Friday and Saturday. There's also a weekly flea market and monthly farmers' market.
Culture: Find entertainment at the Grade II-listed Winding Wheel. This multi-purpose venue hosts concerts, lectures, dances and conferences.
Alternatively, book a ticket at the Pomegranate Theatre to see drama, comedy and ballet. Don't miss the Christmas Pantomime.
Food and drink: If you're a tea connoisseur, take a seat at Northern Tea Merchants. This tea shop has a 60-page menu of different tea blends.
For something a little stronger, sample the offerings at a real ale pub. The Rose & Crown has cask-conditioned ales from Brampton Brewery, while The Market offers seasonal food and regular live music.
Book a table at Calabria Cucina. This popular Italian restaurant is in the heart of Chesterfield and serves up Mediterranean classics. Look out for special food and drink events in the summer months.
Italian food using ingredients from Derbyshire is also served up at the Tickled Trout. Located in Barlow, this pub dishes up pizza alongside classics like Derbyshire pie. Make sure you try their lazy Sunday lunch too.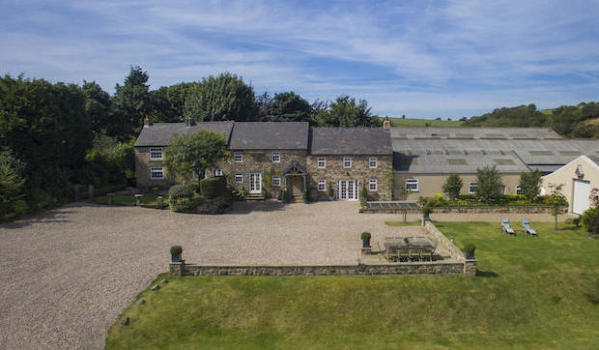 Hidden Chesterfield
Creswell Crags is an important archaeological site in Chesterfield. Take a guided tour through the caves to see Ice Age rock art and to explore the honeycombed gorge. You can also visit the nearby museum to see exhibitions of ancient bones and stone tools.
6 reasons to live in Chesterfield
Affordable housing
Diverse choice of modern homes and period cottages
Gateway to the Peak District National Park
Major regeneration under
15 minutes to Sheffield by train
Steeped in history
You might also be interested in...
Live in Chesterfield and spotted something we've missed? Tell is in the comments section below…