A burst of development and regeneration has turned Salford into a thriving modern hub, putting it firmly on the home-buying map.
The city of Salford forms part of the borough of Greater Manchester. As well as the town of Salford, the city also incorporates Eccles, Swinton, Pendlebury, Walkden and Irlam.
Thanks to huge amounts of investment and the development of MediaCityUK, the new home of the BBC and ITV, Salford's economy has been booming and residents can now enjoy a revived and cosmopolitan city culture.
But this modern city development hasn't destroyed its green spaces. Salford remains one of the UK's greenest cities, so locals can enjoy waterfront, urban and rural living.
Part of Salford's appeal lies in its proximity to the major city of Manchester, which you can find out more about with this guide.
Average house prices in Salford are currently very appealing. They stand at £144,000, but developing areas, such as the quays, are already commanding significantly higher prices. You can check up-to-date prices here.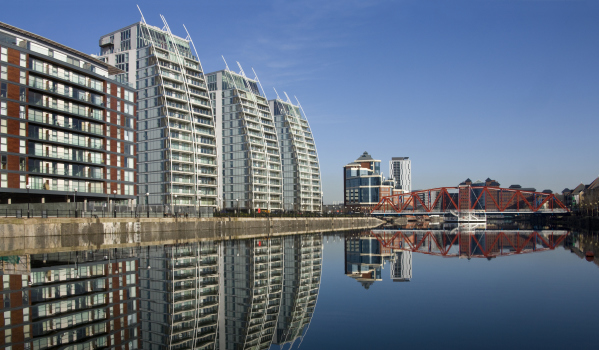 Living in Salford: what to expect
The investment and development work planned for the city make it an up-and-coming place to live.
Central Salford's £650 million planned investment programme for example, will create more than 850 new homes as well as new retail and leisure facilities.
The town centres of Eccles, Swinton, Pendlebury and Walkden have also been ear-marked for revitalisation, and new neighbourhoods will be created at Middlewood Locks.
However, this development doesn't come at the expense of the city's green spaces. Around 60% of Salford comprises green space, which includes three Green Flag parks, five nature reserves and no less than 20 public parks.
The city's history as an industrial centre means that dense residential areas of Victorian terraces can be found throughout. But some of these properties are now being converted or replaced with contemporary housing, which will appeal to modern home-buyers.
The MediaCityUK piazza has boosted residents' access to shops, restaurants and bars, but if this isn't enough, then the attractions of Manchester city are always nearby.
Regular tram run from Salford to Manchester city centre, and trains to Birmingham and London are also accessible from Manchester Piccadilly.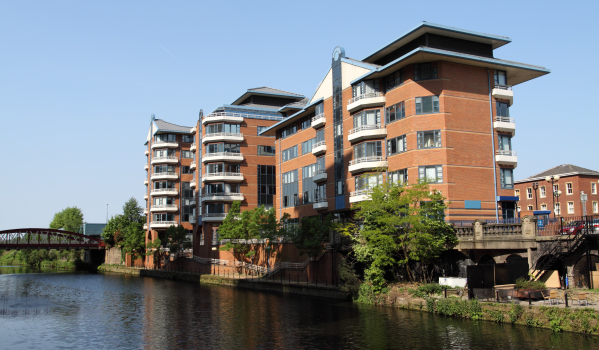 Where to start your property search
The city of Salford is broken down into eight separate neighbourhoods.
The neighbourhood of Ordsall and Langworthy includes Salford Quays. It's seen a big increase in buildings due to the construction of large numbers of flats.
Look here for glamorous apartments with roof terraces and a river view. For houses, look to Merchants Quay. Developed in the 1980s, this quay has a choice of townhouses and mews houses with water views and landscaped gardens.
Away from the quays, Worsley and Boothstown are desirable residential locations. Sitting on the western edge of the city, this area is green, leafy and sedate.
Take a look down Greenleach Lane for a well-presented terraced home, or find a period cottage on Leigh Road. Twentieth-century detached homes are also available on Fairmount Road.
Claremont and Weaste are notable for their parks. Claremont Road has grand semis, while properties on Weaste Lane have bay windows. Eccles Old Road and Light Oakes Road are also popular for their quiet seclusion.
The largest neighbourhood is East Salford, which includes Broughton, Irwell and Kersal. You'll find plenty of Victorian terraces and 1930s housing here thanks to the area's industrial roots.
Search Lower Broughton Road for substantial family homes of five or six bedrooms, or look to Manley Street for a traditional Victorian terrace. New developments, such as Kersal Mews, also have new-build townhouses.
Eccles was originally a market town famous for its Eccles Cakes. The M60 motorway runs to the west, and the town is also connected to Manchester by bus, train and Metrolink. The nearby village of Monton has massive Victorian homes, including manor houses.
The northern half of Irlam and Cadishead hosts the largest farming community in Salford, while the southern half is mainly residential. Twentieth-century terraces can be found lining roads like Prospect Avenue, while comfortable semis are available on Allenby Road.
To the north-west of the city lie Little Hulton and Walkden. Riverside walkways and cycle routes are currently being upgraded in the area. Look here for a quiet cul-de-sac and a modest 20th-century semi.
Swinton and Pendlebury are crossed by the A580, the A6 and the A666. Search along Billington Road for bay-fronted semis or find a comfortable modern detached house on Banksman Way. Pendlebury is home to the Clifton Country Park while Green Flag award winner Victoria Park is located in Swinton.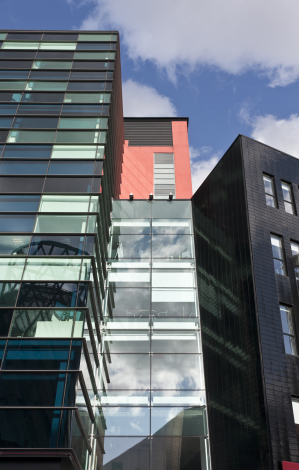 Getting around Salford
By rail: Salford has two main train stations: Salford Central and Salford Crescent. Seven smaller stations are also on the three main lines through the city.
Around seven rains per hour run from Salford Central to Manchester Piccadilly with a journey time of fewer than 10 minutes. Regular services also run to Liverpool.
By car: Four major motorways pass through the city. The M62 runs from Liverpool to Leeds, while the M602 takes drivers from Salford to Manchester. The M61 runs from Bolton and the M60 Manchester ring road circuits the whole of Greater Manchester.
By tram: Salford is served by the Metrolink tram. This service runs from Eccles into the heart of Manchester.
By air: Manchester Airport is a 20-minute drive from Salford. It offers more than 200 direct flights to both domestic and international destinations. Flight providers include easyJet, Ryanair and Flybe.
Things to do in Salford
History and art: Visit Ordsall Hall near Salford Quays for a taste of history. This hall dates from the 12th century and hosts a number of exhibitions and heritage talks. It also offers 'ghost nights' for the brave and curious.
Salford is home to one of the largest Catholic cathedrals in northern England. Pay it a visit to see some fine neo-Gothic architecture.
For local history and Victorian art, be sure to visit Salford Museum and Art Gallery. It has a permanent Victorian gallery of paintings, art and sculpture as well as temporary contemporary exhibitions.
To see the largest public collection of artist Lowry's work, head to the Lowry Galleries. You can also expect to see special exhibitions of modern and contemporary art.
Outdoors: To escape the bustle of the city, head to one of its open spaces. The most popular is Buile Hill, a Grade II-listed park and a recognised Park of National Historic Importance. Try out the outdoor exercise equipment, or make the most of its picnic area.
For open woodland, take a trip to Clifton Country Park. Stroll through the meadows or meander down one of the lakeside walks.
You can also visit the famed Blue Peter Garden at the MediaCityUK piazza.
Sport: Show your support for the city by cheering on the city's professional rugby teams, the Salford Red Devils and the Swinton Lions. The AJ Bell Stadium has also hosted rugby World Cup matches.
To brush up on your football knowledge, take a tour around the nearby Old Trafford Football Stadium, home of Manchester United Football Club.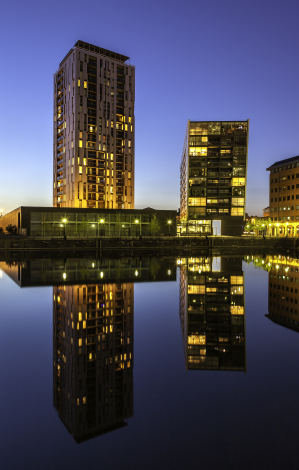 Shopping: Find all the big high-street names at the Lowry Outlet Mall. Shops include Next, Gap and M&S. Chain restaurants and a cinema are also on site.
Salford's Shopping City also offers residents a host of retailers in its enclosed mall. For local goods, browse the stalls at the Farmers' Market in Eccles.
Music: Chamber music concerts can be attended at Peel Hall. These concerts are produced in partnership with the BBC Philharmonic Orchestra and are free to attend.
Don't miss the Sounds from the Other City Festival. Held every May Bank Holiday, this festival celebrates new music and performance. Residents can also hear live performances at Irlam Live and at the Salford Music Festival.
Food and drink: Beer and cider-lovers should head to the New Oxford pub. It was voted Cider Pub of the Year by the North Manchester branch of CAMRA and serves up a host of different ales and ciders to try.
Ales can also be sampled at Monty's Cafébar and Pizzeria. Settle down in this independent eatery for some delicious Italian food and a pint or two of the ales on tap.
For cocktails, hunt for the bar called Under New Management. This late night speakeasy is hidden down a back alley in Chapel Street, but if you can find it you can try one of their many cocktails.
Salford's best kept secret
Islington Mill is a former cotton spinning mill which has been transformed into an active creative arts scene. It's home to more than 50 artist studios and has plenty of gallery space for art enthusiasts to peruse. It is also a lively club venue, so head to James Street if you want to take a look.
6 reasons to live in Salford
Huge development and regeneration projects

Modern apartments and Victorian terraces

Close to Manchester city

One of the UK's greenest cities

Cosmopolitan atmosphere

Offers waterfront, urban and rural living
Have you been convinced to move to Salford? Let us know in the comments below.
You might also be interested in...