Considering becoming a landlord? There's now more to get your head around than ever, so start your buy-to-let homework with our simple guide.
What is buy-to-let?
In its simplest form, buy-to-let is where a property is bought specifically to be rented out to tenants rather than lived in by the purchaser.
Investors can make money this way by generating an income via the rent charged (so long as it's more than the monthly mortgage repayments), making a capital gain when they come to sell or, in many cases, both.
But, like all investments, there are risks attached to buy-to-let. For example, you could be hit by rising interest rates, stuck with difficult tenants or unable to sell if the housing market changes.
And times are set to get tougher for buy-to-let with the introduction of higher Stamp Duty taxes and less flexible rules on the tax relief you can claim. Start your homework on all of this and more with our simple guide.
Guide Overview:
What is a buy-to-let mortgage?
If you can't buy your investment property outright, you'll need to apply for a mortgage. But this will have to be a specific buy-to-let mortgage, as a standard or 'residential' loan only applies if you also plan to live in the property.
There are various differences between a residential and buy-to-let mortgage, starting with the way your affordability is calculated. Instead of looking at your salary, the lender will view the potential rental income of the property as your primary income source. Most lenders will then also take the your personal income into account.
Typically, lenders will want your anticipated rental income (as verified by independent sources) to meet at least 125% of the monthly interest payments on the loan. This could be based on a fixed rate, the standard variable rate (typically with a 1% loading) or an assumed interest rate which could be higher than both of these. Calculations will vary between lenders.
The 25% leeway and interest rate headroom are to ensure you are covered during so-called 'void' periods when the property is without tenants. It reassures the lender you will still be able to meet the payments.
A deposit on a buy-to-let mortgage tends to be bigger than the one required for a standard loan. Most buy-to-let lenders expect a downpayment of at least 25% or even 30%. And the very cheapest deals usually require 40% or more.
However, tougher mortgage testing for landlords is on the horizon which could price out some would-be landlords. Find out more with our news story.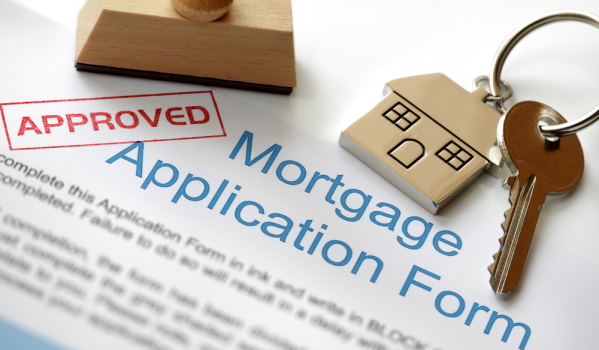 What are loan fees and how much are they?
But buy-to-let mortgages with the lowest interest rates tend to come with the biggest upfront fees. A table-topping fix in terms of rate for example, could carry a fee of 2.5% which equates to £5,000 on a £200,000 mortgage. You can lump the fees together with the loan, but this means paying interest on them too.
This makes it important to weigh up the interest rate against any fees when taking a buy-to-let mortgage as, in some cases, a higher interest rate might actually work out cheaper.
What sort of property should I buy?
Finding the right property in the right location is important when searching for your own home. But it's equally important when looking for a buy-to-let property. So, before you start, your search, think about what kind of tenant you are targeting.
A student, for example, will want to live in a cheap property close to the university and nightlife, while families will be interested in the proximity of good schools, plenty of storage space and a garden. If you get the location or type of property wrong, you will achieve a lower rent and potentially struggle to find tenants.
And keep in mind that some properties are more difficult to secure a mortgage on. These can include former council flats, new developments and homes above commercial premises, such as shops.
Does the type of tenant matter?
The type of tenant renting your property can really impact your plans. For instance, many lenders have restrictions on mortgages for student lets and Houses in Multiple Occupation (HMOs). An HMO building is defined by having three tenants or more, that form more than one household and who share a toilet, bathroom or kitchen facilities.
Accidental landlord? Check out Phil Spencer's tips on getting your home ready to rent.
How do I choose where to buy?
If you are just starting out in buy-to-let, buying a property close to home could be a good bet. As well as being familiar with the area, you can be close by if anything goes wrong. However, if you plan to use a letting agent to manage the property, buying somewhere further afield can present a wider range of options.
When you have settled on an area, make sure you speak to local letting agents who can advise on what kind of properties are in demand and how much they rent for.
Make sure you are getting a good deal by checking the average property values for the area on Zoopla. While you're there, click on the 'area stats' tab and take a look at how much properties are renting for in the area - as well as how much values have changed.
See our screen shot below: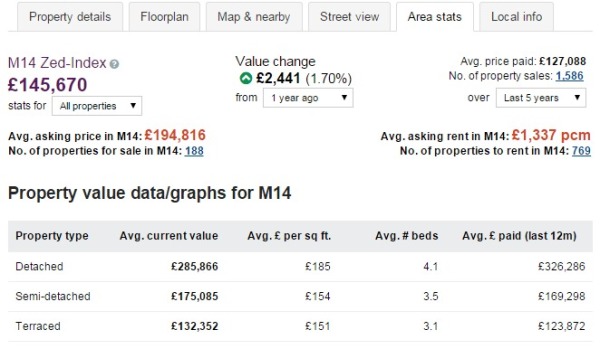 For even more information, go to the 'local info' tab to see how users have rated the community and safety, entertainment and nightlife, parks and recreation, restaurants and shopping, schools and public services, transport and travel in the area. You'll also find information on crime, tax and employment.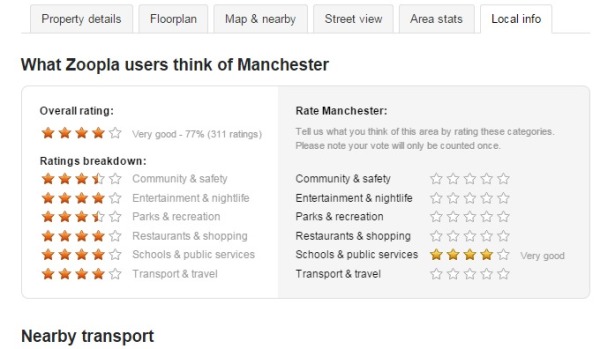 Do I want capital growth or good rental returns?
Ultimately, the property you buy and where, is likely to come down to what is financially viable. As a buy-to-let investor, you will either be relying on capital growth (medium to long-term increase in the value of the property) or solid rental returns (income generated from the property expressed as a percentage of the property value). You'll need to work out which of these has the bigger advantage.
For example, if your initial costs are so big you are unlikely to attain a high rental yield, you will be depending on property prices rising. If, on the other hand, you are buying a cheaper property to rent out to several students, you will be relying more on the rental yield.
A good rental yield is generally benchmarked at around 5% a year. Some properties might reap yields as high as 7%, while HMOs can achieve between 12% and 15%.
What will my responsibilities be as a landlord?
Being a landlord comes with certain legal responsibilities. Tenants must be assured that their deposit is in safe hands and that their rights to live in your property are protected by a tenancy contract.
There are several types of tenancy contract, but the most popular is an assured shorthold tenancy (AST). These contracts give tenants a legal right to live in the property for a fixed duration, or on a rolling term.
An AST lasts for a set period, normally six or 12 months. It will detail how much the tenant has to pay in rent, who is responsible for repairs, notice of eviction, when rent can be increased, how long the tenancy lasts and the tenant's right to have their deposit protected.
Deposit protection schemes are a legal requirement and you, or your lettings agent, will be fined if you don't provide one. There are two types of government-backed deposit schemes, insurance and custodial.
Under the insurance scheme, the landlord or agent retains the deposit and pays interest to the insurer. They are available through the Deposit Protection Service, MyDeposits and Tenancy Deposit Scheme.
The custodial option, where the deposit is paid directly into the scheme and can earn interest, is free to use. Each scheme comes with an independent resolution service to iron out problems between landlords and tenants. More choice of these schemes became available from 1 April, 2016 which you can find out about with our news story.
Since 1 February, 2016 landlords have also been responsible for ensuring their tenants have the right to rent in the UK. You can find out more about the government's right to rent scheme with our handy Q&A.
Other landlord responsibilities include:
Making the property safe for tenants to live in
Dealing with repairs to the property's structure and exterior
Maintaining heating and water systems
Making sure furniture meets fire safety regulations
Ensuring that the gas and electrics are safe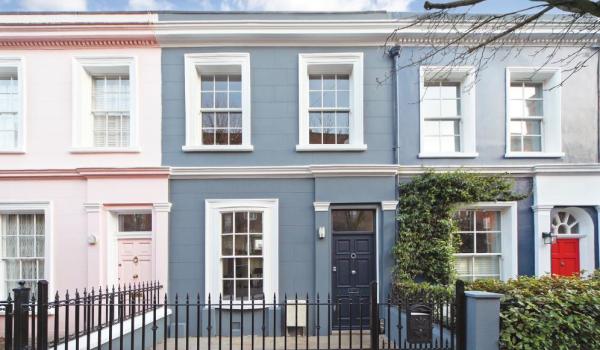 What is buy-to-let insurance?
Also known as 'landlord insurance', buy-to-let insurance provides cover for buildings and contents as well as landlord liability.
Buildings insurance: Most landlords will be required by their lender to take out buildings insurance before they can secure a mortgage on a property. This will pay out in the event your property is damaged or destroyed and needs to be repaired or rebuilt.
Make sure you input the correct rebuild value on your buildings insurance form. This is different to the amount you paid for the property, so If you are uncertain consider getting a chartered building surveyor to do a valuation for you.
Contents insurance: This will cover the furniture in the property. But even if it's unfurnished, getting some level of contents cover is a good idea to protect carpets, curtains and white goods. Your tenants will be responsible for insuring their own belongings within the property.
Landlord liability: This will cover you in the event of the injury or death of tenants and visitors on your property. Usually this cover is a choice but in some cases you may be required to have a minimum level in place - for example if you are renting to students or in some local authorities.
Buy-to-let tax implications
There are various taxes to pay on your buy-to-let home and since 2016, they've become a lot more stringent. Here's a round-up.
Tax on rental income: The rent you receive from your property will be taxed at your relevant tax band (bear in mind this could push you into the next band up).
However, you can deduct some costs against the amount of tax you pay. These costs include letting agent fees, buildings and contents insurance, council tax and utility bills (if you pay them on behalf of the tenant) and essential maintenance such as a roof repair or new boiler.
But since April 2016 landlords letting furnished properties are no longer able to claim 10% 'wear and tear' costs against their tax bill. Instead they can only claim for the actual costs of any damage or repairs.
From April 2017, relief on mortgage interest will be capped for all landlords at the basic rate of 20% (seasoned landlords have also been accustomed to offsetting the the cost of their mortgage interest against their tax bill, at up to 45% for higher earners). The reduction will start to be phased in from April 2017 and will be complete by 2020.
Both of these changes are likely to take a considerable bite out of landlords' profits.
Capital Gains Tax: Buy-to-let property is not exempt from Capital Gains Tax (CGT). This tax is paid when you come to sell the property on any increase it's undergone in value; in other words, on your profit. It's paid at 18% or 28% depending on your tax bracket.
You do have allowances, though. For the 2016/2017 tax year, the first £11,100 profit is CGT-free. For couples with joint assets, this doubles to £22,200. You can also offset the cost of Stamp Duty against your CGT bill.
Currently, you need to pay CGT tax within 18 months of completing on the purchase. But, from 2019, it will need to be paid within a month.
Stamp Duty: In other bad news, landlords will now be forced to pay a 3% loading onto every Stamp Duty band for when buying 'additional properties' which includes buy-to-let homes.
The new tax, which landed on 1 April 2016, applies to all investment property costing over £40,000 – that's lower than the £125,000 starting threshold for residential homes. The 3% Stamp Duty is also charged on the entire property price, a nod back towards the the recently-scrapped slab style charging structure.
Now a buy-to-let home costing £275,000 will incur Stamp Duty of £12,000 – up from a previous £3,750.
You can find out everything you need to know about the new 3% Stamp Duty surcharge with our Q&A.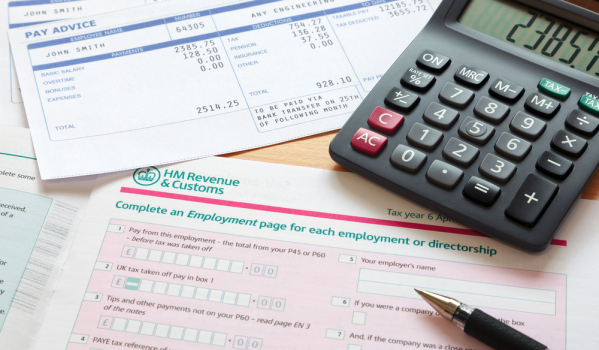 Do I need to use an agent and how much will it cost?
Depending on your budget and planned level of involvement with the property, you may, or may not, want to use a letting agent. Letting agents' services include anything from sourcing and carrying out credit checks on a potential tenant, drawing up a contract and compiling an inventory, to arranging for a broken boiler to be fixed and chasing up late rent.
There are also mandatory health and safety gas and fire inspections and precautions to be taken, which an agent can handle for you.
Clearly, you'll pay for what you get. For letting-only, you might be charged a months' rent, while ongoing fees to manage the property can vary between 10% and 17% of rental income a month.
Buy-to-let tips
Make the most of it: If you are letting to students, convert the living room into an extra bedroom to boost rental income


Buy modern: Modernised properties tend to let quicker than older homes and need less maintenance


Do your checks: Check tenant references thoroughly and conduct credit checks


Keep clean: Always clean and redecorate your buy-to-let after a long tenancy


Don't be greedy: It's better to hold onto a good tenant paying less, than a bad one paying more
Buy small: If you buy on a big development, you might be competing with more buy-to-let landlords
Consider paying cash: It could be less expensive to remortgage your own rather than take a buy-to-let mortgage. Always seek financial advice
Be cautious: When choosing a lettings agent, make sure he or she is a member of the Association of Residential Letting Agents and the National Approved Lettings Scheme
All information correct at time of publication and provided in good faith. Zoopla strongly advises you to seek current legal and/or financial advice from a qualified professional.