A period property packed full of history or a new-build that's practical and eco-friendly? Here are the advantages of both - and tips on how to narrow down your property search.
Do you prefer a shiny new-build home or an older property full of history and character? There's no right or wrong answer. It all comes down to what is important to you.
But it's not always an easy decision to make. So we've drawn up advantages for both new-build homes and older properties to give you a helping hand.
Scroll further down our article for tips on how to supercharge your property search on Zoopla.
Pros of older homes
1. Character: If history and character are important to you, an older period home may be right up your street. From ceiling roses and cornices, to sash windows and ornate fireplaces, period property features are a major pull for many buyers.
2. House price legacy: Older properties tend to be found in already-established locations. This means greater peace of mind over how property holds its value compared to newer homes in young and up-and-coming areas.
3. Eyes wide open: Most older homes come with quirks but you're unlikely to get any major surprises if you carry out a property survey and examine the pre-sale searches.
4. Scope for alterations: While you may have bought the property for its character, this doesn't mean you can't make alterations.
From major structural work, to smaller jobs to improve the property's aesthetics and boost its eco credentials, there's plenty of scope to put your stamp on it - and add value.
5. Hassle-free services: Broadband, energy and other utility deals should be straightforward to sign up, with these services already set up by the previous owner.
6. A mature garden: An established garden is more likely to hold some colourful surprises come summer. This is in contrast to new-builds that often come with recently laid turf and younger plants.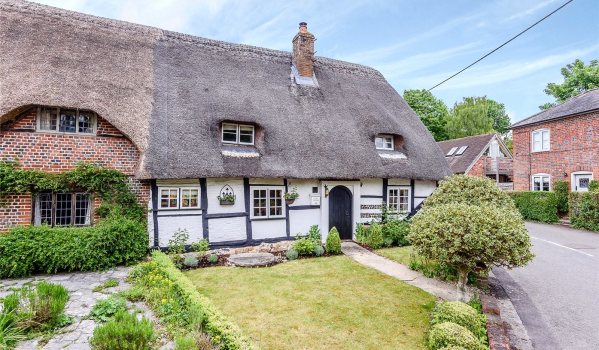 Pros of new-build homes
1. Incentives and benefits: The government has a number of schemes designed to offer a boost to buyers. The Help to Buy loan equity scheme helps first-time buyers and home movers with a 5% deposit buy a new-build home.
And the First Homes scheme will offer first-time buyers and key workers a 30% discount on new-build homes. The government consultation for the design was published in August.
It's also worth worth speaking to house builders, which often have buyer incentives in place.
2. Chain-free: If you are buying direct from a house builder, you won't risk getting stuck in a property chain - or getting gazumped! And if you are a first-time buyer, you will have nothing to sell either.
3. Eco-friendly: New homes are designed to be more energy-efficient, which typically makes them cheaper to run than an older property (although new-builds are not eligible for the government's Green Homes Grant).
4. Modern, safe and secure: All the latest mod cons as well as safety and security measures should be in place. These typically include fire safety, locks on doors and windows, lighting and alarms.
5. Peace of mind: The vast majority of new-build homes are covered by the National House Building Council's (NHBC) 10-year warranty. There is also a Consumer Code designed to protect buyers of new-builds.
6. Bespoke: If you're buying off-plan, you may be able to work with your house builder on various design aspects of your home.

How to find your new home
Once you've worked out what you're looking for, register with Zoopla to get instant alerts for exactly your type of property - and save as many searches as you want.
We've got a range of handy tools to help you narrow down your property search. Take our Advanced Search tool - it allows you to find homes with specific property features, such as 'thatched roof' or 'bifold doors'.
And if you need any help with property jargon, don't forget to check out our jargon-buster.
You may also be interested in...
Zooplomas are our free guides to buying and renting, giving you expert advice and information straight to your inbox.

The information and data in this article was correct at the time of publishing and every attempt is made to ensure its accuracy. However, it may now be out of date or superseded. Zoopla Ltd and its group companies make no representation or warranty of any kind regarding the content of this article and accept no responsibility or liability for any decisions made by the reader based on the information and/or data shown here.