Moving in to your first home is major relief – but it will feel even better if you're comfortable you got the very best deal you could.
When you're trying to buy your first home, there's lots to think about. Raising a deposit, getting a mortgage, finding somewhere you like in your price bracket.
And then, once you've viewed the property and made an offer, there's the wait to see if it will be accepted.
Potential stress-fest? It doesn't have to be. If you have a clear strategy, you give yourself every chance of success (and a good night's sleep).
When it comes to making an offer, it's worth remembering that, if you like a property that's for sale, it's almost certain someone else will also be keen.
In fact, there could be several would-be buyers jostling to get their hands on the property.
That means you're in a competition. Having a plan can help put you in pole position to win.
Here are the core elements of your strategy for success when you make your offer.
Get a 'mortgage in principle'
A mortgage in principle confirms to a seller and their estate agent that you deserve to be taken seriously as a potential buyer.
It's a statement from a bank or building society that says it is willing to lend you a certain amount of money, so you can show that you can afford the property and that the transaction has every chance of proceeding smoothly.
If you're up against another would-be buyer who doesn't have a mortgage in principle, your having one could be the deciding factor (note that in Scotland you must have one before you submit a bid).
A mortgage in principle is based on your financial situation and usually lasts for between two and three months. After that, the lender will probably want to check nothing major has changed with your finances.
And as it's 'in principle', there's no guarantee you'll get the actual loan on the same terms if you circumstances have altered or if, say, interest rates have gone up.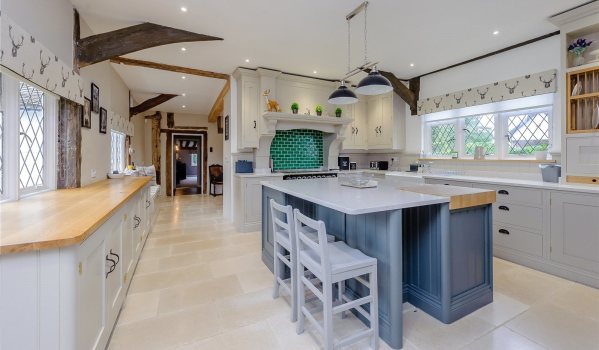 Put in a realistic offer
There's a fine art to making an offer on a property. Too high and you risk paying more than you need. Too low and you might be beaten to the prize by another buyer.
So how do you work out what your offer should be?
The best place to start is with our house price research tool. You enter the address of the property you're interested in and we provide an estimate of what it is currently worth along with information on prices for other properties in the same street.
If the data exists, we can also tell you how much your target property fetched last time it was sold.
Armed with this information, you should begin to get a sense of how close your offer needs to be to the listed asking price.
Talking to the estate agent will also help. They represent the seller, of course, and they want to get the best price they can. But they're professionals who understand the local market better than anyone and who know what a realistic price would be.
Give yourself some room to negotiate
OK, so you've done your research, chatted to the estate agent, and made what you believe is a reasonable offer for the property.
The next thing that you'll hear is whether your offer has been accepted or not.
If it hasn't, you can decide whether or not to increase it – provided, of course, you've got the funds available to pay a higher asking price (and to pay the required 10% deposit, which is due if and when you exchange contracts further down the line).
If you don't want to or can't increase your offer, you can try to negotiate with the estate agent.
The main bargaining chip at your disposal is that you're a first-time buyer. That means you don't have a property to sell, so you are not in a property chain.
That can be very attractive to a seller if they in turn are trying to secure their next property and want to sell their existing one quickly.
In fact, escaping the constrictions of a property chain might be attractive enough for the seller to tell their agent to accept a lower offer than one from someone who is in a chain.
It's certainly worth pushing this point if you are at or close to the upper limit of what you can afford.
Get the property taken off the market
Once your office is accepted, get the estate agent to take the property off the market. There's nothing legally binding about making or accepting an offer, so if another buyer arrives on the scene and improves on your offer, the seller is able to accept it.
That's known as gazumping, and there's less chance of it happening if the property is no longer listed.
Assuming the seller remains happy with your offer, you can then set about securing your mortgage, beginning the conveyancing process and moving towards actually owning your first home.
Continue your property journey...