With charms including the Golden Mile of jewellery shops to the National Space centre, the East Midlands city could be worth exploring when looking for a first home.
Taking your first step on the property ladder in Leicester? Here at Zoopla, we have data that you might find useful.
It looks at average house prices across the UK by postcode and then estimates how much a first-timer would need to earn and have as a deposit to buy there.
We've summarised this information in to the map below. It shows what income you would need to buy a two- to three-bedroom property in various postcode areas – in short the greener, the better.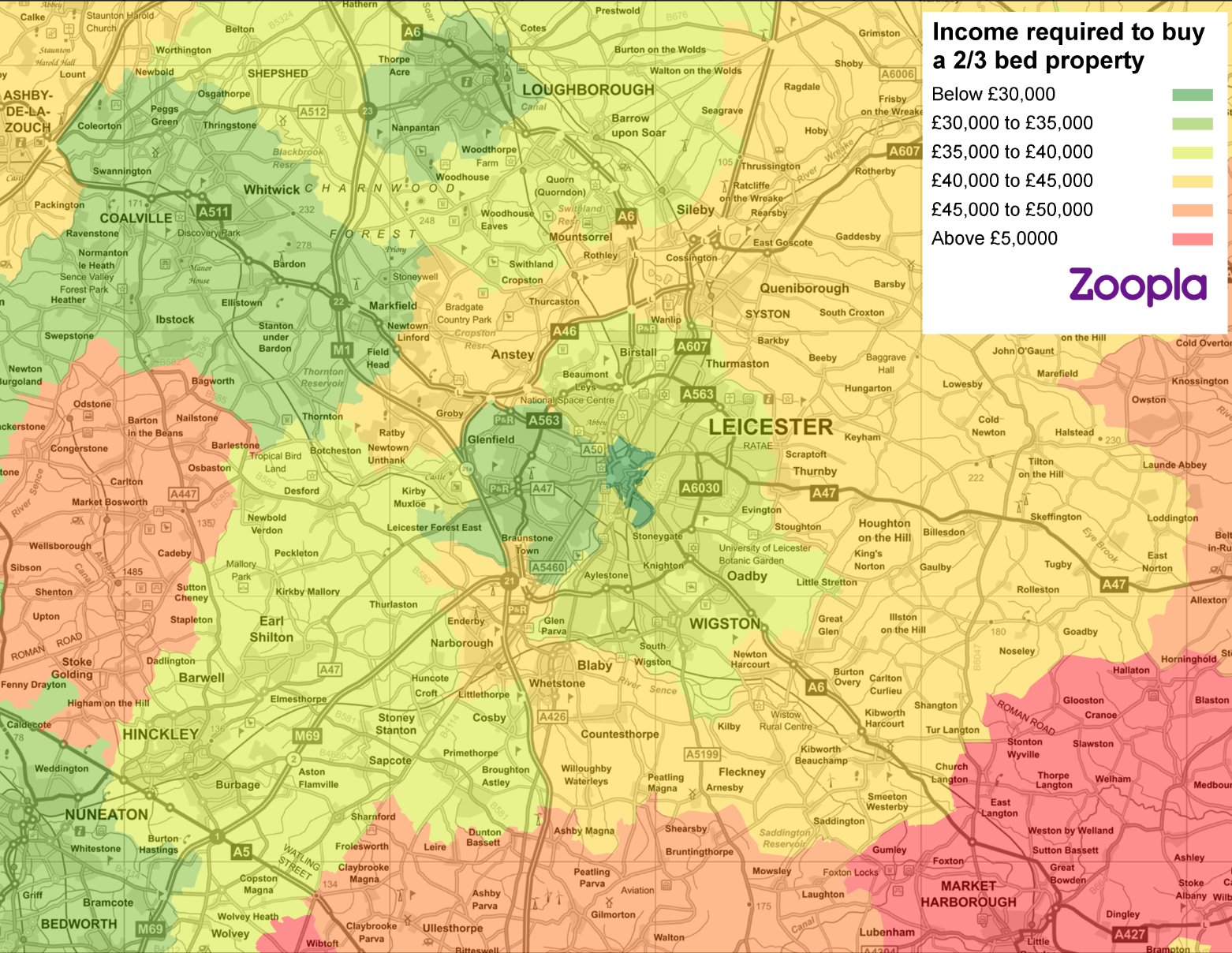 (Click on map for larger version)
Quick pointers for first time buyers in Leicester:
The average first time buyer property (two- to three-bedroom house) in Leicester costs £183,989, with the average deposit required being £27,157.
Ths requires an average household income of £39,208.


While Leicester is not expensive by UK standards, affordability can be stretched for prospective buyers living locally. House price to local earnings ratio start at 5.51 in LE1, the city centre. But with most banks and building societies only prepared to lend up to four times annual income, a home could still be out of reach.


Unlike many other urban areas, Leicester has a fairly equitable spread of affordability for first time buyers. This suggests that those with a large enough deposit and who can afford mortgage repayments, can opt for a relatively wide choice of locations.
Postcode areas in Leicester ranked by affordability
| | | | | |
| --- | --- | --- | --- | --- |
| Postcode | Area | Average house price | Average deposit required | Average household income required |
| | City centre | £125,602 | £18,539 | £26,766 |
| | Braunstone, Glenfield, New Parks | £157,493 | £23,246 | £33,562 |
| | Beaumont Leys, Belgrave, Birstall | £173,243 | £25,571 | £36,918 |
| | Hamilton, Thurnby Lodge, Evington | £178,567 | £26,356 | £38,053 |
| | Oadby, Knighton, Highfields | £178,786 | £26,389 | £38,099 |
| | Hinckley, Burbage, Wolvey | £181,753 | £26,827 | £38,731 |
| | Kirby Muxloe, Stoney Stanton, Cosby | £183,247 | £27,047 | £39,050 |
| | Wigston, South Wigston, Kilby | £186,881 | £27,584 | £39,824 |
| | Narborough, Enderby, Littlethorpe | £193,886 | £28,618 | £41,317 |
| LE6 | Ratby, Groby, Newton Linford | £197,794 | £29,194 | £42,150 |
| LE8 | Blaby, Great Glen, Fleckney | £205,835 | £30,381 | £43,863 |
| LE7 | Scraptoft, Anstey, Billesdon | £208,532 | £30,779 | £44,438 |
| LE17 | Lutterworth, Leire, Swinford | £220,234 | £32,507 | £46,932 |
First time buyer affordability in the East Midlands
In certain areas of the UK, especially London and the South East, it's almost impossible to find postcode areas where average salaries are high enough to get the mortgage you would need to get on the housing ladder.
Homes for first time-buyers in the East Midlands cost £174,301 on average, requiring a deposit of £25,727 and a household income of £37,144. This makes Leicester slightly more expensive than its surrounding area.
Despite this, the good news is that there are several places in the wider East Midlands region where four times average earnings will be enough for first time buyers to take an initial step on to the property ladder.
Affordability is eased if you head west from Leicester to Tamworth and Nuneaton and even more so by heading north of Nottingham to Mansfield and Worksop.
Head south to Warwickshire, Northamptonshire and Cambridgeshire and property prices start to rise considerably.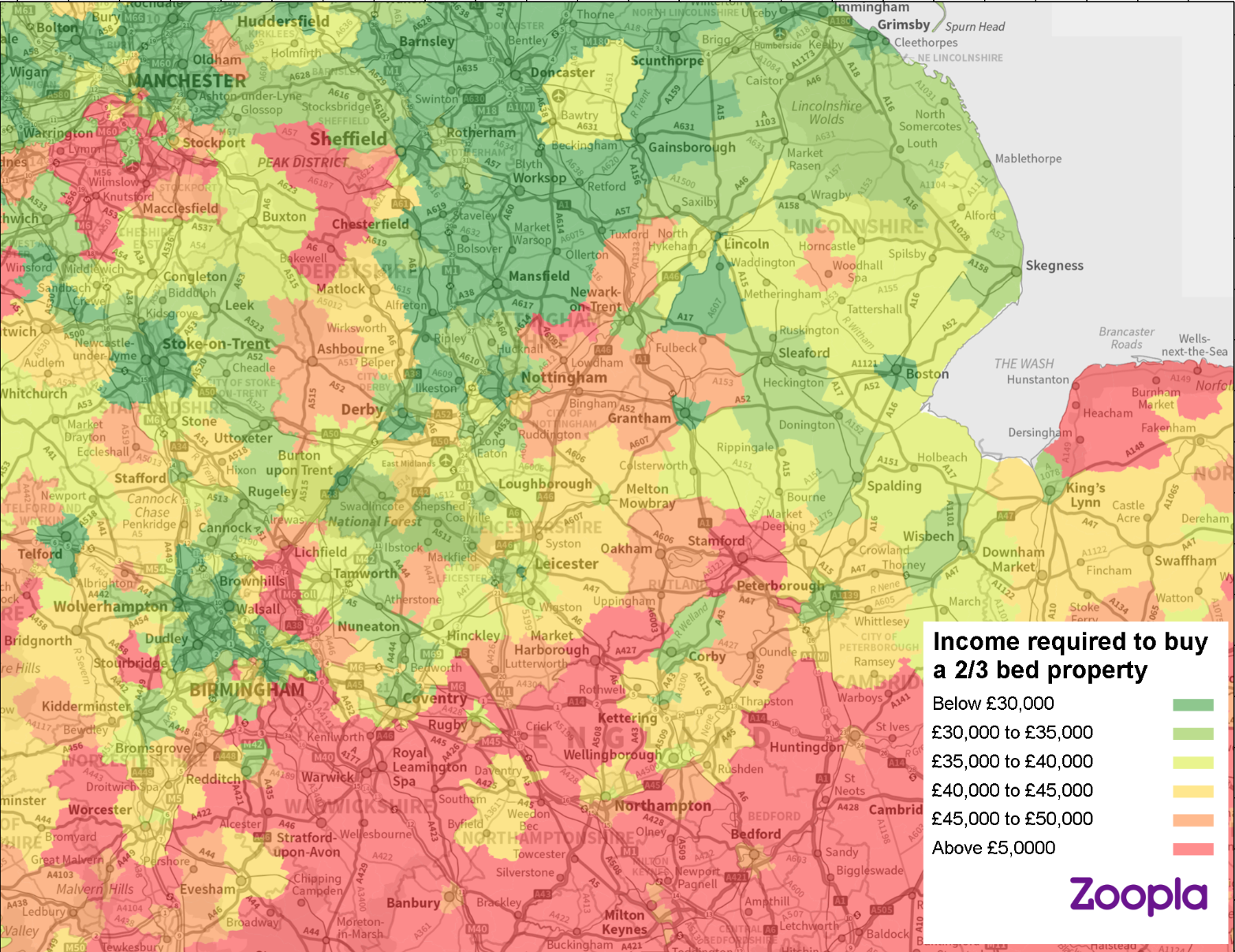 (Click on image for larger map)
How have we calculated it?
We've looked at the average price of two-to-three bedroom homes – the most common type of property purchase for first time buyers in Leicester.
We've then taken the average mortgage advance from lenders in the region and worked out the average deposit and salary required for the loan (based on four times' salary).
How can I afford a home as a first time buyer?
Building as big a deposit as possible is the first step. This allows you to borrow a lower percentage of the value of the property and access better mortgage rates.
Aim for a minimum 10% deposit. It is possible to put down less in some cases, but this means less favourable mortgage rate and higher monthly repayments.
If you are struggling to raise a deposit, check out the Help to Buy equity loan scheme where the Government will lend you up to 20% of the purchase price interest-free for the first five years. You could also look at a shared ownership scheme where you purchase part of the property and pay an affordable rent on the remainder.
Provided your credit rating is in good order and your monthly outgoings do not limit your ability to repay a mortgage, a mortgage lender, such as a bank or building society, will lend up to around four times your salary.
If you are buying as a couple, then combining your incomes will mean you can borrow more and will give you a better chance of stepping on to the housing ladder.
Don't forget that, when buying a home, there will be other fixed fees for a licensed conveyancer and moving costs. The good news is that stamp duty land tax is waived for first time buyers on the first £300,000 of the purchase.
For more help purchasing your first home, read our first time buyers guides.
First time buyer affordability in the UK
If you're prepared to cast your search further afield still, then our first time buyer affordability map of the UK (below) might help you find more affordable alternatives.
But remember that while the UK map might prove a helpful overview, in practice, UK property markets operate on a hyper-local level.
This means that researching cities down to even a street-by-street level will give you the best chance of getting the best value property.

Full methodology: House prices taken from a subset of Zoopla-partner Hometrack's stock valuation database (one-to-two beds for London and two-to-three bedrooms for rest of UK). Median price calculated as of June 2018. Median advance taken by region (c75% for London, c85% outside of London) from UK Finance. Term of Mortgage: 25 years. Interest rate: 2.00%. Loan to income ratio: 4.0. Earnings required for affordability is greater of those required to satisfy loan-to-income threshold or income required to service the mortgage.
You might also be interested in...