Housing market activity is at its strongest in five years, according to our latest House Price Index. We look at how buyers are shrugging off recession fears.
Housing market activity is at its strongest since 2015, driven by pent-up demand and a once-in-a-lifetime re-evaluation of what buyers want from a home in the wake of lockdown, according to the latest Zoopla House Price Index.

Housing market rebound continues
The post-lockdown housing market rebound shows few signs of slowing despite the UK going into recession, with the number of new sales agreed in August on Zoopla running 76% ahead of the five-year average.
Buyer appetite since the start of 2020 is now 34% higher than the same eight months in 2019 and, despite the summer holidays, it remains unseasonably strong.
More homes are coming onto the market too, with the flow of new supply over the last month 50% up on this time last year.
While the supply of new homes for sale remains below last year's volumes, the gap is closing steadily.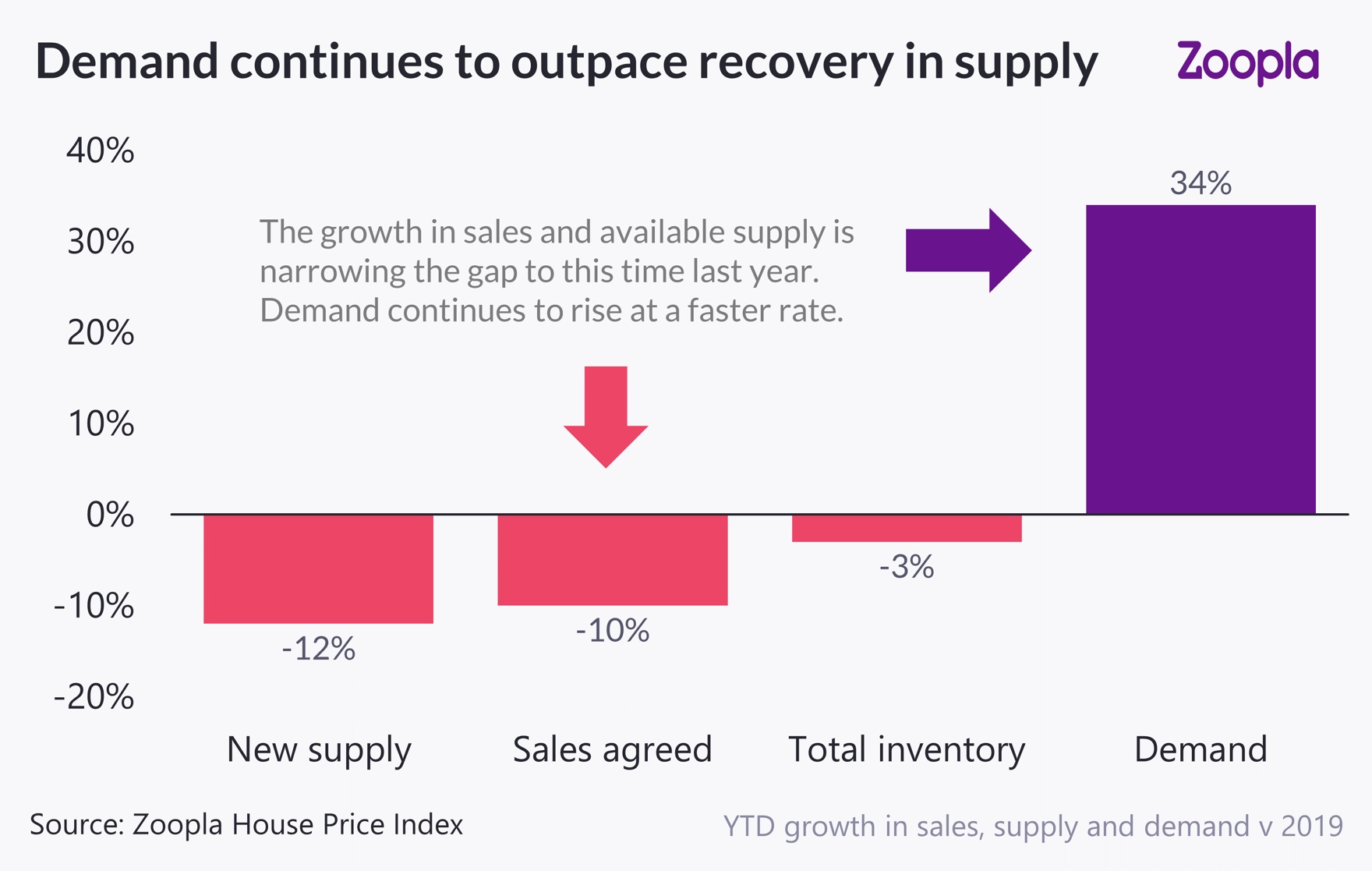 Faster sales
The bounce in activity has meant that homes are selling at a faster rate than before the pandemic across all regions of the UK.
Since lockdown restrictions were lifted, the average number of days to sell a home has been 27 days, compared with 39 days over the same timescale last year. That's almost two weeks less.
It bodes well for buyers who are looking to take advantage of the stamp duty holiday, which will run until 31 March 2021.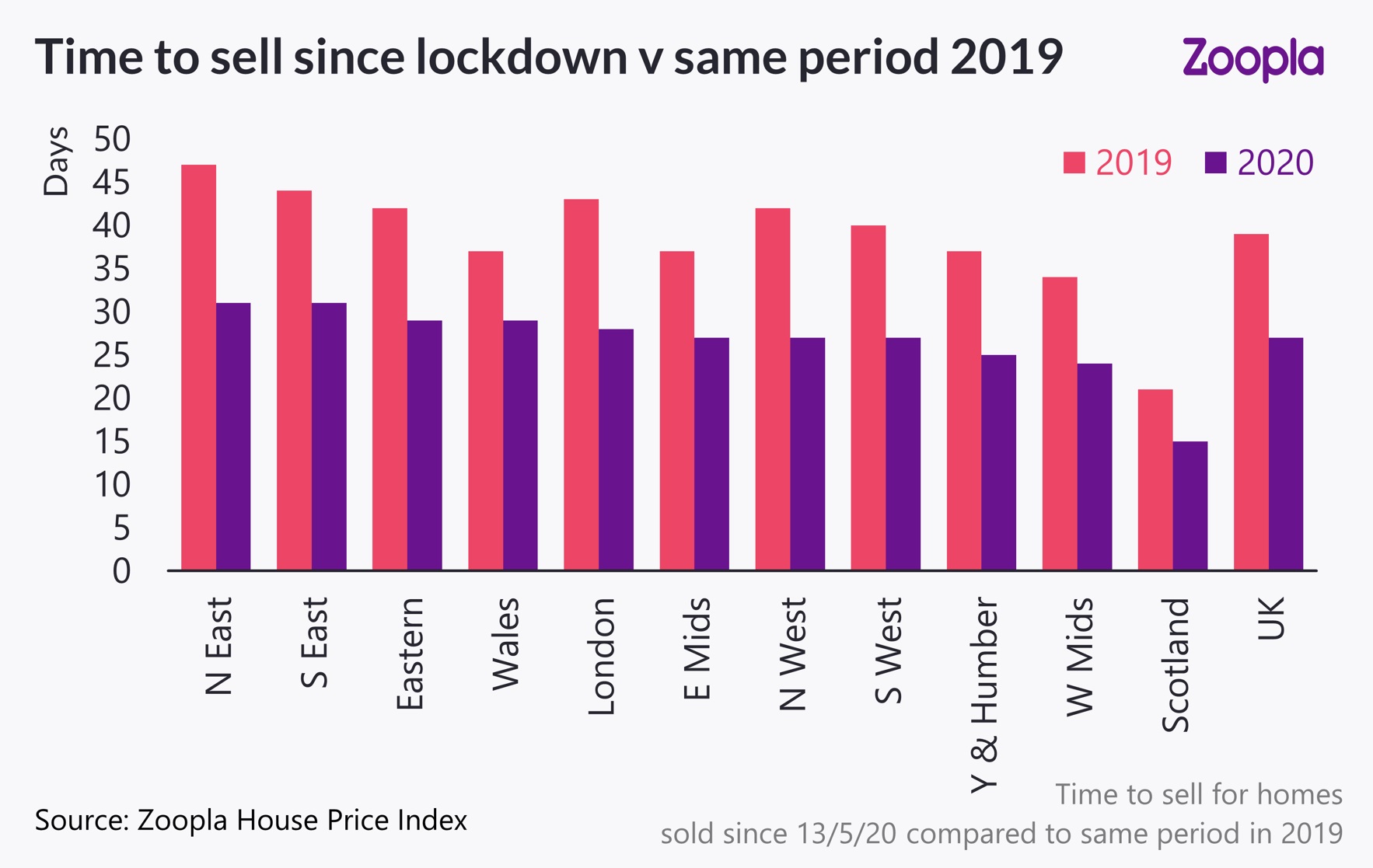 Buyer sweet spots
Lockdown has not only impacted the time it takes to sell a home, it has influenced the types of homes that are selling too. Houses are changing hands faster than flats as buyers prioritise more space.
Three-bedroom houses (where the supply-demand imbalance is most pronounced) remain the hottest ticket, taking an average of just 24 days to sell since lockdown lifted. And flats are taking the longest time to sell, at an average of 32 days.
Meanwhile, four and five-bedroom houses are selling 33% faster than in 2019, as buyers move away from more expensive urban areas in favour of locations where their budgets will stretch further. In fact, four-bedroom houses are now selling faster than the average flat.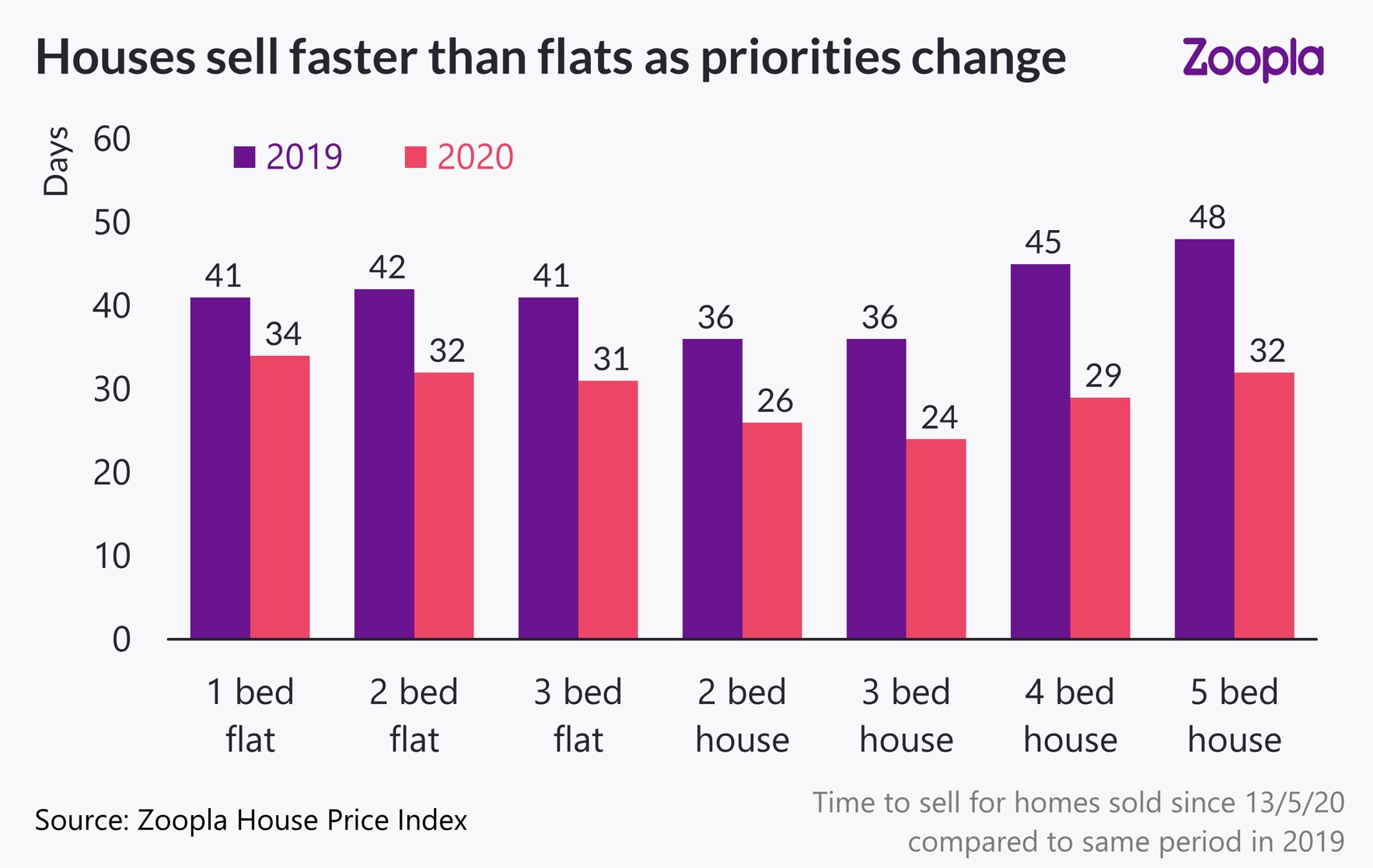 More homes for sale from wealthier sellers
There's been an uptick in wealthier homeowners looking to move, which is driving the average asking price of a home for sale on Zoopla up 8% compared with a year ago.
This is thought to be the result of a reignition of activity in London and south east England, with improved affordability and recent stamp duty changes contributing to more homes being put up for sale.
What's next for the housing market?
Richard Donnell, research and insight director, Zoopla, said: "The next important milestone for the housing market comes in September when schools re-open and the UK starts to get back towards a full reopening of the economy.
"The 'once-in-a-lifetime' re-evaluation of housing requirements on the back of the lockdown will be a counterweight to the impact of the recession on housing market activity over the rest of 2020.
"While demand has softened over August, we expect the current momentum in market activity to continue into the last three months of the year."
Donnell added that while the economy has contracted sharply and unemployment is rising, consumer spending has rebounded and purchasing manager indices are pointing to a wider rebound in the economy.
"This is positive but the unwinding of the furlough scheme and other government support is the next challenge that will test the strength of economic recovery."
House prices at the end of the year are expected to be 2% to 3% higher than at the start.
The annual rate of UK house price growth slowed to 2.5% in July, from 2.7% in June.
You may also be interested in...
Zooplomas are our free guides to buying and renting, giving you expert advice and information straight to your inbox.

The information and data in this article was correct at the time of publishing and every attempt is made to ensure its accuracy. However, it may now be out of date or superseded. Zoopla Ltd and its group companies make no representation or warranty of any kind regarding the content of this article and accept no responsibility or liability for any decisions made by the reader based on the information and/or data shown here.