Our analysis reveals the most popular keywords renters use to find their next home.
As we emerge from lockdown, millions of UK renters may be reviewing exactly what they want from their rental home, whether that be a bigger garden, an office space, or an extra bedroom...
What makes the perfect rental home?
We looked at the most common terms people used in our keyword search tool between August 2019 and February 2020 to identify the most sought-after features renters are searching for.
Having a garden tops the list as one of the most sought-after features for British people to have in a rental home.
Our data also shows that having a parking space or a garage is almost as important as a garden for renters.
Garden

,

parking

and

garage

are the top most searched keywords almost everywhere in Britain: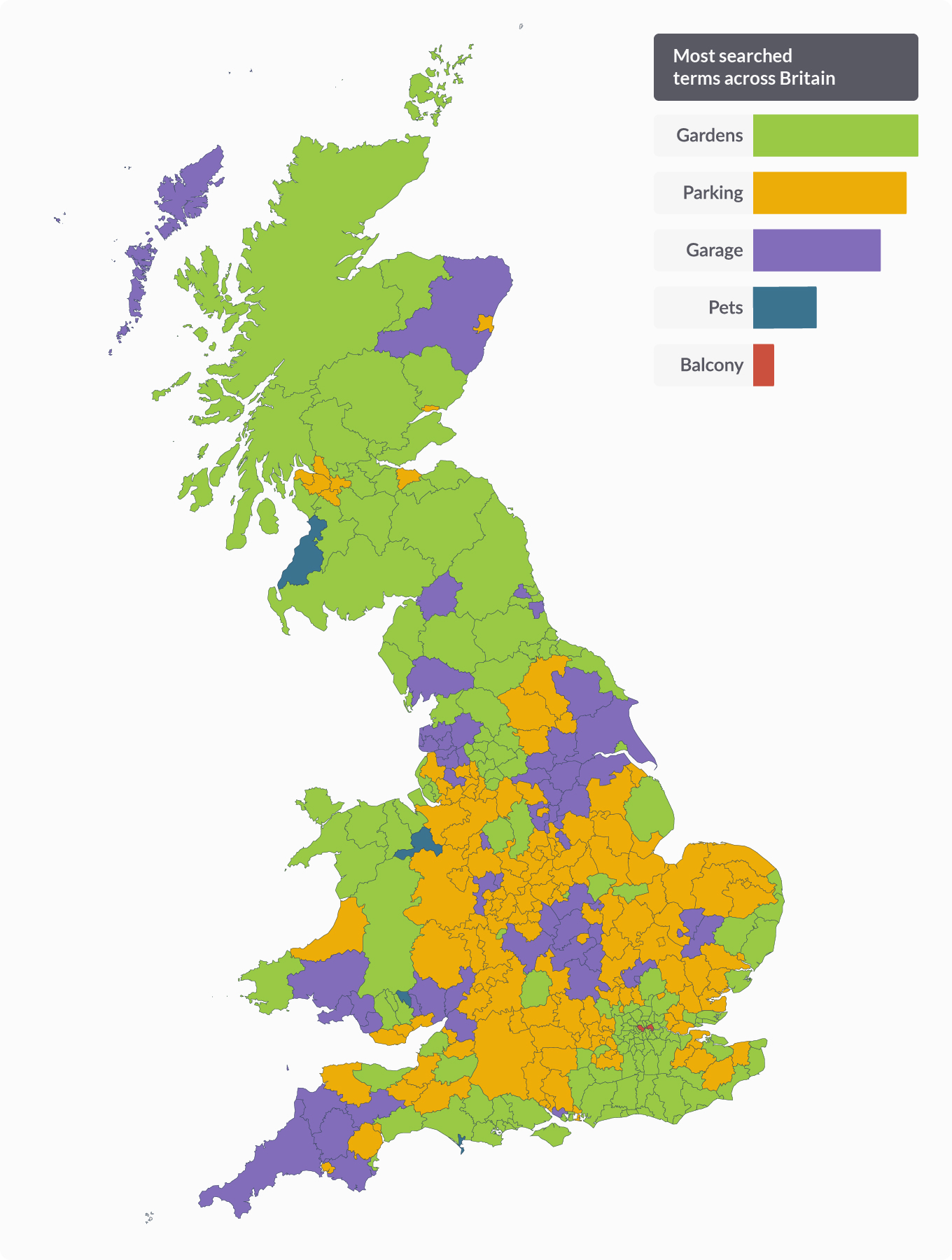 What else do renters want?
Considering that roughly half of Brits own a pet, it comes as no surprise that 'pets' is one of the more popular search terms on Zoopla.
The fifth most popular search term is 'balcony', followed by 'furnished' and 'flooring'. The top 10 is completed by 'bills included', 'ensuite' and 'bungalow'.
Top 20 most searched-for keywords among renters:
Like the rest of the UK, Londoners' most desirable rental features were 'garden', 'parking' and 'garage'. But where outside space is at a premium - in the City of London, Westminster and Tower Hamlets - 'garden' is replaced by 'balcony' as the most popular search term.
Those looking to rent in Blaenau Gwent and Wrexham are the keenest pet lovers in Wales, while those in South Ayrshire top the list in Scotland and those in Weymouth and Portland top the list in England.
How to use keyword search
Our Advanced Search allows you to customise your search to find exactly what you need by including must-have features.
Plus, you can put your search term in between quotation marks to search for the exact phrase, such as "double glazing" or "bills included". You can also exclude terms from your search. For example, you can search -rural if you're more into the city life.
You may also be interested in...