If you're heading into the new academic year, don't let housing be a headache. Get ahead with our handy guide.
Just secured a university place? Congratulations! Now the next step is to organise accommodation.
You may opt for university lodging, such as halls of residence. But not all institutions can offer this, so if you have your eye on renting a home from a private landlord, then this guide is for you.
We'll walk you through the process of renting student digs, from start to finish. Ready?
1. Choose the right area and property
When deciding where to live, you'll want to take a number of factors into consideration, including:
Distance to university or college
Transport links and costs
Proximity to shops and other local amenities
Because university campuses can be quite large or dispersed around town, it's worth giving some to what your actual day-to-day movements will be – rather than just checking an online map. If the majority of your time is spent in your faculty, then you'll probably want to rent fairly nearby. Alternatively, you might relish the headspace of having a bit of travel time every morning and evening.
And you'll also need to think about the type of home you want to rent. Make a checklist of all the things you're looking for and tick them off on your property viewing. For example, you're unlikely to own many, if any, items of furniture so consider furnished homes.
If you feel the premium is too high on a furnished property, then you can stock homes relatively cheaply using websites such a freecycle, checking social media groups and asking friends and family. However, remember that you'll also need to move you belongings when the tenancy is over.
Online portals are a great place to start your search. You can find properties on Zoopla's 'To rent' section. Refine your search by area, property type, number of rooms, budget and more.
Another port of call is your university's accommodation office. It should be able point you in the right direction of reputable landlords, letting agents and other sources. A good accommodation office will be used to welcoming students moving away from home for the first time, and so should help simplify the process and allay your – very natural – feelings of trepidation.
Once you've pinpointed a suitable home to rent, try to speak with the current or previous tenants to gain a good idea of what it's like to live there.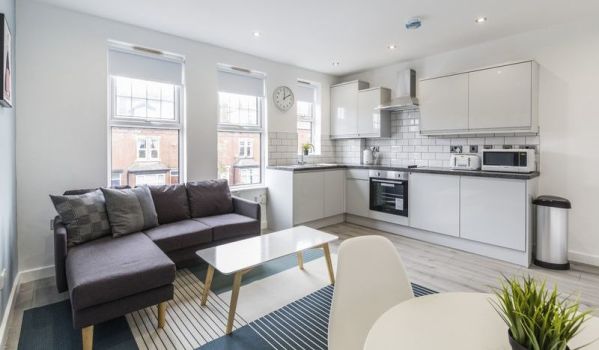 Above: three-bedroom flat to rent in Leeds
2. Decide how long to rent for
Tenancies are usually 12 months long – which is out of kilter with the nine-month academic year. Try and negotiate a shorter contract or, failing that, ask to insert a break clause which allows the contract to be broken with appropriate notice. Or, if you want a longer tenancy to match your course length, there's no harm in pushing for a longer tenancy.
3. Agree the contract
Typically, you will be required to sign a tenancy agreement (normally an assured shorthold tenancy). It is a legal contract outlining the arrangement between you and the landlord or letting agent so it's vital that you fully understand it before signing. Always, always read the small print.
If you sign a joint tenancy agreement, be aware that all the people named on the contract are liable. That means that if one of your flatmates fails to pay their share of their rent, you'll have to plug the gap.
It's just another reason to carefully consider who you choose to rent with. If your housemate decides to drop out of their course within a few weeks, the rent still needs to be paid – and you might be faced living with an 'unknown' tenant.
The landlord or letting agent will want to run various checks and character references on you. You'll need to provide, among other things, three months of bank statements. Given that you'll probably have limited or no regular income, you'll need parent or guardian to act as guarantor. They'll take legal and financial responsibility on your behalf.
In England and Wales, the landlord or letting agent is also legally obliged to check your right to rent, and live, in the UK. So expect to be asked for a copy of your passport or other documents demonstrating your eligibility. Here are the details on the Right to Rent checks.
On signing the contract, you'll pay a deposit (for more, see below) and normally the first month's rent in advance.
There'll be other administrative costs to fork out too. It's a good idea to ask the landlord or letting agent for a full list of fees before you get into the finer detail of renting their property. For more details, read our guide on Rental fees: what to expect.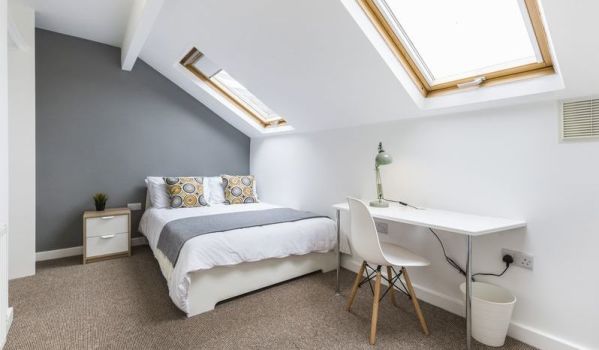 Above: three-bedroom flat to rent in Leeds
4. Pay the deposit
You will need to put down a deposit to secure the property. In England and Wales, your landlord or letting agent is legally obliged to put the money into one of three government approved schemes and, within 14 days of taking it, provide you with a 'receipt' for it.
The deposit will be returned to you at the end of the tenancy if you have left the property in the same condition that you first rented it, allowing for fair wear and tear.
If you and the landlord or letting agent cannot agree on how much of the deposit is withheld, there is a free disputes service available.
For more details on the schemes, read our Deposit protection scheme guide.
There are similar schemes running in Scotland and Northern Ireland.
5. Draw up the inventory
Make sure that the landlord or letting agent draws up a detailed itinerary of the contents and condition of the property. Check that it is accurate and take photographs too. This should be signed and dated by you and the landlord or letting agent when you move in. The inventory will also act as evidence if there is a dispute over the deposit at the end of the tenancy.
And on that note, any changes to contents and furniture in the property should be agreed in writing, signed and dated by the landlord or letting agent.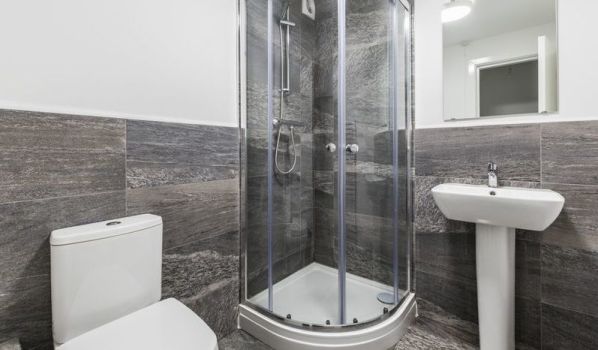 Above: three-bedroom flat to rent in Leeds
6. Sort out the bills
Rent is a significant drain on your finances. But it doesn't end there. You'll need to arrange for a TV licence (one for a joint tenancy, and if you have individual tenancy agreements, then you each need a licence) and pay utility bills. Avoid getting lumbered with the responsibility for footing the bills on behalf of your flatmates by ensuring that all names are registered for each utility.
Did you know that as tenants, you are able to switch utility providers? Hop on to comparison website uSwitch to see how much you can save by swapping gas and electricity suppliers as well as broadband, mobile phone, car and home insurance, credit cards deals, and more.
Students are normally exempt from paying council tax but, if there is a housemate who is not a full-time student, there may be a bill. Find more details, search the Government website.
7. Keep health and safety on the agenda
It is law that your landlord or letting agent must have all gas appliances checked every 12 months and, within 28 days of the annual test, provide you with a copy of the latest Gas Safety Certificate.
Fire alarms should be fitted on every floor of the property, and carbon monoxide detectors must be in any room where solid fuel, such as wood or charcoal, is used.
Meanwhile, the property's Energy Performance Certificate (EPC) must be rated at least 'E'.
Find out more on How to read an Energy Performance Certificate and Energy Performance Certificates.
Finally, make sure your rental property is secure and has effective locks. And have good insurance cover in place. It's also worth checking to see whether your parents' insurance cover can be extended to your belongings.
You may also be interested in...
Our new Smarter Property Podcast is designed to help save you time and money with all your property decisions. Have a listen to the latest episode here:
Do you have any student renting tips? Tell us by posting a comment below...