Looking to settle in the Granite city? When it comes to finding an affordable first home, you don't have to be caught between a rock and a hard place.
When trying to step on to the housing ladder, deciding where you want to live is likely to depend on how much you can afford to spend.
If a move to Aberdeen is on the cards, then Zoopla can help. We've used our data to find the most affordable housing areas in and around the northern Scottish city.
We've taken average house prices and lending patterns to reveal how much a first time buyer needs to earn and save for a deposit and the map, below, shows you the postcode areas that are most affordable.
Most affordable areas for first time buyers in Aberdeen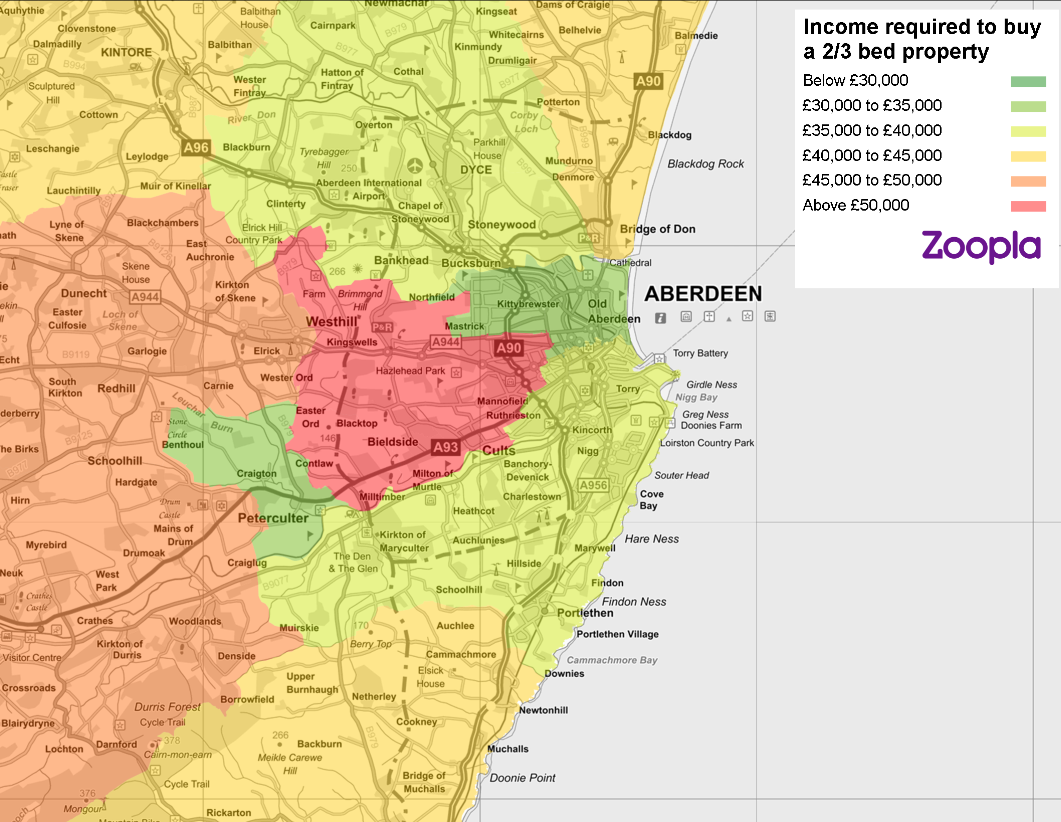 (Click on map for larger version)
Quick stats about Aberdeen:
The average first time buyer property (two-three bedroom house) in Aberdeen and the surrounding area costs £188,547 with the average deposit required being £25,454. The average salary needed from a first time buyer household is £40,773.
The most affordable area is AB16, which comprises of Masterick, Northfield and Middlefield. The average house price for first time buyers in the area stands at £139,987, requiring a deposit of £18,898 and a household income of £30,272.
Further inland, AB14, including Peterculter and Upper Anguston is also one of the more affordable areas of the city. Here, the average first time buyer home costs £157,946 with an average deposit of £21,323.


Lying between the two most affordable areas, and six miles west of the city centre, is the most expensive part of Aberdeen, Milltimber. A decade ago the area was listed as the most expensive postcode in Scotland, but while prices are no longer at that level, the average first time buyer home in Milltimber still costs £289,675.
Most affordable postcode areas in Aberdeen and the surrounding area
| | | | | |
| --- | --- | --- | --- | --- |
| Postcode | Area | Average house price | Average deposit required | Average household income required |
| | Masterick, Northfield, Middlefield | £139,987 | £18,898 | £30,272 |
| | Old Aberdeen, Woodside, Tillydrone | £146,512 | £19,779 | £31,683 |
| | Kittybrewster, Foresterhill, Rosemount | £152,672 | £20,611 | £33,015 |
| | Peterculter, Upper Anguston | £157,946 | £21,323 | £34,156 |
| | Blackburn, Bucksburn, Dyce | £171,426 | £23,143 | £37,071 |
| | Ferryhill, Torry | £171, 554 | £23,160 | £37,099 |
| | Bridge of Dee, Mannofield, Ruthrieston | £172,009 | £23,221 | £37,197 |
| | Altens, Ardoe, Banchory Devenick | £173,286 | £23,394 | £37,473 |
| | Bridge of Don, Danestone, Grandholm | £183,187 | £24,730 | £39,614 |
| | Balmedie, Belhelvie, Potterton | £193,725 | £26,153 | £41,893 |
| | Lumphanan | £214,304 | £28,931 | £46,343 |
| | Kirkton of Skene, Echt | £219,746 | £29,666 | £47,520 |
| | Bieldside, Craigiebuckler, Cults | £253,629 | £34,240 | £54,847 |
| | Milltimber | £289,675 | £39,106 | £62,642 |
How have we calculated it?
By looking at the average price of two-three bedroom homes - the most common type of property purchase for first time buyers in Aberdeen.
We've then taken the average mortgage advance from lenders in the region and worked out both the average deposit required and the amount that needs to be earned based on buyers being able to borrow up to four times their salary.
How can I afford a home as a first time buyer?
Building as big a deposit as possible should be the first step. This allows you to gain a better mortgage rate because you will be borrowing a lower percentage of the overall value of the property.
Try to save a minimum 10% deposit. You may be able to put down less in some cases, but this means your monthly repayments will be higher.
You may also be able to get a leg up from the Government thanks to the Help to Buy equity scheme. Known as the Affordable New Build scheme in Scotland, it requires first time buyers and home-movers to raise a deposit of at least 5% of the property value.
The Scottish Government will then provide an equity loan of up to 15%, so you'll only need to qualify for a mortgage of 80%. It can be used on new-build properties up to £200,000.
Provided your credit score is in good order and your outgoings do not limit your ability to repay a mortgage, banks and building societies will typically lend up to four times your salary. If you are buying as a couple, combining your incomes as it can make a marked difference.
Once you know how big a deposit you have accumulated and understand how much you might be able to borrow, you can assess how much you can afford to spend on a property. Seeking independent mortgage advice could beneficial here with the role of mortgage adviser to find you the best deal possible. You can then get your search underway.
Don't forget that there are other expenses that will crop up along the way, such as solicitor fees and moving costs that will eat into your disposable income. There should not be any hidden fees, but it's worth double checking what you will be liable for as a homeowner, such as ongoing maintenance costs or parking permits.
First time buyers will start paying Land and Buildings Transaction Tax (LBTT) (the Scottish equivalent of stamp duty) on homes worth £175,000 or more. Usually, LBTT becomes payable on properties costing £145,000 or more.
For more help purchasing your first home, read our first time buyer's guides here.
First time buyer affordability in Scotland
As our map, below, shows, there's plenty of opportunity to for first time buyers looking for affordable homes throughout Scotland.
Home become cheaper if you travel north along the coast from Aberdeen to Peterhead and Fraserburgh, or south to Arbroath and Forfar.
Alternatively, heading north west to Elgin and the banks of the Moray Firth brings good value for those seeking a first home.
Edinburgh is one of the priciest areas for those looking to get on the property ladder, but if you don't mind a short commute, then the town of Dalkeith (EH22) to the south east of the city should be worth considering.
Another coastal city providing affordable homes is Dundee, where first time buyers require a household income of less than £23,000 in select areas.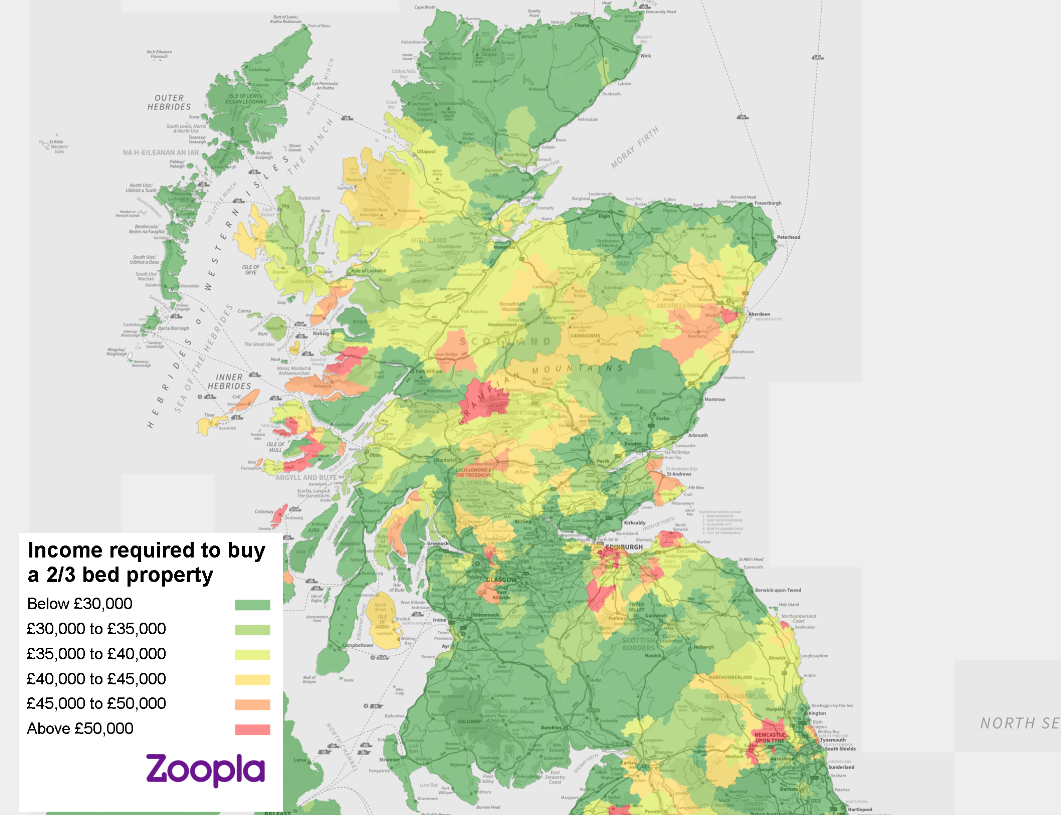 (Click on image for larger map)
First time buyer affordability in the UK
Scotland fares well against the rest of the UK when it comes to affordable housing for first time buyers, as our map, below, shows.
Regions that are similarly valued include the North East, the East Midlands and South Wales.
But it is worth noting that while the UK-wide map might provide a helpful overview, the property market fluctuates on a far more local level and you need to take a closer look at locations, like we've done with Aberdeen, above, to seek out value.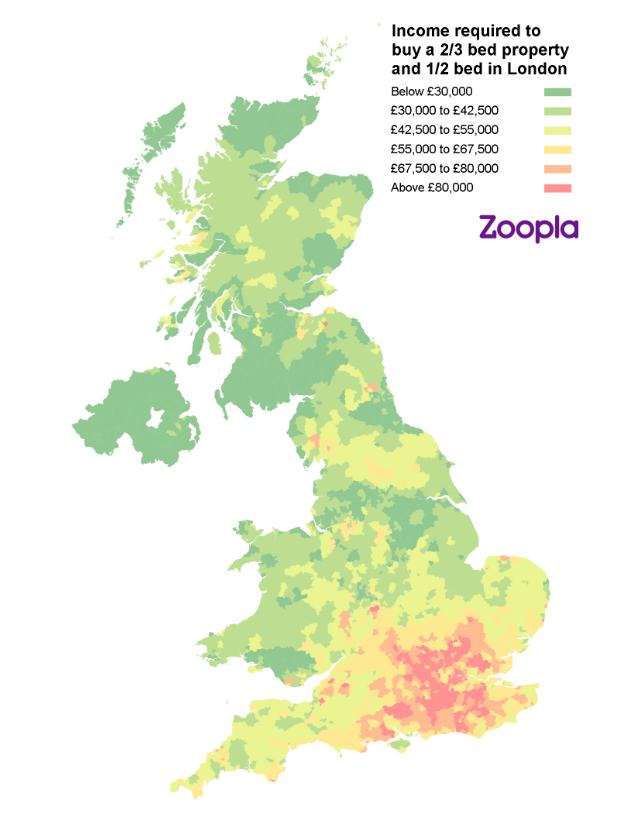 Full methodology: House prices taken from a subset of Zoopla-partner Hometrack's stock valuation database (one-to-two beds for London and two-to-three bedrooms for rest of UK). Median price calculated as of June 2018. Median advance taken by region (c75% for London, c85% outside of London) from UK Finance. Term of Mortgage: 25 years. Interest rate: 2.00%. Loan to income ratio: 4.0. Earnings required for affordability is greater of those required to satisfy loan-to-income threshold or income required to service the mortgage.
You might also be interested in...