If you're on a limited budget and looking for a first home in the North West city, our insight can help you focus your search.
When it comes to buying a first home, it rests on what you can afford based on how much you've saved for a deposit, how much you earn, and how high your outgoings.
But working out the finer details isn't always straightforward, and this is where Zoopla can help. Our data looks at average house prices to show how much a first-time buyer needs to earn and save for a deposit to buy a home in the UK.
If you're looking for the best places to live in Liverpool, our map, below, shows you the areas that are most affordable for first-time buyers.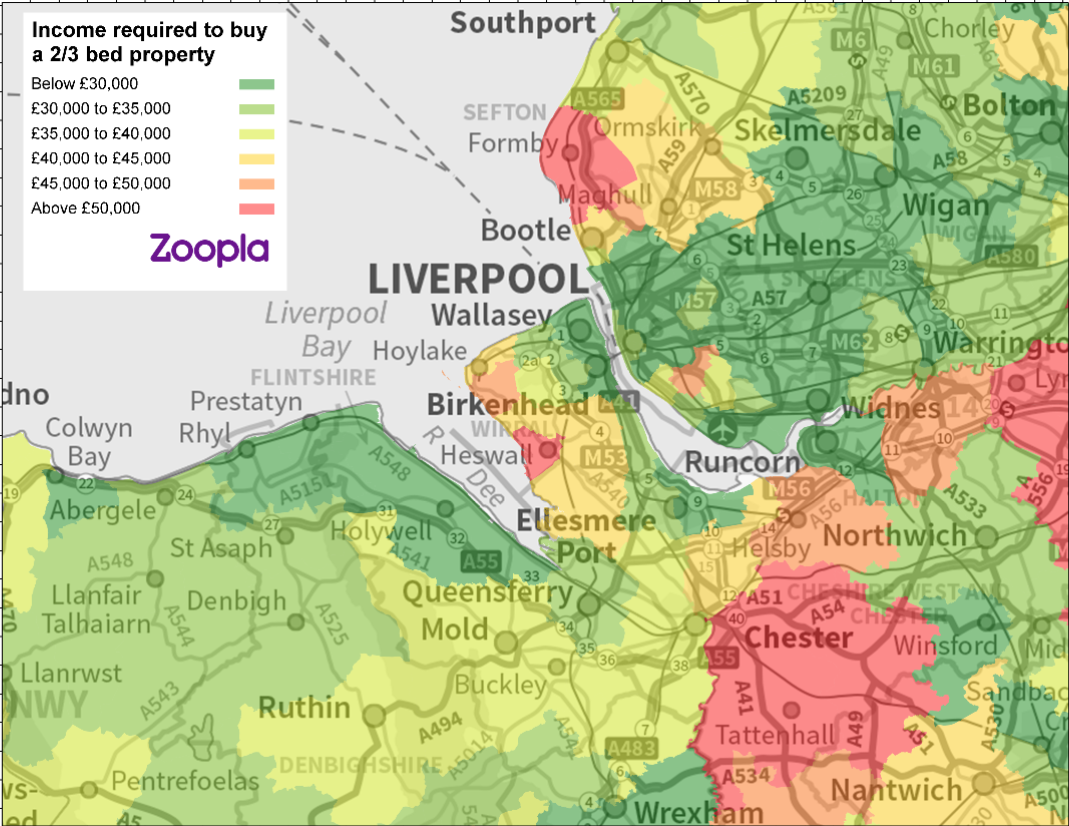 (Click on map for larger version)
Quick stats about Liverpool:
The average first-time buyer property (two-to-three-bedroom house) in Liverpool costs £122,700, with the average deposit required being £16,147.
The average income required from a first-time buyer household is £26,638.


This makes Liverpool one of the more affordable places to live in the country. Banks and building societies tend to lend up to four times salary to prospective homebuyers. Of the 38 postcode districts within the city and the surrounding area, 17 fall under this threshold.


The lowest house price to local earnings ratio is 2.41 in L6, a location that takes in the city centre, Anfield, Everton and Fairfield.


As you can see from the map, above, the more affordable areas are from the banks of the River Mersey, particularly north east towards Wigan and St Helens.
Postcode areas in Liverpool ranked by affordability
| | | | | |
| --- | --- | --- | --- | --- |
| Postcode | Area | Average house price | Average deposit required | Average household income required |
| | Anfield, City Centre, Everton, Fairfield | £66,436 | £8,743 | £14,423 |
| | Anfield, Kirkdale, Walton | £69,022 | £9,083 | £14,985 |
| | Stockbridge Village | £76,799 | £10,107 | £16,673 |
| | Kirkdale | £76,929 | £10,124 | £16,701 |
| | Anfield, Everton, Kirkdale, Vauxhall | £79,570 | £10,471 | £17,275 |
| | Hale, Speke | £87,550 | £11,522 | £19,007 |
| | Netherley | £89,521 | £11,781 | £19,435 |
| | Kirkby | £90,485 | £11,908 | £19,644 |
| | Dingle, Toxteth | £90,523 | £11,913 | £19,652 |
| L11 | Clubmoor, Croxteth, Gillmoss | £92,015 | £12,109 | £19,976 |
How have we calculated it?
We've looked at the average price of two-to-three-bedroom homes - the most common type of property purchase for first-time buyers in all Liverpool postcodes.
We've then taken the average mortgage advance from lenders in the region and worked out both the average deposit required and the amount that needs to be earned based on buyers being able to borrow up to four times their salary.
How can I afford a home as a first-time buyer?
Your first step will be to build up as big a deposit as possible. This allows you to borrow a lower percentage of the overall value of the property and means you can gain a better mortgage rate.
Try to save at least a 10% deposit. While it is possible to put down less in some cases, the compromise is either higher monthly repayments or a longer-term mortgage.
The Government's dedicated Help to Buy schemes are there to help you become a homeowner. For certain property, you can also use the Equity Loan scheme, where the Government will lend you 20% of the purchase price interest-free for the first five years. However, you will only be able to use it on a new-build home valued up to £600,000.
Provided your credit score is in good order and your outgoings to do not limit your ability to repay a mortgage, banks and building societies will lend up to an average of four times your salary. If you are buying as a couple, then combining your incomes could have an impact.
Once you've established how big your deposit is and how much you might be able to borrow, you'll have a good idea of your budget. Then you can start the exciting part of the process and begin house hunting.
Don't forget that there will be other fees that pop up along the way, such as solicitor and moving costs. The good news is that stamp duty land tax is waived for first-time buyers on the first £300,000 of the purchase.
For more help purchasing your first home, read our first-time buyers guides here.
First-time buyer affordability in the North West
First time-buyers looking further afield in the North West can find plenty of options, with alternatives to Liverpool including Manchester, Bradford and Burnley.
(Click on image for larger map)
First-time buyer affordability in the UK
If you're prepared to cast your search further afield, then our first-time buyer affordability map of the UK, will help. There are still plenty of areas where those with household earnings of under £30,000 can afford property.
While the UK-wide map might provide a helpful overview, it's also worth noting that the property market varies on a far more local level and you really need to take a closer look at specific locations, like we've done with Liverpool, above to seek out value.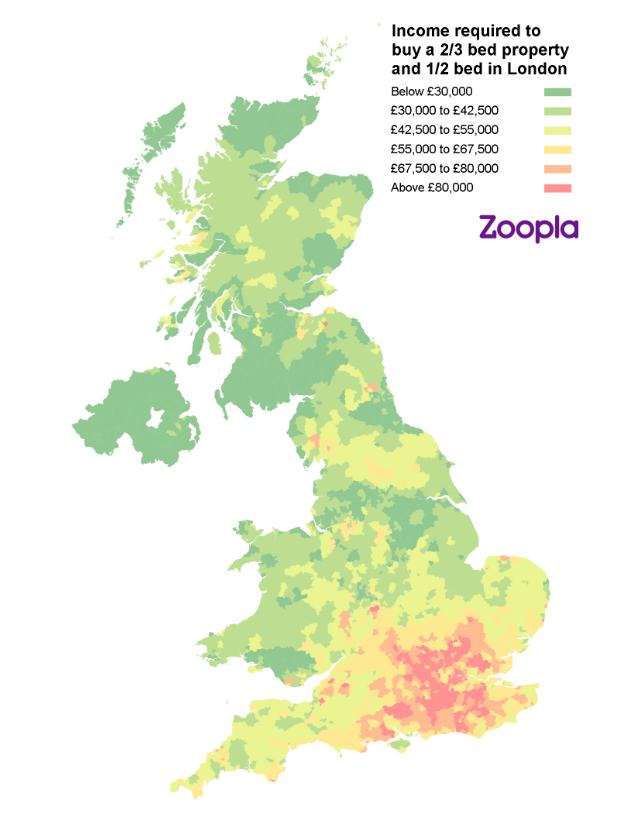 Full methodology: House prices taken from a subset of Zoopla-partner Hometrack's stock valuation database (one-to-two beds for London and two-to-three bedrooms for rest of UK). Median price calculated as of June 2018. Median advance taken by region (c75% for London, c85% outside of London) from UK Finance. Term of Mortgage: 25 years. Interest rate: 2.00%. Loan to income ratio: 4.0. Earnings required for affordability is greater of those required to satisfy loan-to-income threshold or income required to service the mortgage.
You might also be interested in...