Looking to get on to the property ladder in Leeds? Zoopla breaks down the most affordable areas for first-time buyers.
Location is key when taking your first step on to the property ladder. But it can often involve some compromise. If your first choice of area is financially out of reach, where can you look that's both desirable and affordable?
This is where Zoopla can help. Our data looks at average house prices to show how much a first-time buyer needs to earn and save for a deposit to buy a home in the UK.
This means that if you want to buy in Leeds, our map, below, shows you the postcode areas that are most affordable.
Most affordable areas for first-time buyers in Leeds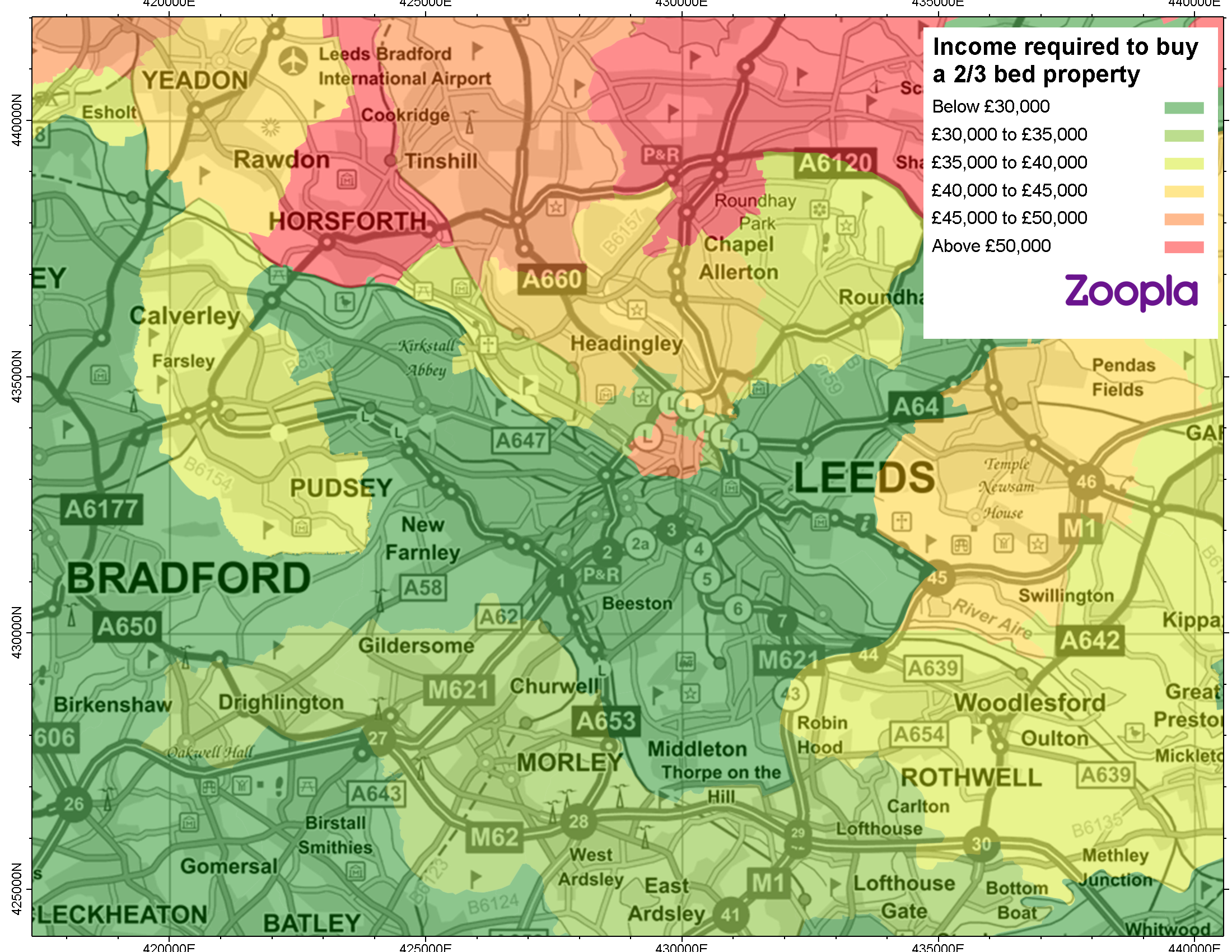 (Click on map for larger version)
Quick stats about Leeds:
The average first-time buyer property (two-to-three-bedroom house) in Leeds costs £179,067 with the average deposit required being £22,383.
The average income needed from a first-time buyer household in Leeds is £39,171.
The most affordable area is LS9, which sits to the east of Leeds city centre and contains Harehills, Osmondthorpe, Burmantofts, Cross Green, East End Park, Gipton, and Richmond Hill. The average house price for first-time buyers in the area stands at £93,345, requiring a deposit of £11,668 and a household income of £20,419.
For purchases closer to the centre of Leeds, try LS3, which covers Woodhouse and Burley, where the average first-time buyer home costs £142,196. The area is home to The Leeds Studios, where ITV's long running soap, Emmerdale, is filmed.
The most expensive options for first-time buyers can be found in Alwoodley (LS17) and the surrounding area, which includes Moortown, Shadwell and Harewood, where the average price is £251,314.
Top 10 most affordable postcode areas in Leeds
| | | | | |
| --- | --- | --- | --- | --- |
| Postcode | Area | Average house price | Average deposit required | Average household income required |
| | Osmondthorpe | £93,345 | £11,668 | £20,419 |
| | Holbeck, Beeston | £96,852 | £12,107 | £21,186 |
| | Hunslet, Belle Isle, Middleton | £117,284 | £14,660 | £25,656 |
| | Armley, Wortley | £121,512 | £15,189 | £26,581 |
| | Seacroft | £124,336 | £15,542 | £27,199 |
| | Bramley | £132,942 | £16,618 | £29,081 |
| | Burley, Woodhouse | £142,196 | £17,775 | £31,105 |
| | Morley, Churwell | £147,841 | £18,480 | £32,340 |
| | Robin Hood, Tingley, Lofthouse | £150,945 | £18,868 | £33,019 |
| | Leeds city centre | £154,577 | £19,322 | £33,814 |
How have we calculated it?
We've looked at the average price of two-to-three-bedroom homes - the most common type of property purchase for first-time buyers in Leeds.
We've then taken the average mortgage advance from lenders in the region, and worked out both the average deposit required and the amount that needs to be earned based on buyers being able to borrow up to four times their salary.
How can I afford a home as a first-time buyer?
Your first step will be to build as big a deposit as possible. This means you will normally have access to better mortgage rates, as you will be borrowing a lower percentage of the overall value of the property.
Aim for a minimum 10% deposit. It is possible to put down less in some cases, but this means your monthly repayments will be higher.
The Government's dedicated Help to Buy schemes can help you build a deposit. With the Equity Loan scheme, for example, the Government will lend you 20% of the purchase price interest-free for the first five years. It is only available on new-build homes up to a value of £600,000.
Provided your credit score is in good order and your outgoings do not limit your ability to repay a mortgage, banks and building societies will typically lend up to an average of four times your salary. If you are buying as a couple, then combining your incomes can make a difference.
Knowing how big your deposit is and understanding how much you might be able to borrow means you can assess how much you can afford to spend on a property. You can then begin your search.
Keep in mind that there are other buying expenses that will crop up, such as solicitor fees and moving costs. The good news is that stamp duty land tax is waived for first-time buyers on the first £300,000 of the purchase.
For more help purchasing your first home, read our first-time buyers guides here.
First-time buyer affordability in Yorkshire and Humberside
There are other areas in the wider Yorkshire and Humberside region where borrowing four times average earnings will be enough for first-time buyers to take an initial step on to the property ladder.
Bradford to the west of Leeds offers opportunities, with both the BD3 and BD1 postcodes affordable for first-time buyers, as borrowing is only three times average income.
Further afield, Grimsby and Doncaster are strong alternatives for first-time buyers. A typical two- or three-bedroom property in Grimsby's DN31 postcode will cost £60,633, requiring an income of £13,263. In Doncaster (DN1), where average prices stand at £68,441, you'll need a household income of £14,971.
While the likes of Harrogate and York are on the pricey side, Huddersfield to the south west of Leeds has great options for first-time buyers and is also within commuting distance of the city. Further afield to the east of Leeds, Hull, Bridlington and Scarborough are all viable options.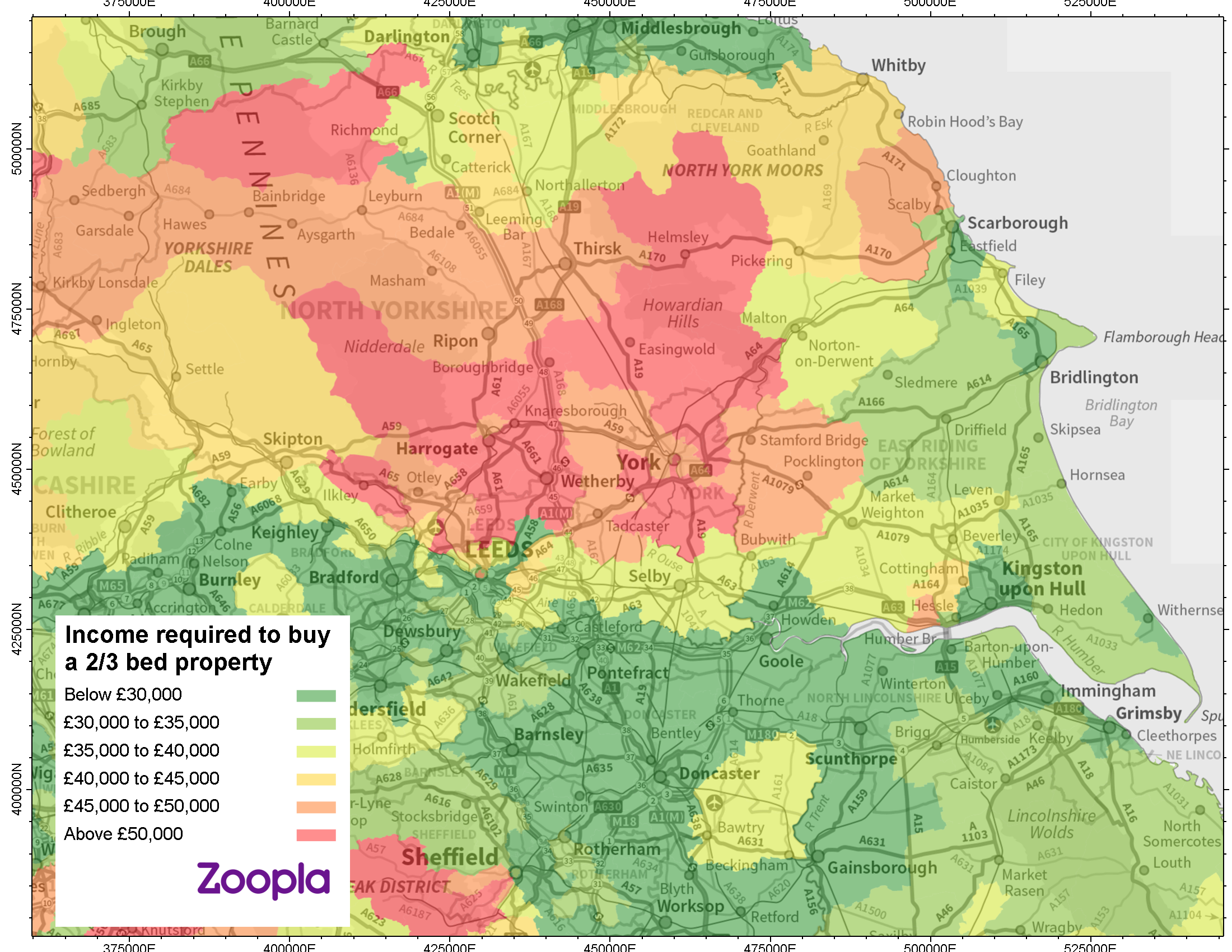 (Click on image for larger map)
First-time buyer affordability in the UK
If you're prepared to cast your search further afield still, then our first-time buyer affordability map of the UK will help.
There are other affordable alternatives to the Yorkshire and Humberside if you head into the West Midlands or the North West.
It's also worth noting that while the UK-wide map might provide a helpful overview, the property market varies on a far more local level and you really need to take a closer look at locations, like we've done with Leeds, above, to seek out value.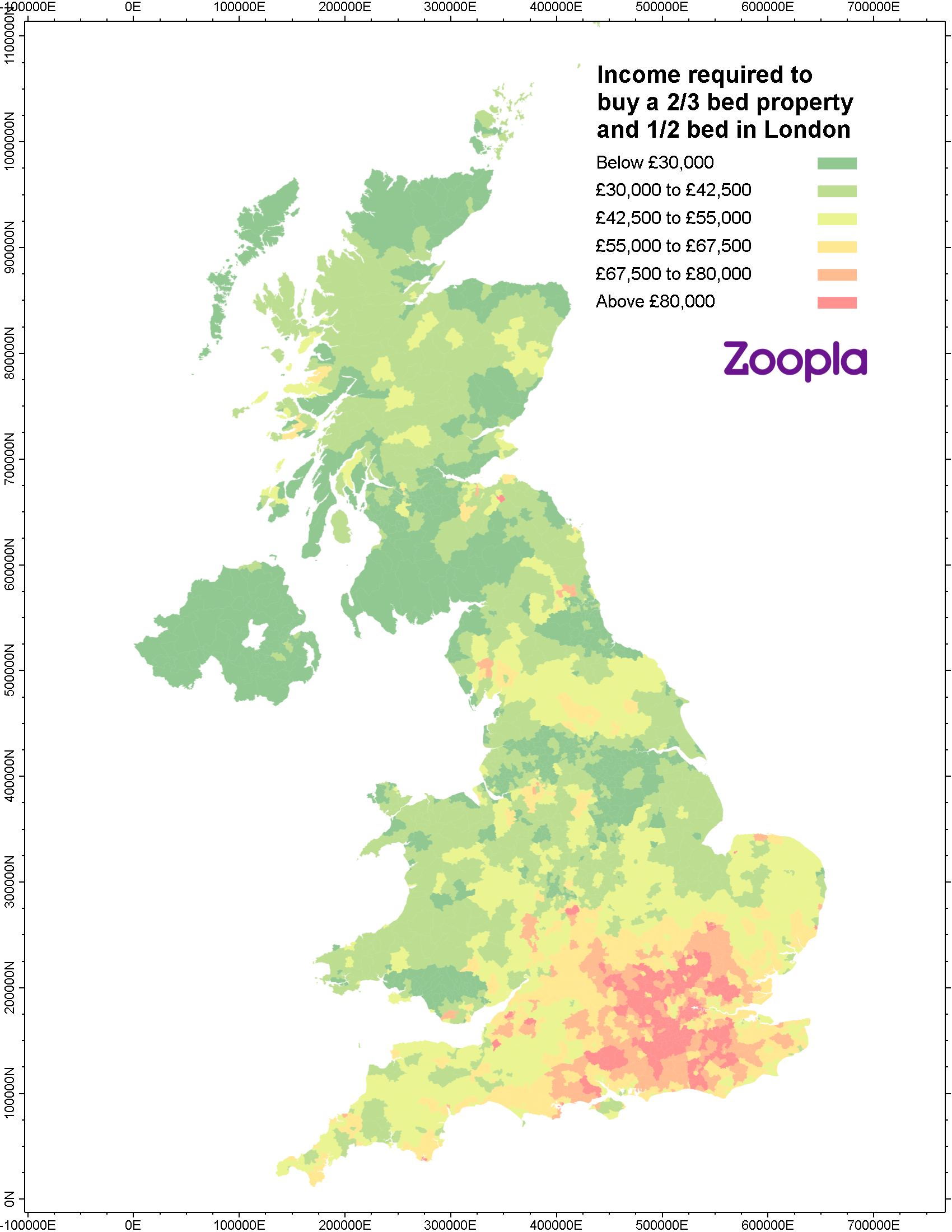 Full methodology: House prices taken from a subset of Zoopla-partner Hometrack's stock valuation database (one-to-two beds for London and two-to-three bedrooms for rest of UK). Median price calculated as of June 2018. Median advance taken by region (c75% for London, c85% outside of London) from UK Finance. Term of Mortgage: 25 years. Interest rate: 2.00%. Loan to income ratio: 4.0. Earnings required for affordability is greater of those required to satisfy loan-to-income threshold or income required to service the mortgage.
You might also be interested in...