Located in the heart of London's Tufnell Park, the eight-bedroom Victorian property has a £3.8m price tag.
A sprawling period property where TV sitcoms Spaced and Black Books were filmed is up for sale in the heart of London's Tufnell Park.
What's the property like?
This is no ordinary property, as you might have guessed. It offers a whopping 4,600 sq ft of living space set across five floors. This is in stark contrast to a typical new-build home, which now averages a miserly 730 sq ft.
The eight-bedroom Victorian property has sweeping period features, including original fireplaces, textured ceilings and enormous sash windows. And there's some eye-catching colour schemes too, including burnt orange, mustard yellow, bright blue and green.
The Grade II-listed property comprises a self-contained flat on the lower ground floor and a house, which opens on to the ground floor. Plus, there's an 80 ft garden out the back.
Where is it?
The property is on Carleton Road in the heart of London's Tufnell Park.
How much is it on for?
It costs £3.8m with Century 21 in Islington. The price-tag is thought to have been reduced from £4m earlier this year.
Still, it's significantly above the £617,394 average local property value, according to Zoopla. Prices have climbed by £161,742, or 35.5% over the last five years.
The most expensive roads in the area are:
What is interesting about the property?
The property provided the setting for TV sitcom Spaced, which traces the footsteps of Tim (Simon Pegg), a comic book artist, and Daisy (Jessica Hynes, née Stevenson), an aspiring writer.
Together, they decide to masquerade as a professional couple to secure a relatively cheap flat and keep on the right side of their landlady, Marsha.
So when the self-contained flat hit the rental market in real life for £1,993 per month in 2015, Spaced actor Pegg sent a tongue-in-cheek tweet:
Professional couple only. http://t.co/MUpwnrkKm4. (CF)

— Pegg News (@simonpegg) July 10, 2015
Pegg and Edgar Wright, who directed Spaced, went on to create 2004 British horror comedy film, Shaun of the Dead. In 2007, the pair were reunited on action comedy, Hot Fuzz. And more recently, they worked together on The World's End, a film based on a pub crawl.
The Tufnell Park property was also used to film Black Books, starring Dylan Moran, Tamsin Greig and Bill Bailey. The show followed eccentric bookshop owner Bernard Black and his long-suffering assistant Manny.
Like the look of the area? Here's what else is up for sale nearby: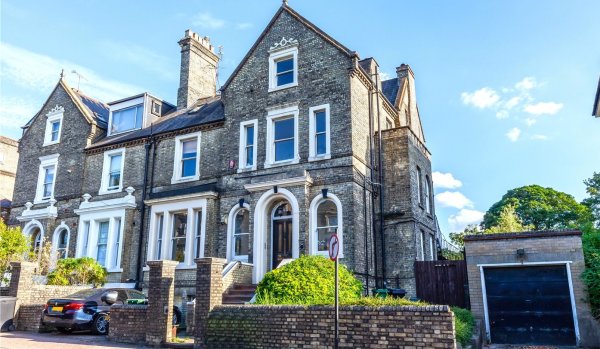 With 4,145 sq ft of living space, this is another socking great big property. It comes with nine bedrooms, a south-facing garden, off-street parking and potential to extend even further.
Available via Winkworth and Prickett & Ellis.
2. Two-bedroom property on Carleton Road, north London, for £775,000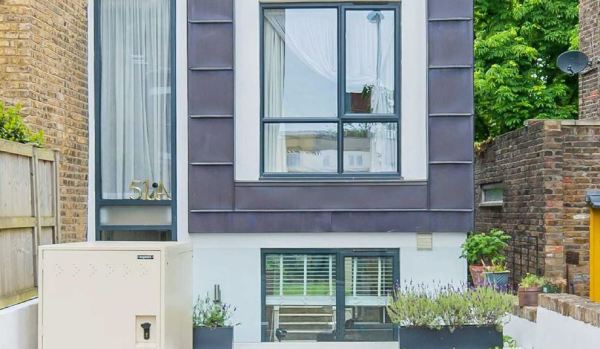 This unusual-looking modern home offers compact open-plan living space. There's direct access to a private garden and off-street parking too.
Available via Dexters.
You may also be interested in...
Five ways to identify a Victorian home