Single and want to step on to the housing ladder? Here are the 10 best places to snap up a one-bedroom flat.
Aspiring homeowners who are single should head north, with nine of the top 10 most affordable places for solo buyers located in northern England.
Sunderland tops the chart for the cheapest place in which to purchase a property on your own, with the average one-bedroom flat costing just £53,316, according to Zoopla data.
Single homeowners who purchased a property here would only need to spend £201 a month on their mortgage repayments, assuming they put down a 15% deposit and had an interest of 2% on a 25-year loan - equivalent to just 9% of the average local monthly wage.
North Tyneside is the second most affordable local authority, with homes typically costing £66,573 and mortgage repayments taking up 10.7% of local pay, followed by Wakefield at £69,154 or 11.53% of earnings.
Blackpool and Wirral completed the top five, with mortgage repayments on a typical starter home accounting for less than 12% of average local salaries.
Annabel Dixon, spokesperson for Zoopla, said: "Getting on the property ladder can be challenging, and those buying on their own will no doubt feel this even more acutely.
"Our findings provide single buyers with guidance on where to fall in love with homes that won't break the bank."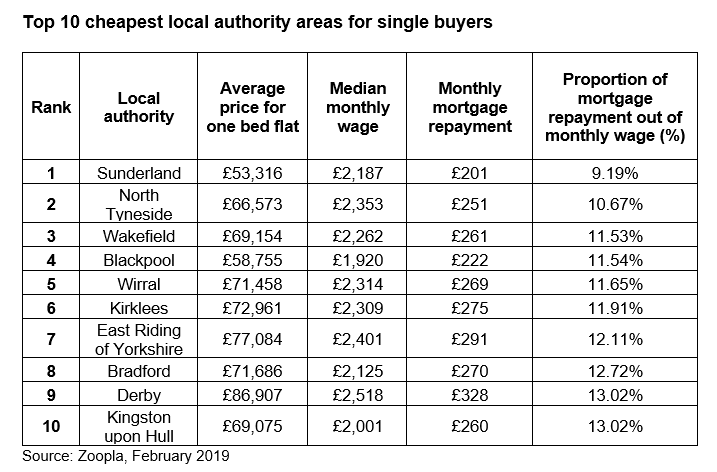 Which areas are least affordable?
Unsurprisingly, the 10 most expensive local authorities for single first-time buyers outside of London, are all in the south.
Hertsmere in Hertfordshire is the least affordable, with a one-bedroom flat costing £260,441, the equivalent of 35.07% of monthly local pay.
Brighton and Hove is not much better, with single first-time buyers there likely to have to hand over 34.37% of their earnings in mortgage repayments, followed by Watford at 33.61%, Spelthorne at 33.5% and Oxford at 32.3%.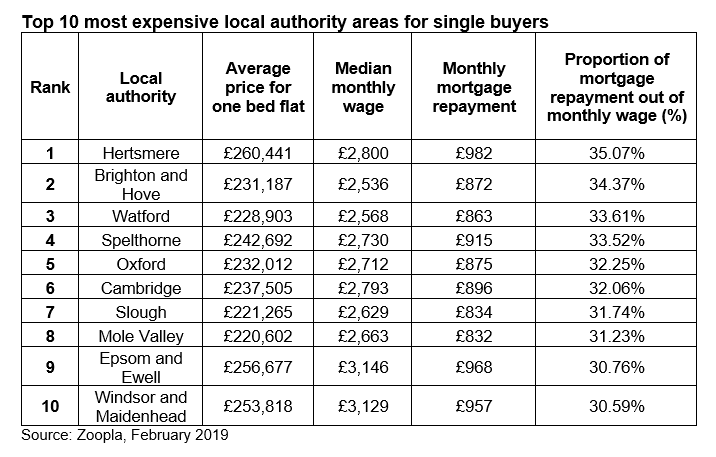 What about London?
Those looking to buy a property on their own in London should head to the border boroughs, as these tend to be the least expensive.
Bexley is the most affordable place in the capital in which to purchase a one-bedroom flat at £205,730, with mortgage repayments equivalent to 27.76% of the average monthly wage.
Mortgage payments on a starter home in Havering and Bromley would take up 29.11% and 29.85% of income respectively.
But at the other end of the scale, a solo buyer in Kensington and Chelsea would have to part with 77.69% of their salary to afford repayments on a typical one-bedroom flat costing £744,596.
The situation is not much better in the City of London, where mortgage costs would be the equivalent of 66.46% of local earnings, and Hackney at 63.41%.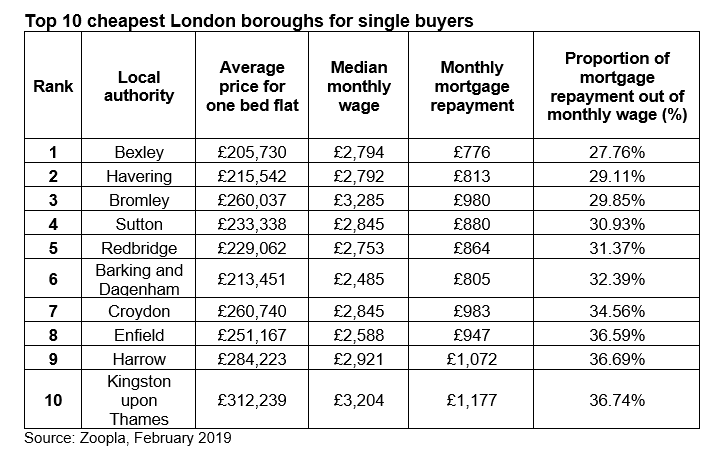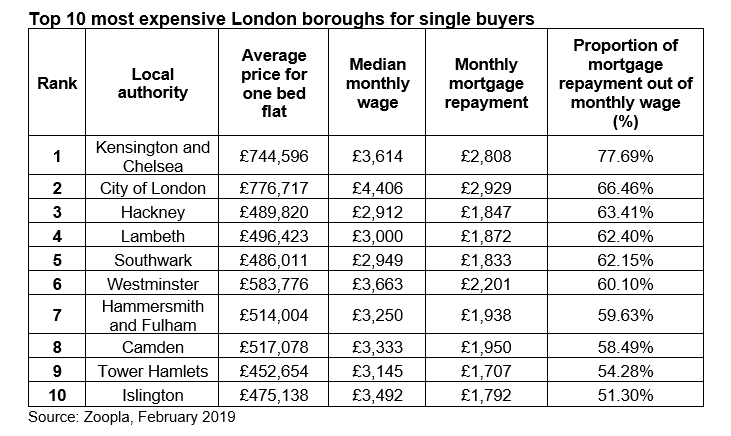 How do the different regions fare?
The North East of England is the most affordable region is which to get on to the property ladder on your own, with monthly mortgage repayments coming in at an average of 14.5% of local pay.
The East Midlands and Yorkshire and Humberside also offered good value at 14.6% and 16.1% respectively.
But single first-time buyers in London would have to set aside 55.3% of their income for mortgage costs, nearly double the amount needed for the second and third most expensive regions of the East of England at 26.9% and the South East at 25.3%.
Top 3 takeaways
Nine of the top 10 most affordable locations for solo buyers are in northern England
Sunderland is the cheapest place in which to purchase a property, with mortgage repayments on a one-bedroom flat accounting for just 9% of local monthly pay
Bexley is the most affordable place in London in which to buy a home on your own with repayments of 27.76% of local salaries
You may also be interested in...
Are you an aspiring homeowner looking to buy on your own? Tell us where you'd like to put down roots by posting a comment below...