But critics of the scheme point out that one in five people use it to 'upsize' their home.
The Government's Help to Buy equity loan scheme has been declared an "unmitigated success" for enabling more than 170,000 households to purchase a home.
The Home Builders Federation (HBF) said 81% of those assisted had been first-time buyers, while the scheme had led to a 74% jump in housing supply since it was launched in 2013.
But other commentators are less convinced, pointing out the scheme has been used by better-off households trading up the property ladder.
There have also been complaints that the Help to Buy equity loan has inflated house price growth, creating significant affordability issues for buyers not using the scheme.
Meanwhile, the Government is reported to be considering whether to close the scheme in 2021, when funding is due to end, or change it to ensure only first-time buyers benefit.
Why is this happening?
The Help to Buy equity loan scheme is part of a package of Government measures to help people buy property.
It enables people to purchase a new-build home with just a 5% deposit, with the Government contributing an interest-free equity loan of 20%, rising to 40% in London, for the first five years.
But one out of five people who use the scheme are not first-time buyers, suggesting more than 32,000 people have used it to buy a bigger home.
Government figures also show that 30% of all completions made using the scheme have been for detached properties, while 15% of homes have cost more than £350,000, with 3% costing between £500,000 and £600,000 – the upper price limit for homes bought under the scheme.
At the same time, the household income of 10% of those who have benefitted from an equity loan is more than £80,000 a year.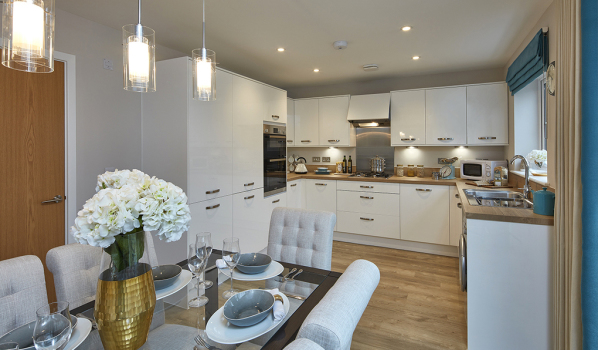 Above: three-bedroom property for sale at Quedgeley, Gloucester
Who does it affect?
While the Help to Buy scheme has undoubtedly enabled many people to get on to the property ladder, there are concerns that it has inflated house prices, particularly for new-build homes.
Critics claim that by offering buyers an interest-free 20% loan, the Government has boosted housing demand at a time when it would normally slow due to stretched affordability, enabling property values to continue to rise.
Morgan Stanley produced a report last year in which it claimed Help to Buy had led to new-build property prices increasing by 15% more than those of existing homes since 2013, when the scheme was introduced.
As a result, it is argued that Help to Buy has actually made homeownership more expensive.
What's the background?
The Government is coming under increasing pressure to clarify whether the scheme will be replaced or extended beyond 2021.
Housebuilder Redrow has called on the Government to make the scheme permanent, adding that if it was scrapped demand for affordable housing was likely to increase.
But other reports suggest the Government is considering carrying out a fundamental review. It is said to be considering a temporary extension of the scheme to avoid disruption, but it may limit it to first-time buyers.
Top 3 takeaways
The Government's Help to Buy equity loan has enabled more than 170,000 households to purchase a home
HBF said the scheme had led to a 74% jump in housing supply since it was launched in 2013
But one in five people benefitting from the equity loan have used it to trade up the property ladder
You may also be interested in...
Phil Spencer's first-time buyer advice:
Have you used Help to Buy equity loan to get onto or up the housing ladder? Tell us by posting a comment below...