Next generation: first-time buyer deposits could be set to leap by nearly 60% over the next 10 years, says research from mortgage broker, London & Country.
What's the latest?
First-time buyers will need a deposit of more than £80,000 to get on to the property ladder by 2027.
The average amount put down by people buying their first home is expected to soar from £51,821 today to £81,468 in a decade's time, according to calculations by L&C Mortgages.
But buyers in London are expected to be worst affected, with the amount they need to save jumping by 75% to a massive £244,842.
David Hollingworth, of L&C Mortgages, said: "Pulling together a deposit continues to represent one of the single biggest challenges and these forecasts will make frightening reading for aspiring first-time buyers.
"As a result, the Bank of Mum and Dad will no doubt continue to play an important role for those attempting to get on the ladder."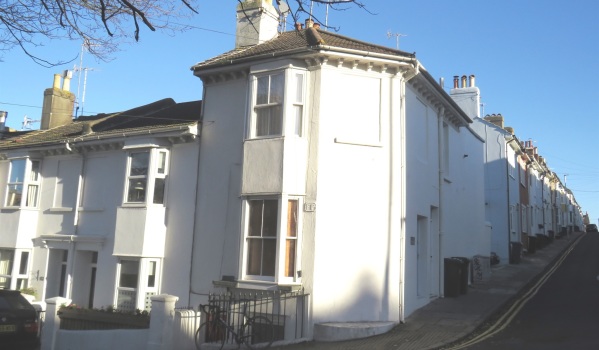 Why is this happening?
The main factor driving the predicted 60% increase in the average deposit is rising house prices.
But as property prices increase, the proportion of a home' value required as a deposit will also be raised to keep mortgage payments affordable, said L&C.
In this case the broker estimates that, by 2027, first-time buyers will need deposits equivalent to 28% of the value of the home they are buying.
Do you qualify for the Chancellor's first-time buyers' stamp duty break? Check out our Q&A
Who does it affect?
First-time buyers in London will suffer the biggest financial blow with deposits in the next 10 years rising by 75% to a whacking £244,842, says L&C (see table below).
They are followed by those trying to get on to the property ladder in Brighton and Hove who will face a 62% jump to £125,280, while those in Bristol will need £92,062, which is 59% more than they must raise now.
Deposits are expected to go up by at least 40% in all of the 17 cities the group looked at.
Liverpool will be the most affordable place in which to buy a home in 2027, although first-time buyers will still need an average of £30,716 to put down. It's followed by Glasgow at £32,291.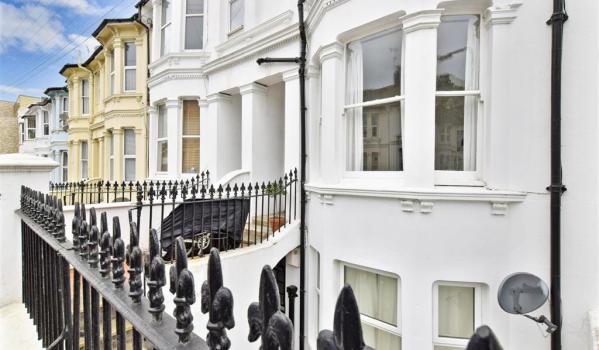 Sounds interesting. What's the background?
There is a significant shortfall between the average deposit first-time buyers think they will need and the typical sum put down.
L&C found that people hoping to obtain their first home in the coming 10 years estimated they would need £35,402 – significantly below the current figure of £51,821. Worse still, they'd only actually managed save an average £16,436 to date.
Overall, potential buyers estimate it will take them three years and eight months to save the full amount they need, although 24% of people admitted they had not yet saved anything.
First-time buyers expected 44% of their deposit to come from their own savings, with a further 15% coming from a Help to Buy ISA and 6% coming from a Lifetime ISA.
But around 11% of the total is likely to be contributed by parents or other family members, while 6% will come from an inheritance.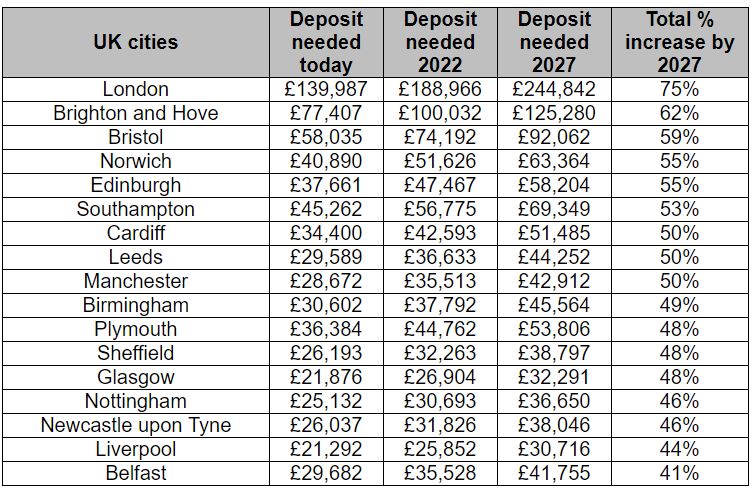 Source: L&C Mortgages Research (compiled by Opinium)
Top 3 takeaways
In 10 years' time, first-time buyers will need average deposits of £80,000
Average deposit is set to soar from £51,821 to £81,468
London deposits are expected to jump by 75% to a massive £244,842
You might also be interested in...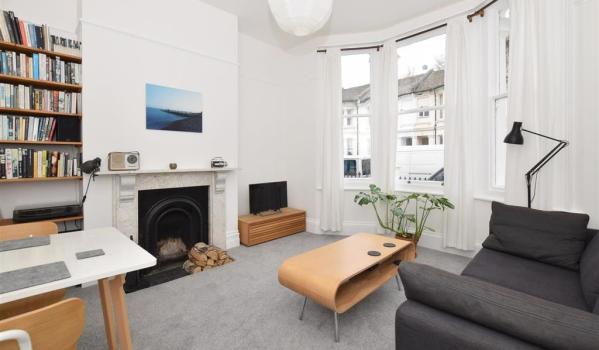 What's your reaction to L&C's findings? Tell us by posting a comment below...