The proportion of buyers who get gazumped has fallen by 11% in the past year.
What's the latest?
The number of people who have been gazumped has fallen during the past year as Brexit uncertainty makes potential buyers more cautious.
One in four people who purchased a property in the past 12 months were gazumped, down from 36% in 2017, according to online estate agent Emoov.co.uk.
Gazumping refers to the practice where a seller accepts an offer from one buyer, only to reject it later in favour of a higher offer from someone else.
It is typically prevalent in buoyant property markets when demand outstrips supply, leading to significant competition between potential buyers.
Why is this happening?
Although the number of homes for sale remains close to record lows, there has been a fall in demand from potential buyers in recent months due to a combination of the uncertain economic outlook as a result of Brexit and stretched affordability.
This caution has created a buyers' market, in which people are no longer having to compete against each other for properties, but rather sellers are more likely to have to accept an offer below their asking price in order to secure a sale.
Unsurprisingly in these conditions, fewer buyers are prepared to put in an inflated offer for a property.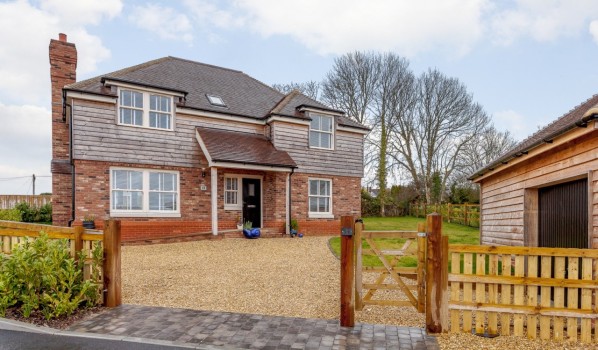 Above: This newly-built four-bedroom family home near Ryde, Isle of Wight, is up for grabs at £450,000.
Who does it affect?
There is significant regional variation in where gazumping is happening.
The problem is worst in London, where 66% of buyers have suffered from the practice in the past year.
It has also been an issue for 22% of people in the north east and 21% in both the north west and Midlands, areas where the housing market remains relatively buoyant.
But only 7% of people have been gazumped in the south east, where house prices are falling.
People aged between 25 and 34 are more likely to have been gazumped than other age groups, which may reflect competition for properties at the bottom of the housing ladder among first-time buyers.
While not illegal, the practice of gazumping is widely frowned as it can lead those who had previously had an offer accepted thousands of pounds out of pocket.
The Government is looking to introduce measures to help reduce the number of people who fall victim to gazumping by bringing in 'voluntary reservation agreements'.
The practice is less common in Scotland as properties are normally taken off the market once a price has been agreed, while solicitors have to decline to act for the seller if they accept a later offer from a different buyer, unless the original sale has fallen through.
Top 3 takeaways
You might also be interested in...