If you're looking to buy your first home, here's how the Government's latest measures on Stamp Duty and Help to Buy could affect you.
Following Chancellor Philip Hammond's 2018 Budget, here's the two main announcements that are set to benefit first-time buyers.
Stamp Duty relief for first time buyers extended to shared ownership
In the Chancellor's last budget, Stamp Duty Land Tax (SDLT) relief was introduced for first-time buyers. The exemption has already helped 121,000 first-time buyers.
Now the tax relief is being extended to first-time buyers in England and Northern Ireland that are purchasing shared ownership property up to the value of £500,000.
When the initial relief was implemented in 2017, shared ownership buyers were only given the option to be taxed on the full market value of the property (up to £500,000), instead of just paying tax on the share they were buying.
If the market value of the property they were buying a share in reached more than the allotted £500,000, then they did not qualify for the reduction at all.
Shared ownership buyers also had the option to use their first-time buyer exemption on the first share of the property that they bought.
However, if they later chose to buy a bigger share of the property, they would have had to pay the full rate stamp duty (even if payments were less than £300,000).
The change comes immediately into effect and also be applied retrospectively, so any eligible first-time buyer who has made a purchase since the last Budget can claim a refund.
Kevin Roberts, Director of Legal & General Mortgage Club believes it's a positive step forward. He said: "This extension to Shared Ownership properties of up to £500,000 is very welcome news for buyers up and down the country - even better to hear that it will be applied retrospectively for homeowners since the last Budget.
"The Government clearly recognises the benefits of Shared Ownership as a genuine option for individuals, couples and families who want to become homeowners.
"Hopefully, this exemption will bring about even more awareness of the scheme and make it as widely recognised as other high-profile tenures such as Help to Buy."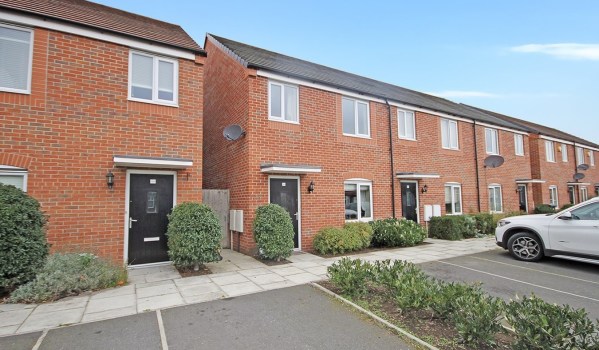 Above: This three-bedroom terraced house in Latchford, Warrington, is available for 60% shared ownership at £96,000.
Help to buy equity loan update
Following the success of the The Help to Buy Equity Loan, which was introduced in 2013, the Government has revealed a new version of the scheme.
The new Help to Buy Equity Loan will only be offered to first-time buyers and starts in April 2021, running for two years before closing in March 2023.
Diverging from the original scheme, it will only be available for property with a market value up to new regional price caps (see table below). The caps are set at 1.5 times the current forecast regional average first-time buyer price and will reach a maximum of £600,000 in London.
New Help to Buy regional property price caps
| | |
| --- | --- |
| Region | Price cap for properties eligible for Help to Buy Equity Loan scheme from April 2021 to March 2023 |
| North East | £186,100 |
| North West | £224,400 |
| Yorkshire and The Humber | £228,100 |
| East Midlands | £261,900 |
| West Midlands | £255,600 |
| East of England | £407,400 |
| London | £600,000 |
| South East | £437,600 |
| South West | £349,000 |
The government invested around £22bn in the original version of the scheme and it has helped up to 360,000 households become homeowners.
With conditions in the property market having changed substantially since its introduction, the government has no further plans to extend the Help to Buy Equity Loan scheme after March 2023.
Roberts suggests that the announcement has provided much needed clarity over the future of the scheme, saying: "Not only do house builders now have more certainty for longer-term planning and building the thousands of new homes our country so desperately needs, but it also gives potential buyers who are saving for a deposit the peace of mind that they too can benefit from the scheme over the coming years."
You might also be interested in...