In the market for a flat in the capital? More buyers are waiting to see if 'inflated prices' come down before making their move.
What's the latest?
The number of flats sold in London has halved during the past year as first-time buyers delay purchasing in the hope of getting a better deal.
Only 2,494 flats changed hands in the capital in July, down from 4,709 in the same month of 2016 – a 49% drop, according to research from estate agents, James Pendleton.
The group warned that London flats had been overvalued for at least three years and buyers were now waiting for prices to come down to more realistic levels.
Lucy Pendleton, founder director of James Pendleton, said: "A reality check is in the offing after such strong growth in London."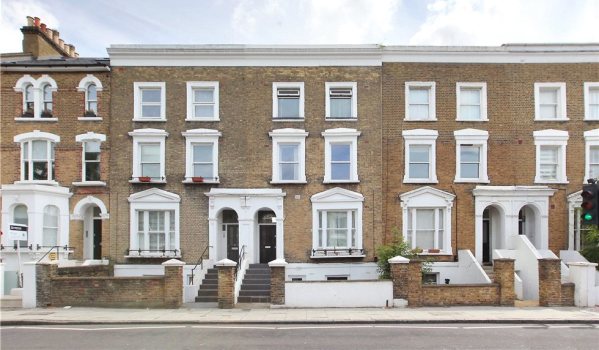 Above: This two-bedroom flat in Wandsworth Common, London, with its own garden and a share of the freehold is on the market for £450,000 after being reduced from £499,950
Why is this happening?
Strong house price growth in London in recent years has left affordability for first-time buyers increasingly stretched, with many people likely to find themselves priced out altogether.
But the London market has cooled significantly since higher stamp duty rates on second homes were introduced, with Nationwide Building Society recently reporting house prices in the capital had fallen for the first time in eight years.
Many potential first-time buyers who would have been stretched to make a purchase in London, now appear to be waiting to see if property values fall further.
Who does it affect?
First-time buyers are often described as the lifeblood of the housing market, and a lack of activity from this group impacts the entire property chain.
Existing homeowners need to be able to sell their properties to first-time buyers in order to trade up the property ladder themselves.
But those selling properties at the bottom end of the market may not be able to reduce their prices to secure a sale, as that may mean they cannot afford their next step up the property ladder.
Above: A freshly converted top-floor, one-bedroom flat in North Finchley, London, previously up for sale at £375,000, but now reduced to £325,000
Sounds interesting. What's the background?
While the sale of flats dived year-on-year, other property transactions were also down, though not by quite as much.
The number of detached properties changing hands was 5% lower, while transactions of terraced homes dropped by 8%.
Semi-detached properties were the least affected by the slowdown, with sales falling by just 1%.
During the same period, the average sales price of flats rose by 2%, while the cost of terraced house was 3% higher, but agreed prices on houses dropped by 5%.
Despite the cost of flats rising by 2%, the typical first-time buyer who went ahead with a transaction borrowed 8% more than they had done a year earlier.
Would-be homeowners should also be aware...
The Chancellor is apparently considering a cut to stamp duty for first-time buyers in his upcoming Budget (Wednesday 22 November).
Richard Donnell, insight director at Zoopla's data company, Hometrack, said that, should it come to fruition, such a measure is, "likely to provide modest support for first-time buyer demand, but will have limited impact on house prices".
He added: "Stamp duty is just one consideration impacting the ability of first-time buyers to access the housing market. Mortgage affordability testing remains a major hurdle for renters looking to transition into home ownership, as well as stamp duty."
The number of first-time buyers in London has fallen by 12% since 2014 to 42,400 in the past 12 months.
Richard went on: "If the budget were to cut stamp duty to a flat 1%, then our analysis shows this would save first-time buyers in the capital an estimated £340m per annum, out of a total annual stamp duty bill across the UK of £8.6bn, representing a 4% reduction in total stamp duty receipts."
Top 3 takeaways
You may also be interested in…
Are you waiting for house prices to drop further before stepping on to the property ladder? Tell us by posting a comment below...