Zoopla's annual State of the Nation report, a real-time snapshot of consumer and industry views on the property market, has landed. Here are our key takeaways.
From the post-Brexit economy, to expectations of estate agents – Zoopla has gathered the views of 4,000 homeowners and renters, and more than 300 estate and letting agents, to glean their views on the state of the British property market.
The results, compiled during August 2017, were discussed last month by a panel of experts in six webinars hosted by Zoopla ambassador, Phil Spencer.
We've rounded up the survey's findings.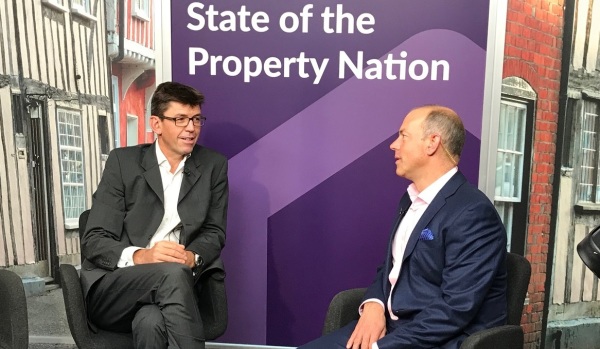 Above: Phil Spencer (right), with Gareth Helm, ZPG's chief marketing officer, during one of the webinars
Brexit is starting to bite
Just under a third (31%) of consumers now feel positive about the economy – an 11% decline on Zoopla's 'State of the Property Nation' survey in 2016.
Respondents living in the north and those aged over 45 were among those who showed the biggest dip in economic confidence
Agents report that dealing with the impact of Brexit is more of a challenge than acquiring housing stock
Mixed feelings about the future of property prices
Half (50%) of consumers believe property prices will rise in the next 12 months – up by 14% from 2016 – despite greater negative sentiment about the economy.
But fewer agents (40%) share this optimism. The number believing property prices will drop has risen by 17%.
People have changed their spending habits post-Brexit
In general, those surveyed reported they felt more in control of personal finances, as they have been making changes to the way in which they spend in the wake of Brexit. For some this includes putting off moving home.
When asked about the stability of their personal finances, 50% said they felt either 'somewhat confident' or 'very confident' about the year ahead.
More than a quarter (28%) of those surveyed said they had 'put off' buying big ticket items, such as holidays, up from 26% in 2016
Nearly half (49%) said they were 'more realistic' about items they bought, compared to 43% last year
How are people selling?
When quizzed on factors they considered important when selling a home, 57% of those surveyed said agents should be 'transparent about fees and the selling process'. Just over half (52%) wanted agents to negotiate the best price for their property while 51% were seeking value for money.
Unsurprisingly, given that selling property is one of life's biggest financial decisions, the survey found that just over a third (37%) wanted their home sold quickly, but the majority preferred more time to 'settle at the right price'.
17% of recent sellers in the last two years used an online-only agent when they sold, while 75% used a high street agent
Of the 17% of recent sellers who used an online-only agent, 71% successfully sold property through them
Awareness of online agents has increased by over a quarter during the past year, with 91% of those surveyed reporting they had heard of them, a jump on last year's 70%
High street agents' strengths were cited as being their local knowledge of their neighbourhood's property market, valuations and customer service, along with advice on maximising a home's value
Online agents were rated highly by users for their low and transparent fees, value for money, and help and support throughout the whole move
You might also be interested in...