Growth in the British property market has been marginal at 1.02% since the start of the year, but towns from far-flung corners of the country have bucked the trend.
Only one town in Britain saw double-digit growth in property values in 2018, according to the latest research from Zoopla.
The top spot went to Ryde on the Isle of Wight which saw home values soar by 10.24%, more than 10 times the national average, to stand at £242,016.
Proving how much influence local factors can have over values, a diverse mix of towns from up and down the country made the top 10.
The Midlands town of Smethwick sits in second spot, as property prices rose by 9.67% to reach an average of £163,627.
Meanwhile the market town of Diss, Norfolk, takes third spot with values increasing by 7.89% in the last 12 months, bringing the average property price to £311,486. Take a look at the complete top 10 towns, complete with our insights on each, below...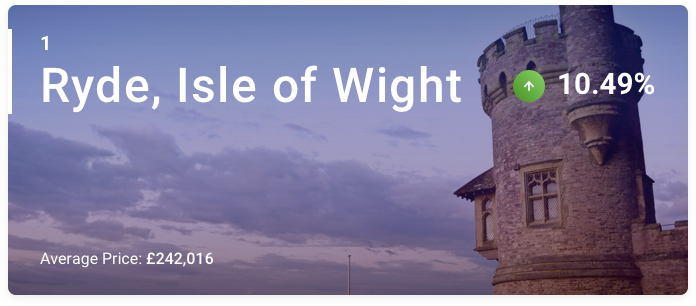 What's interesting about the town?
The seaside town of Ryde is home to the world's oldest pier, which opened in 1814. A hovercraft runs between Ryde and Southsea in Portsmouth in just 10 minutes and is the world's only year-round passenger hovercraft service.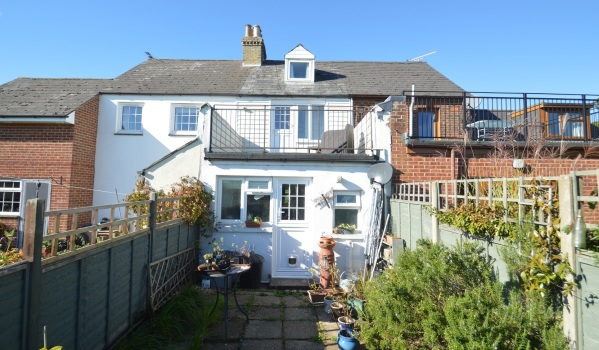 What can you buy there?
This two-bedroom cottage is up for £200,000 and comes with a large balcony offering countryside views.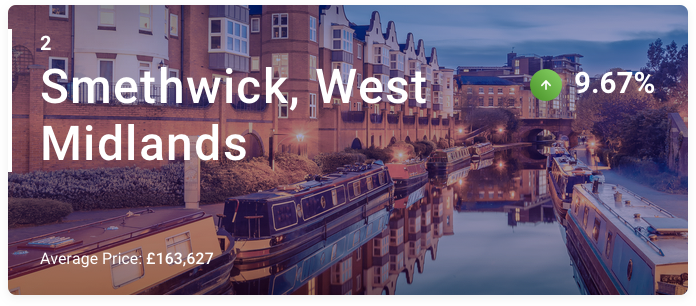 What's interesting about the town?
The Guru Nanak Gurdwara Smethwick was originally a church, but was converted into a Gurdwara in 1961 and has since been rebuilt and extended. It is the oldest and now largest Gurdwara in Europe and is also used for weddings, sports and education.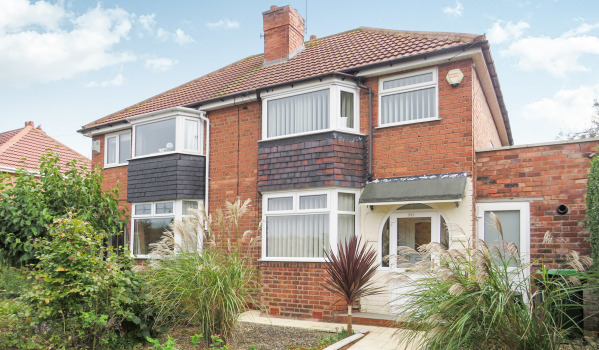 What can you buy there?
A three-bedroom semi-detached house in immaculate condition and just a short walk from Smethwick Rolfe Street station for £170,000.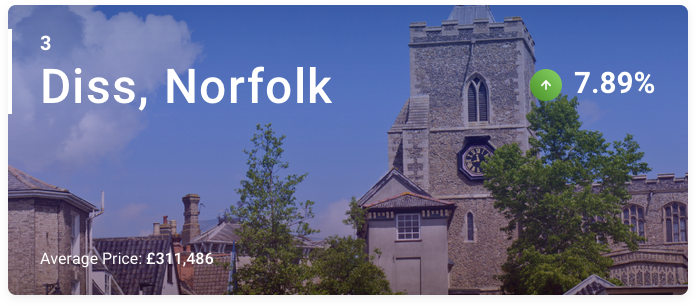 What's interesting about the town?
The market town close to the Suffolk border was recorded in the Domesday Book and has plenty of historic buildings, including a 14th century Parish Church and even its own quaint museum.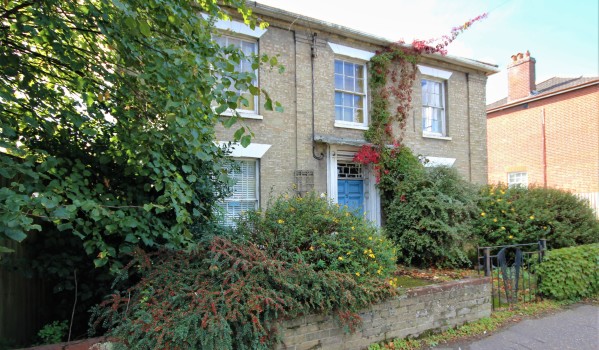 What can you buy there?
This four-bedroom detached house is up for £300,000 but does need a complete refurbishment.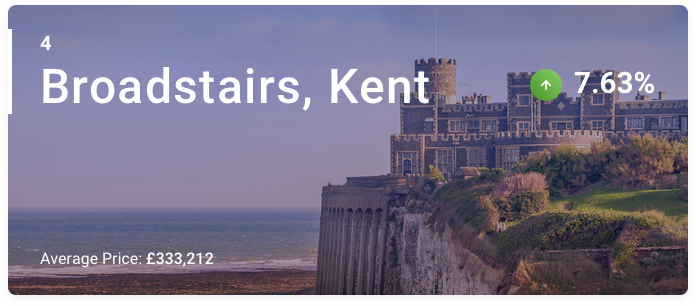 What's interesting about the town?
Broadstairs award-winning sandy beaches have drawn in tourists since the Victorian era. These days you can learn to surf in Joss Bay, kayak past the towering chalk cliffs of Botany Bay, or enjoy the rides and amusements of the main beach, Viking Bay.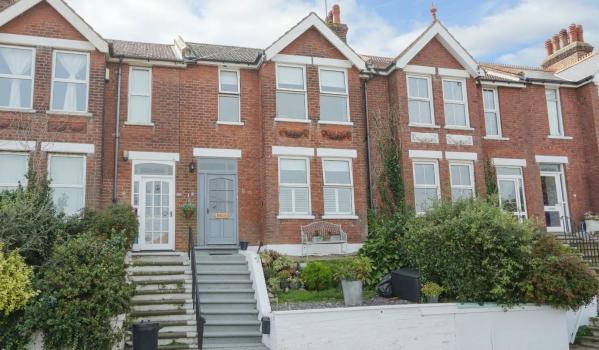 What can you buy there?
A four-bedroom terraced house for £325,000 with sea views from the master bedroom and a short walk from the train station.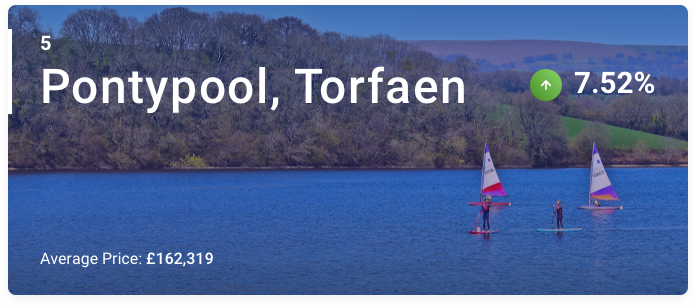 What's interesting about the town?
Pontypool was one of the earliest industrial towns in Wales, with iron and steel production along with coal mining at the source of the town's development. Its 150-acre park contains several leisure facilities, including the oldest and longest dry ski slope in Wales and an 8,800-capacity stadium that is home to Pontypool RFC.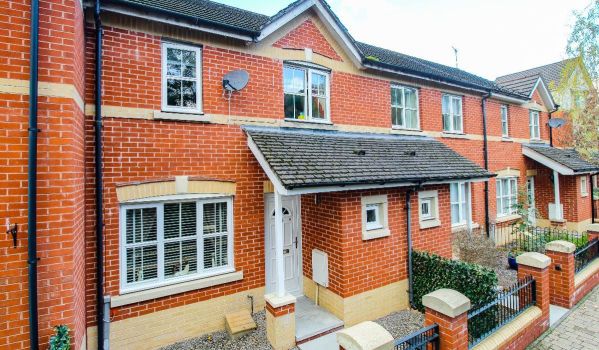 What can you buy there?
Try this three-bedroom terraced house for £149,950 which is move-in ready and would make a great first family home.

What's interesting about the town?
The centre of the town is a designated conservation area and hosts a market on Tuesdays and Saturdays. Despite its small size, it holds annual events such a carnival and a music festival. It's also home to one of the first purpose-built cinemas in the UK, although it is currently used by other businesses.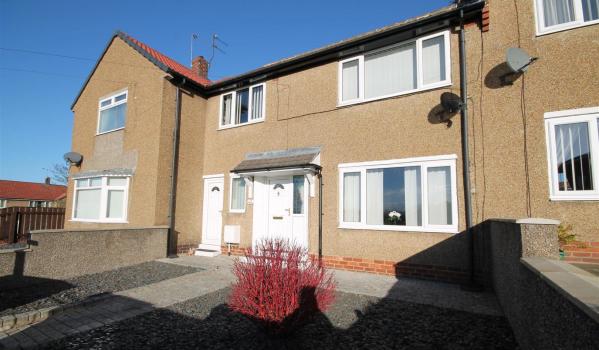 What can you buy there?
A beautifully maintained three-bedroom terraced house with a sophisticated new kitchen for £88,000.
What's interesting about the town?
Nicknamed the English Riviera thanks to its mild climate, Torquay is another seaside town with property prices that are on the up. It is the birthplace of Agatha Christie and a hotel in the town served as the inspiration for sitcom Fawlty Towers.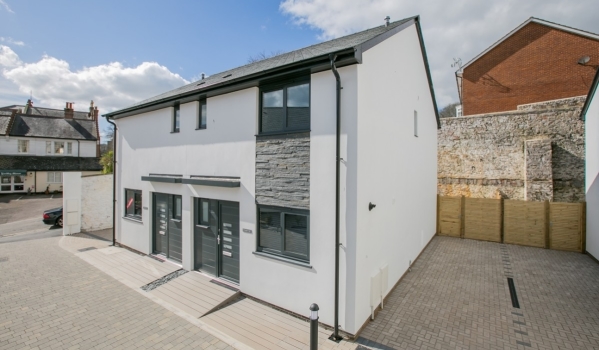 What can you buy there?
For slightly over the average area price you can get a three-bedroom semi-detached house that's brand new for £273,500.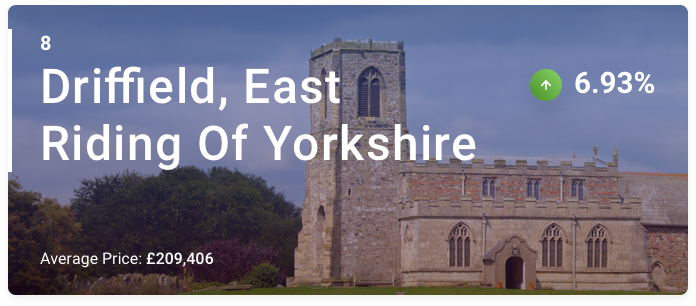 What's interesting about the town?
Driffield was founded by the Saxons and All Saint's Church boasts a 500-year-old tower that can be seen from miles away. The Thursday market regularly includes antique auctions and the town also holds the UK's largest one-day agricultural show.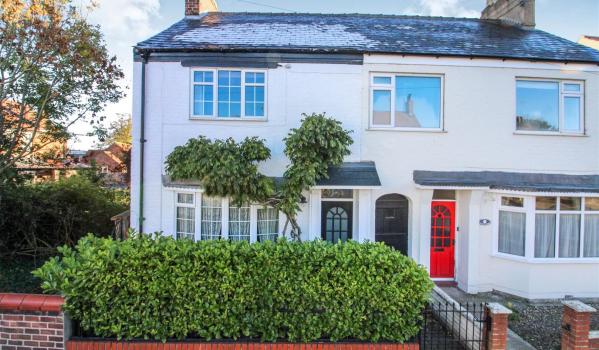 What can you buy there?
This charming four-bedroom semi-detached house for £200,000 which offers the perfect blend of old and new.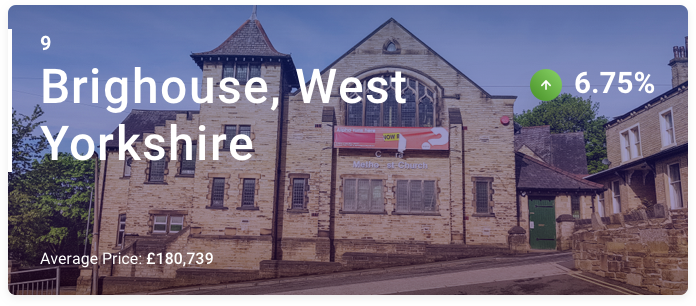 What's interesting about the town?
The town sits on the River Calder and its industrial past can be seen in the mills alongside the river that have since been converted into loft-style apartments. Brighouse is also home to Rokt Climbing Gym, which is one of the largest indoor climbing centres in the UK and has the highest man-made outdoor climbing wall in the country.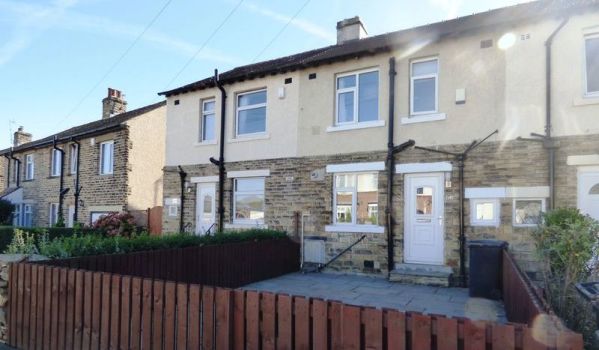 What can you buy there?
A three-bedroom terraced house for £179,500 that has been modernised throughout and is perfectly set up for family living.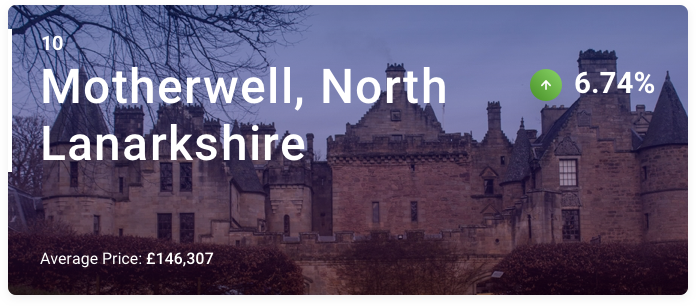 What's interesting about the town?
The town is probably best known for its steel production and Motherwell FC, who have played in the top tier of Scottish football since the mid-80s. Strathclyde Park sits between Motherwell and nearby Hamilton and contains remains of a Roman fort and bath house along with M&D's – a theme park with over 40 rides.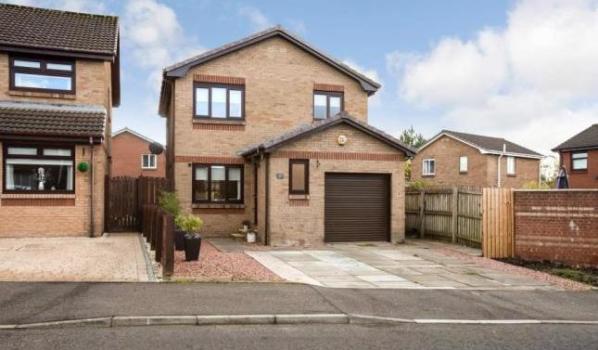 What can you buy there?
How about this three-bedroom detached house for £155,000 that looks brand-new inside, with a contemporary new kitchen and bathrooms.
Top 10 towns for property price growth
| | | | |
| --- | --- | --- | --- |
| Ranking | Town | Current average value | % increase in value since January 2018 |
| 1 | Ryde, Isle Of Wight | £242,016 | 10.24% |
| 2 | Smethwick, West Midlands | £163,627 | 9.67% |
| 3 | Diss, Norfolk | £311,486 | 7.89% |
| 4 | Broadstairs, Kent | £333,212 | 7.63% |
| 5 | Pontypool, Torfaen | £162,319 | 7.52% |
| 6 | Crook, County Durham | £120,792 | 7.13% |
| 7 | Torquay, Devon | £244,414 | 7.05% |
| 8 | Driffield, East Riding Of Yorkshire | £209,406 | 6.93% |
| 9 | Brighouse, West Yorkshire | £180,739 | 6.75% |
| 10 | Motherwell, North Lanarkshire | £146,307 | 6.74% |
Source: Zoopla, December 2018
The overall outcome for the British property market was lukewarm, with growth of 1.02%. It adds £83bn to the value of the entire residential property market, which now totals £8.29 trillion. Annually it equates to an increase of £2,860 for the average property and a daily increase of £8.
Regionally, Scotland came out on top, with average prices growing by 6.43% to an average of £195,739. Wales followed with values have increasing by 3.98 per cent to an average of £192,362. Third place went to the East Midlands where house prices have risen by 2.91% to £220,746.
You might also be interested in...
What do you think will happen to property prices in 2019? Let us know by posting a comment below...