With the festive season upon us, which parts of the capital experience a surge in burglaries, and what can householders do to prevent this crime? Find out here.
What's the latest?
Three boroughs have experienced the largest increase in home burglaries during the festive season in the capital over the past seven years, a new study has revealed.
Crime rates tend to soar by 52% in Redbridge, 43% in Harrow and 38% in Bexley around Christmas (November to January), when compared to the average burglary rates in those three areas from February to October, according to ValuePenguin UK.
Its analysts have crunched statistics from the Metropolitan Police's Crime Data Dashboard for home burglaries across the capital's boroughs between April 2010 and October 2017.
It found that Bexley, Harrow and Redbridge typically record the largest rise in home burglaries over Christmas, while at the opposite end of the spectrum, Islington and Kensington and Chelsea only inch up 2% between November and January, when compared to the rest of the year.
In London, the burglary rate rises 23% on average overall during the festive season.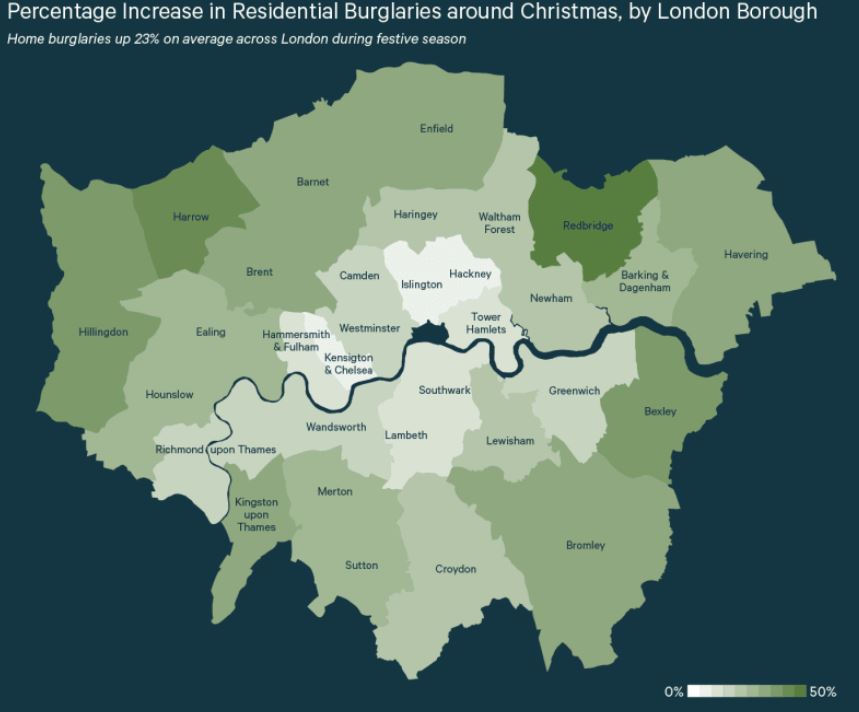 Why is this happening?
A spokeswoman for ValuePenguin UK said there were two primary reasons for the surge in residential burglary rates between November and January.
She explained: "Not only can burglars benefit from the cover of darkness during winter months, but burglars know they can achieve more by burgling homes around the holidays, when they're filled with newly purchased gifts like electronics, jewellery and other valuables."
Who does it affect?
The spokeswoman said that researchers were surprised to find the three 'safest' boroughs in terms of lowest overall burglary rates – Bexhill, Sutton and Kingston upon Thames – experienced higher-than-average spikes around Christmas.
Ironically, despite the festive rise in break-ins, these boroughs still have the lowest burglary rates over the November-January period when compared to other London boroughs, recording four or fewer homes burgled per 10,000 people.
This meant that, "these three safe boroughs are more likely to be burgled in winter than during the rest of the year," the spokeswoman explained.
Residents of Haringey, Barnet and Redbridge suffer the worst winter burglary rates, with more than 7.5 burglaries per 10,000 people.
Sounds interesting. What's the background?
To illustrate how the rate of home burglaries increases around the holidays, ValuePenguin UK first calculated average monthly burglary rates for each borough, using data over a seven-year period from 2010.
It then found the average burglary rate over the November-January period, and calculated how much higher it was when compared to the average rate for February through to October.
Boroughs were ranked from 1-32 (32 being the worst) according to their burglary rate per 10,000 people over the festive season. Barking and Dagenham was ranked 25th with a 29% increase in festive season burglaries, while Greenwich was placed 8th, with a 17% rise.
Westminster was ranked 13th, with a 14% spike over the Christmas period.
Apart from taking measures to deter burglars (see tips below), ValuePenguin recommended people invest in home contents insurance.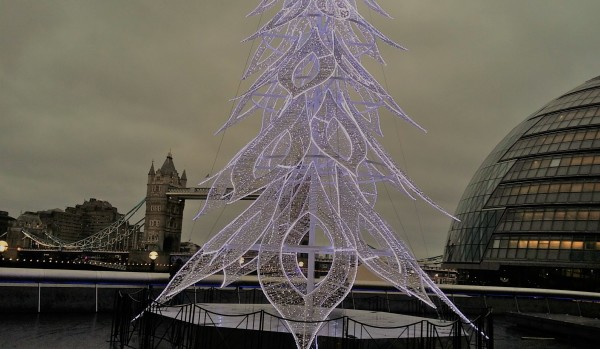 Top tips to make your home more secure
Hertfordshire Police has urged people to follow some key steps to keep their homes secure, and to report any suspicious behaviour, particularly as burglaries often increase over winter.
The force's crime prevention advice includes:
Ensure doors are double-locked at all times. Keep windows closed and locked
Consider installing a door bell camera, internal camera and/or monitored burglar alarm
Keep keys and valuables secure and out-of-sight
Ensure boundary fences are secure, with side gates locked
Install 'dusk to dawn' external lighting, and use timer switches in your home to control internal lights, radios, and simulated TV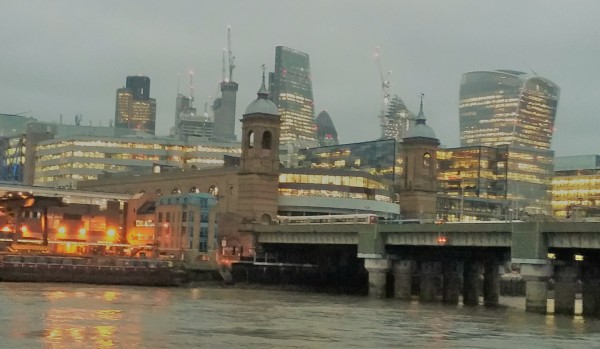 Top 3 takeaways
On average, residential burglaries surge 23% across London from November to January, when compared to the rest of the year, according to ValuePenguin UK
The boroughs of Bexley, Harrow and Redbridge experience the largest increase in home burglaries around Christmas
Residential burglary rates in Islington and Kensington and Chelsea only rise by 2% over the festive season
You might also be interested in…