To make a smarter decision when purchasing property, you need to do some important leg work first.
Buying property is a big financial as well as emotional commitment, so before you take the plunge, make sure you consider the following points.
1. Choose your location
The first thing you need to decide when looking to buy a property is where you want to live.
If you're buying close to where you currently live, you'll already be familiar with the area.
But if you're thinking about moving further afield, you need to research the new location.
While you can find out a lot about a place online, it would be wise to visit the area a few times before deciding you want to live there – ideally at different times of day, and on different days of the week, and even different times of year if you're planning ahead.
Have a good walk around the streets and spend time in the local shops, cafes and restaurants talking to people who live there – and who know the area well – as you want honest answers to your questions.
2. Finding a property
Once you've settled on where you want to live, it's time to find a home. You can use Zoopla's property search to gain access to hundreds of thousands of properties for sale across the UK.
Simply enter the location you want to move to – and the minimum and maximum prices you wish to pay – along with details of whether you are searching for a house or a flat, and the number of bedrooms you want your future home to have.
The site will the return a list of properties currently for sale which meet your specifications. By using the Advanced Search option you can refine your hunt even further.
For example, it allows you to only select new builds, retirement homes or auction properties, and you can even type in key words that will scour the listings for specific features.
You should also get to know the local estate agents to find out when new places come on the market.
Check out Zoopla's Find an Agent tool to help you. Zoopla has a comprehensive directory of estate agents to help you with your search for your new home.
3. Do your research on prices
If you've arranged a mortgage 'agreement in principle' you will know what you can afford so what price bracket to look at when house-hunting.
An 'agreement in principle' is essentially a letter from a mortgage lender stating how much they would be willing to lend, based on an initial assessment of your circumstances.
You can view Zoopla's area stats to find out the average property price for the region you are looking to buy.
This will help you work out whether you can afford houses in a particular area, or whether you need to widen your search a little to find properties that meet your budget.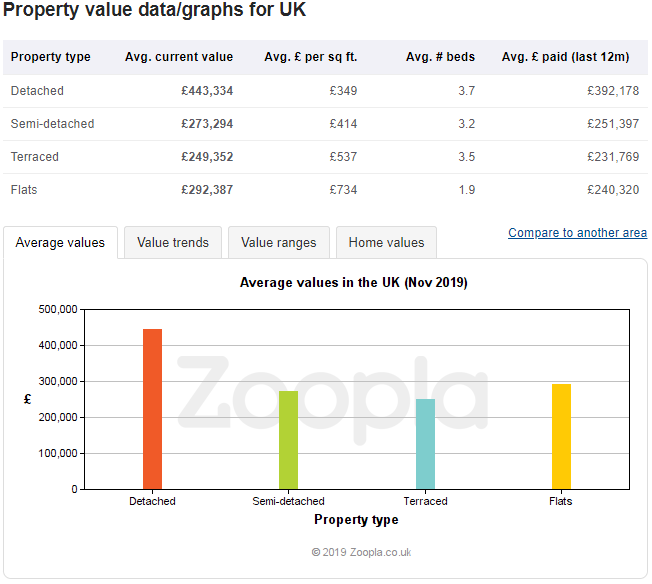 4. Viewing potential properties
Once you've found a property you're interested in, you need to arrange a viewing. It's worth taking a family member or friend along who can give an unbiased opinion.
Check out the immediate area to see if the property is on a noisy road, or close to a railway line.
Also work out how long it will take to walk to the nearest shops, pubs and restaurants, and see how close the property is to transport links. All Zoopla's listings come with a handy map that gives distances to local amenities such as schools and train stations.
Then turn your attention to the property itself. Check out whether it's been kept in good condition or if you're happy taking on a 'fixer-upper.' See if the rooms are the right size for you and your family, and whether there's enough storage for all your stuff.
Go round the property turning all the taps and lights on and off, so you know that everything works. Check there are enough radiators and heaters to keep the place warm and ask if the heating can be switched on.
Make sure there are enough electrical sockets for your needs. Be sure to check the boiler is in good nick, as buying a new boiler and getting it installed can be expensive.
Open cupboards, lift rugs, and look behind pictures to check there are no hidden surprises. Take a good look at the ceilings, keeping an eye out for damp staining or discolouration that could indicate leaks. Scrutinise the walls for any signs of damp or mould.
Check if the windows are double glazed, and that window and door locks are up to scratch. Make sure the property has good mobile reception and broadband. You can check out the current internet speed with uSwitch's broadband speed test.
Do a little detective work to see what you can find out about the neighbours.
Also do a bit of digging around to find out how safe the area is. It's worth checking out Police.uk, the crime-mapping website for England and Wales.
5. Working out what it will cost to run your new home
When searching for a new home, it's important to understand how much it's going to cost to run once you've moved in.
If you fail to factor in ongoing expenses such as energy and water bills into your budgeting, you could risk a nasty surprise further down the line.
To help you get an idea of what your monthly outgoings might be, check out Zoopla's Running Costs tool. It is available on nearly every property listed for sale on the site, and provides an at-a-glance indication of the monthly costs associated with running a property, all in one place.
As well as providing details of mortgage or rent payments, the tool also provides information about bills, including water, Council Tax and energy.
6. Moving checklist
When buying a new home, use Zoopla's Move Planner to make sure you've not forgotten anything.
This tool lists all the tasks you'll need to complete – from the moment you find out the flat or house is yours, right up to moving in and getting settled.
It will help you with all sorts of things, such as sorting your mortgage application, appointing a solicitor, commissioning a survey, and organising removals.
Once you're in, you can use the tool to ensure your new monthly household bills – such as gas, electricity and broadband – are as cheap as possible.
You might also be interested in...
Have we missed anything in our list? Let us know what other research you should do before buying in the comments, below...